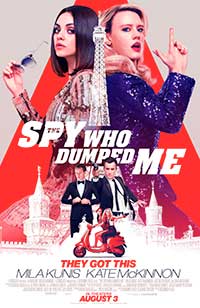 With a title that is an obvious homage to a James Bond spy thriller, writer-director Susanna Fogel's The Spy Who Dumped Me features badass girl buddies Audrey Stockton (Mila Kunis) and Morgan Freeman, gotta love that moniker, (Kate McKinnon)  who get drawn unwittingly into the international espionage game and spend most of this film just trying to stay alive.
For the past year, Audrey has been dating Drew Thayer (Justin Theroux) whom she believes to be a public radio podcaster but when he stands her up on her birthday, she considers herself dumped. Little does she know that Drew is a CIA operative and dodging bullets while on a secret mission in Vilnius, Lithuania. Morgan commiserates with her best friend in their favorite bar and the following day in Morgan's apartment, the pair gets surprised when Drew literally drops in to make up with Audrey. The Audrey-Drew reunion is short-lived when he gets fatally wounded during a SWAT raid. Just before he dies, Drew bequeaths his trophy to Audrey and instructs her to deliver it to Verne (Mirjam Novak), another CIA agent, who will be waiting in a Viennese café. This jump-starts a long and winding road trip that eventually takes these gal pals to Vienna, Prague, Berlin, Budapest, Paris, and Amsterdam.
Along their journey, Audrey and Morgan encounter some noteworthy people: handsome MI6 agent Sebastian Henshaw (Sam Heughan), snarky CIA operative Duffer (Hasan Minhaj) and androgynous Russian assassin Nadedja (Ivana Sakhno).  En route to Prague, the girls pilfer the passports of two Aussie tourists since their faces have been plastered across every television screen in Europe. Once on board the train, they discover that Drew's trophy contains a flash drive that everyone seems to want and will readily kill to get it. Moving at a breakneck pace with some death-defying stunts, the two friends team up with Sebastian and try to uncover the contents of the drive before it falls into the wrong hands.  Of course, this would not be a genuine spy-versus-spy flick if there were not some tricky but oh-so predictable plot twists awaiting our two heroines.
Susanna Fogel's efforts to put forth a gag-laden and occasionally raunchy comedy against a backdrop of nearly nonstop  violence in The Spy Who Dumped Me succeed largely because of the terrific chemistry between Kunis as the chronic underachiever and McKinnon as the brash actress who mugs her way through some pretty perilous adventures. The film's trail is littered with  preposterous can-you-top-this moments culminating in Morgan's outrageous trapeze fight-to-the-death scene with Nadejda. As added bonuses, we get cameos by Jane Curtin and Paul Reiser as Morgan's parents, a nifty turn by Gillian Anderson as the MI6 Chief, Lolly Adelope's nosy friend Tess, and even a brief appearance by CIA-defector "Edward Snowden" played by Tom Stourton. If you are willing to park your critical faculties at the door and accept the premise that comedy-thrillers are supposed to be just plain fun to watch, The Spy Who Dumped Me definitely qualifies and will keep you laughing out loud even as the body count continues to mount. I enjoyed this clearly B-film more than I had expected to and so will you.
The Spy Who Dumped Me is in theaters August 3, 2018
Imagine Entertainment | Lionsgate |
Studios & Distributors
R (for violence, language, crude sexual material and graphic nudity)
Rating Certificate
English| Russian | French
Language
Susanna Fogel | David Iserson
Writer
Summary
Two women (Mila Kunis, Kate McKinnon), best friends, become embroiled in an international conspiracy after finding out that the boyfriend who dumped one of them was a spy. A frenetically paced spy thriller/comedy that is carried by two film veterans who become badass girl buddies.
What people say... Login to rate
Be the first to leave a review.
Show more