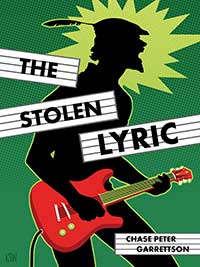 I can guarantee that The Stolen Lyric is like no animated film (or live one for that matter) that you have ever seen. This film was the result of  two-year project and the brainchild of writer/director Chase Peter Garrettson, a 2008 Wall Street crash survivor.  This animated musical is in his words, "one-of-a-kind hybrid of an avant-garde protest film with a DIY punk rock spirit and silly pop culture fun that combines the counterculture attitude of a 70s rock opera with the sensibility of an internet mash-up video to address issues of mega-corporate consolidation and control as well as income inequality that are so relevant today."
The basic story is an updated version of the Robin Hood legend that takes generous liberties with original.  The Merry is a rock band led by singer Rob (Robin Hood) with drummer Little John, bassist Tucker (Friar Tuck) and guitarist Will Scarlet. The group meets a well-dressed and drunk yuppie that they take along for a night on the town. A banker friend of the yuppie joins them only to get robbed by The Merry (Note: that's what they do). Later, in another bar, Rob notices a TV car commercial that is playing one of his songs and he suspects that it was "borrowed" by Sheriff, a former band mate who left the group, taking along Rob's girlfriend Loxley.
Rob confronts Sheriff, now an advertising executive, and Loxley over the unauthorized use of his song, based on an event that had occurred some years before: Sheriff's car had broken down and Rob gives him a bike ride, fixes the car, and then steals it. Returning to the present, The Merry is going to even the score with Sheriff. Will Scarlet passes himself off as businessman who needs a rock band to back up his "Sellout Juice" marketing campaign. Will convinces Sheriff to attend the Sherwood Music Fest where they will scout out bands. On the way, Scarlet puts a hallucinogenic drug in Sheriff's drink and after he passes out, he and Rob blindfold and tie up the helpless man in the band's motel room.
Rob shows up at the apartment that Sheriff shares with Loxley and the two spend the rest of the night together. The next day, the band members take Sheriff to the Sherwood Fest where a record label producer recognizes them from the car commercial song and signs the group to a contract. Ten years later, Rob and The Merry, reminiscing about their past struggles, decide to party hardy along with another yuppie.
Garrettson was quite fortunate to have collaborated with Anthony Morris, Jr., a recent college graduate with a degree in animation. Morris's visual style is much in the same vein as the popular television cartoon series Downhill Racer. Joining the team was Poul Farnham who mixed the 555 songs clips, each lasting an average of 12 seconds, that represented the "stolen" work of 129 artists ranging from AC/DC to ZZ Top. So that no lyrics are missed there is a continuous stream of subtitles throughout the film. The "ripped off" artists are a who's who in pop music and rock and roll aficionados should recognize nearly every one of them. While there is an underlying message that skewers the business world, this does not distract from a brilliantly conceived and executed pastiche of iconic song lyrics ingeniously blended into a fun script that provides nearly two hours of nonstop entertainment. Although not officially rated, there is an "explicit" sex scene and a number of the frank lyrics that contain expletives, placing this animated film into the "adult swim" category. The Stolen Lyric is now available on Amazon Video and YouTube.
The Stolen Lyric (TheaterByte Movie Review)
Toeris Books
Studios & Distributors
Chase Peter Garrettson
Director
Chase Peter Garrettson
Writer
21 Sept. 2016
Release Date
Summary
A brilliantly conceived and executed pastiche of iconic songs that are ingeniously blended into a fun script that provides nearly two hours of nonstop entertainment.
What people say... Login to rate
Be the first to leave a review.
Show more