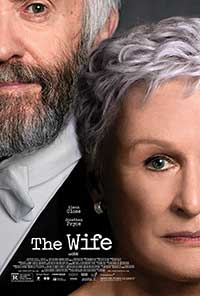 The Wife gets off to an ebullient start as famous author Joseph Castleman (Jonathan Pryce) is awakened by an early morning phone call from Stockholm: the Nobel Prize Committee has just awarded him its 1990 prize for literature. Joe and his wife Joan (Glenn Close) bask in the glory of the moment as they celebrate with their friends, their pregnant daughter Susannah (Alex Wilton Regan) and their writer son David (Max Irons). Behind closed doors, the real Joe is a cantankerous, foul-mouthed and randy old man whose numerous affairs have seriously strained the Castleman's decades-old marriage.
Among the numerous time shifts between present and past, we first see a young Smith College English professor Castleman (Harry Lloyd) critiquing a short story submitted by one of his students, Joan Archer (Annie Starke, Close's real-life daughter). Joe is already married and has a new baby when he takes a fancy to Joan. During a college cocktail party, Joan has a pivotal life-moment when an older author Elaine Mozell (Elizabeth McGovern) dashes her dreams by stating bluntly that no one now buys books written by women. Starting as a babysitter for Castlemans, Joan eventually receives Joe's signature "gifts"to women: a quote from James Joyce's Ulysses, and a personally autographed walnut shell. Eventually, Joe leaves his teaching position, wife,  and child to become a struggling writer, sharing a garret apartment with Joan.
Back to the present, Joe, Joan and David are flying to Sweden when nosy writer Nathaniel Bone approaches Joe about penning the author's biography and gets summarily rebuffed.  Arriving at Stockholm's Grand Hotel, the Castleman family is greeted by a Nobel host group while pretty society photographer Linnea (Karin Franz Korlof) catches Joe's eye much to Joan's discomfiture.
Before the Awards ceremony, Nathaniel tries win over both Joan and David. Over drinks and drugs, he makes some inroads with David unhappy about his father's dismissive treatment of his new short story. The "medal moment" finally arrives and at the official Nobel prize dinner, Sweden's King Gustav (Nick Fletcher) asks Joan about her occupation. When she responds that she is a "king maker," one suspects that there is much more to this story and this film's final act reveals all the shocking details before finally resolving its dramatic conflict.
The Wife is a dialogue-driven movie and, in this respect, Jane Anderson's skillful adaptation of Meg Wolitzer's novel succeeds even though it deliberately overstates the case against that era's American female authors.  Pitting two screen veterans, Close and Pryce, against each other creates palpable tension: Joe as the egotistical womanizing celebrity and Joan as the self-effacing wife who subordinates her literary career to that of her husband. At times, I was reminded of the dynamic generated by Richard Burton and Elizabeth Taylor in Who's Afraid of Virginia Woolf? when that screen couple's frayed marriage, held together only by a dark family secret, begins to unravel. These are Oscar-worthy performances and may well garner golden statuette nominations for both stars. Christian Slater contributes a small but important turn as a sensationalist writer who looks to exploit Joe Castleman's seamy story for his own gain. Max Irons receives the only truly thankless role in this family drama as we never get much below the surface of his angry young man persona.
In his US film debut, Swedish director  Bjorn Runge leverages on-location shots of Stockholm, the actual setting of the Nobel Prize Award ceremony with its pomp and circumstance, and the interior of the world-famous Grand Hotel to create the perfect atmosphere for this essentially two-person drama. The Wife will stimulate viewers to ponder the film's message–one that is particularly timely in the current #MeToo environment. Highly recommended.
The Wife is currently screening in theaters nationwide
Tempo Productions Limited | Anonymous Content | Film i Vast | Meta Film | Silver Reel | Spark Film & TV | Sony Pictures Classical
Studios & Distributors
R (language, sexual content)
Rating Certificate
Summary
As she travels to Stockholm where her husband is set to receive the Novel Prize, a woman (Glenn Close) begins to question her life. Two Oscar-worthy performances drive this dark family drama forward amidst the pageantry of the Nobel Prize ceremony.
What people say... Login to rate
Be the first to leave a review.
Show more