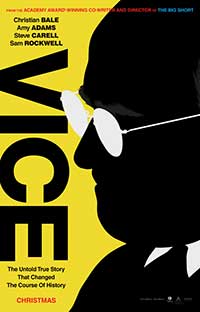 Vice seems to have been getting some serious promotion throughout the year, while shooting, and after the fact. What's the big deal? A biopic of one of the most secretive ex-Vice Presidents of all time? That's not it. Maybe it has to do with Christian Bale gaining more than 40 lbs to play Dick Cheney? Oh, that's definitely it!
Vice is the "true story" of Vice President Dick Cheney (Bale). It's an origin of sorts that trace his background to a belligerent drunk and no-good living in Casper Wyoming in the early 60's. After being threatened with a divorce by his wife, Lynne (Amy Adams), Dick shapes up and changes the course of his future forever. Some would say that he reached the stratosphere within the walls of Washington D.C. where he wielded immeasurable power and influence. The rub being that he was never President of the United States.
Written and directed by Adam McKay (The Big Short), I was expecting something along those lines and that's pretty much what we got. We got several hysterical scenes with fake endings, fourth wall breakage, Shakespearean dialogue, unreliable narrator, and Oliver Stone style editing – and that's just what I can come up with on the top of my head. I read that there's a mid-credit sequence but I missed it. With that being said, I do feel that The Big Short was the better film. That one had amazing source material and this one had to make a lot of it up as it went along. Hell, the film opens with a disclaimer acknowledging that there's not much known about Dick Cheney "but we did our fucking best" to find out. Yes, it literally said that in the opening credit crawl.
Obviously, with all that going on, the film does deliver an entertaining spectacle that viewers should take with a grain of salt. The performances are great but Christian Bale is phenomenal as Dick Cheney and I do think he will get a Best Actor Oscar nomination. The film is not necessarily Oscar-worthy material but Bale is. He is Dick Cheney.
The supporting cast also does fairly well keeping up with Bale. Amy Adams as Lynne Cheney is his backbone and biggest supporter. Steve Carrell plays Donald Rumsfeld, and as wacky as "Rummy" was in real life – Carrell portrays him as crass, a creep, and a jerk. For some reason I also thought this cost less than The Big Short but that's not true and I am guessing it's due to bigger paychecks for the stars and a few scenes of added CGI warfare. The Big Short just had stars.
If you're interested in more recent history of political figureheads then Vice may be right up your alley. I say it's the weaker of the two films mainly because a lot of it is artistic license, for the most part, since we don't really know much about Cheney to begin with. Vice is playing in theaters nationwide and it may be worth your time to check out. It's obviously not 100% accurate but it is worth it just to see Christian Bale be overweight and intense. Vice is worth the price of admission just for that.
Vice is in theaters December 25, 2018 (USA)
---
Annapurna Pictures | Gary Sanchez Productions | Plan B Entertainment
Studios & Distributors
R (for language and some violent images)
Rating Certificate
Summary
This biopic stars a transformed Christian Bale in the story of Dick Cheney, Washington insider who rises to the heights of the Vice Presidency and controls DC and world politics through President George W. Bush. If you're interested in more recent history of political figureheads then Vice may be right up your alley.
What people say... Login to rate
Be the first to leave a review.
Show more