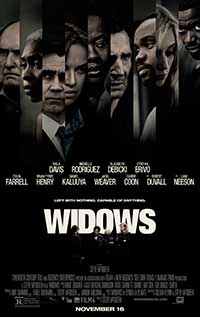 Hard on the heels of Ocean's Eight comes another girl-gang heist flick featuring another heavyweight cast and set in today's Chicago, Widows. Legendary larcenist Harry Rawlings (Liam Neeson) and his partners Carlos Perelli (Manuel Garcia-Rulfo), Florek Gunner (Jon Bernthal), and Jimmy Nunn (Coburn Goss) die in a fiery warehouse explosion after stealing two million dollars from 18th Ward crime boss Jamal Manning (Brian Tyree Henry). Wait a minute–Liam Neeson a villain? Just stay tuned, there is much more to come.
The dead burglars have left behind four widows. Veronica Rawlings (Viola Davis) still has her exclusive penthouse apartment and her West Highland terrier Olivia but little else.  Alice Gunner's (Elizabeth Debicki) abusive mother Agnieska (Jacki Weaver) has pushed her into becoming a paid "escort." Linda Perelli (Michelle Rodriguez) has lost her clothing store to the repo men and Amanda Nunn (Carrie Coon) is trying to cope with a new baby boy.
Tom Mulligan (Robert Duvall) is retiring as the 18th Ward alderman and as the election for his replacement approaches, his son Jack (Colin Farrell), a reluctant candidate, comfortably leads Jamal Manning in this mostly black precinct. Jamal assigns his brother Jatemme (Daniel Kaluuya) to make sure that Veronica comes up with the two million bucks to fund his campaign for alderman.
Going through the Rawlings' safety deposit box, Veronica finds Harry's notebook crammed with detailed notes for the next big job that he was planning. She invites the other widows to meet with her but only Alice and Linda show up. Alice buys the getaway van and guns and charms her wealthy sex partner, the realtor David (Lukas Haas), into deciphering a blueprint of the late Harry's planned target–the Mulligan mansion. Veronica's scheme gets temporarily derailed when her getaway driver, Rawlings's family chauffeur Bash O'Reilly (Garret Dillahunt), is killed by Jatemme's goons.  Belle (Cynthia Erivo), a multi-talented hairdresser and Linda's occasional babysitter, agrees to replace Bash so their caper can continue as planned. However, just before the widows go after the Mulligan millions that will solve their respective financial problems, there is a major plot twist that could change everything.
Writer/director Steve McQueen and novelist Gillian Flynn have crafted a neo-noir tale, based on Lynda LaPlante's 1980s BBC series, that crams in corrupt politicians, crime bosses, charismatic preachers, interracial marriage, police brutality, and female empowerment all set against stunning location shots of Chi-town. This may be too much of a good thing as the numerous subplots push back the film's big moment, making the widows' caper almost anticlimactic. This cast may be loaded with talent, but the show belongs to Viola Davis who gets the script's most completely realized character. The diverse group of female costars provides much of the real interest here as their big-name male counterparts receive far less screen time.
In contrast to many contemporary crime films, McQueen doles out screen violence in relatively small doses allowing his characters to interact as real people rather than as two-dimensional bang-bang screen objects. A case in point is the confrontation between Duvall and Farrell, skillfully portraying the shifting tides of emotion and concluding with the son expressly wishing for his father's death so that he can become his own person. The unsung heroine of the film may well be Veronica's faithful dog, blessed with a keen nose for bad people. The four women's hasty preparation to become skillful thieves does require a generous suspension of disbelief. Still, Widows remains an entertaining two-hour cinematic banquet, albeit one that puts more dramatic food on the table than most audiences can devour at a single seating.
Widows is in wide release in theaters November 16, 2018 (USA)
Regency Enterprises | See-Saw Films | Film4 | New Regency Pictures | Twentieth Century Fox
Studios & Distributors
R (for violence, language throughout, and some sexual content/nudity)
Rating Certificate
Gillian Flynn | Steve McQueen
Writer
Summary
Four women whose husbands died in a botched robbery of a crime boss's political war chest take on the task of redeeming their debts and tackling the corrupt political family that has run the decaying precinct for generations in this latest effort from Steve McQueen. In contrast to many contemporary crime films, McQueen doles out screen violence in relatively small doses allowing his characters to interact as real people rather than as two-dimensional bang-bang screen objects.
What people say... Login to rate
Be the first to leave a review.
Show more