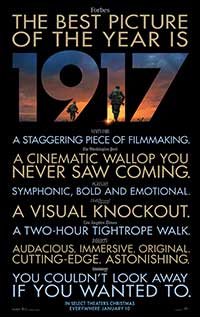 Sam Mendes's filmography might not be as prolific as that of some of his peers, but it does cover a wide range of genres from Broadway musicals to  Shakespearean dramas to the theater of war. The latter is the case with 1917, inspired by World War I tales told to Mendes by his paternal grandfather who served as a Lance Corporal during the "war to end all wars." Although the centenary of this war has passed, 1917 harkens back to legendary WWI films like Lewis Milestone's All Quiet Along the Western Front.
It is April 6, 1917, in northern France where two Lance Corporals, Will Schofield (George MacKay) and Tom Blake (Dean-Charles Chapman) are recruited by General Erinmore (Colin Firth) for an extremely dangerous mission: carry a hand-written message to Colonel MacKenzie (Benedict Cumberbatch) of the Devonshire Regiment, ordering him to call off an assault on the German troops that have fallen back to the Hindenberg Line.  Erinmore has received aerial views of the battlefield and realizes that the Germans have staged this retreat in order to slaughter an entire battalion that includes Tom's older brother, Joseph (Richard Madden).
To reach the Devonshire encampment, Schofield and Blake must cross a devastated landscape of abandoned trenches, littered with corpses, and contend with life-threatening hazards along their route. Blake saves Schofield from dying in an explosion in a former German bunker but later loses his life when he is stabbed by a downed German pilot whom he was trying to aid. Rather than being deterred by this tragedy, Schofield vows to complete their mission, unaware of the dangers that lie ahead in the burned-out buildings of Ecoust-Saint-Mein. Schofield presses on in his desperate effort to reach Colonel MacKenzie in time to prevent the 1600 men under his command from being sent to certain death at the hands of the Germans.
[envira-album id="121832″]
Cinematographer Roger Deakins has worked with Mendes on Jarhead, Revolutionary Road, and Skyfall and his familiarity with what this director wanted is clearly in evidence here. 1917 was shot in a series of long takes to give the impression of a continuous 2-hour event. This style creates mounting dramatic tension that is not relieved until the very end, as Schofield continually runs for his life. The Salisbury countryside effectively substitutes for the fields of France and the 4K master, blessed with Dolby Vision, yields a visually stunning screen experience.  The Dolby Atmos soundtrack frequently puts the audience in the middle of the fray as it conveys the disorienting sounds of battle.
Although Dean-Charles Chapman keeps George MacKay company for the first half-hour of the film, it is really the latter's tour de force performance that makes it all work, brief cameos by Firth and Cumberbatch notwithstanding.  Mendes and co-writer Krysty Wilson-Cairns, in her feature-length film debut, have given the cast a script that may be short on dialogue but long on the kind of action that would be expected in a war movie, with the added emphasis on the lead character's dogged perseverance to accomplish his goal.
1917 received a limited screening at Christmas to make it Oscar-eligible and, having already won the Golden Globe Best Picture award, this film has just received ten Academy Award nominations, one of the best pictures, if not the very best picture, that I have seen this season and one that receives my highest recommendation.
1917  began screening nationwide January 10, 2020
[youtube https://www.youtube.com/watch?v=YqNYrYUiMfg&w=864&h=486]
---
The Film: 4.5/5
Studios & Distributors: DreamWorks Pictures | Reliance Entertainment | New Republic Pictures | Neal Street Productions | Amblin Partners | Universal Pictures
Rating Certificate: R (for violence, disturbing images, and violence)
Country: UK | USA
Language: English
Run Time: 119 Mins.
Aspect Ratio: 2.39:1
Director: Sam Mendes
Writers: Sam Mendes | Krysty Wilson-Cairns
Release Date: 10 January 2020