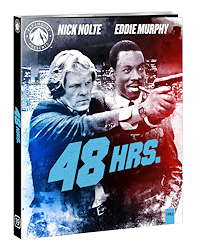 48 Hrs. is the 1982 action film directed by Walter Hill and starring Nick Nolte and Eddie Murphy in his breakout role that would set him up for super stardom once he left SNL.
Nolte plays Jack Cates a rough and tumble Inspector who's hot on the trail of two cop killers and he enlists an unlikely partner in Murphy as con Reggie Hammond, who has a link to one of the criminals he's on the hunt for. The temporarily paroled Hammond takes full advantage of his freedom, gets under Cates' skin, but turns out to be a bigger help than expected, as the pair end up embroiled in a hunt for kidnappers, a search for a half-million dollars, and the cop killers.
The film doesn't miss a beat from jump. Murphy plays it almost straight, forgoing the over-the-top comedy of his Saturday Night Live routines for more sarcastic and edgy lines playing off the gruffness of Nolte. Together they make a great antagonistic, "anti-buddy" cop team up and Walter Hill's action sequences keep things lively, while the one-liners, Murphy's improvisation and Nolte's grizzled attitude help propel the film.
The Video
48 Hrs. has been newly remastered from a 4K film transfer and brought to Blu-ray in an AVC 1080p encodement framed at 1.85:1. The original 35mm film source shot mostly on long lenses has never looked better on home video than it does here. The image is clean and about as crisp and detailed as it can get given the filming technique. Colors are a bit on the muted side, but the flesh tones look natural and there's good nuance in the shadows. There's also good of depth of field in the deep focus shots. Overall, the film grain is natural and thin, maybe a little more thinly layered than some may like, but I don't see any really deleterious effects of DNR.
The Audio
48 Hrs. original ran with a 4-channel Dolby Stereo but here we get a lossless Dolby TrueHD 5.1 mix that excellently presents the soundtrack. The music by James Horner really hits from the opening credits with big, musical low-end and punchy midrange with lots of dynamics. There is also a good balance of atmospherics in this mix that we can hear throughout like traffic moving through the surround channels or in the "redneck" bar sequence lots of chatter and music as Eddie Murphy first walks in.
The Supplements
With this release we get what we have to to expect at this point from Paramount Presents. They aren't abundant in bonus features, but they do always provide a good "Filmmaker Focus" featurette that packs a lot of information on the film into a short run time. In this case we get one from the director himself, Walter Hill, which makes it even more special, and Hill gives a run down of working on the script and with Nolte and Murphy, how he shot the film, and some other interesting details.
Collectible packaging featuring foldout picture of the film's original theatrical poster and an interior spread with key movie moments
Digital Copy Code
Filmmaker Focus: Director Walter Hill on 48 Hrs. (1080p; 00:19:08)
Theatrical Trailer (1080p)
Space Kid – Original 1966 Animated Short (1.33:1; 1080p; 00:05:31) – This animated short makes an appearance in the film in a scene where one of the bad guys is seen watching it on TV.
Isolated Score Track
The Final Assessment
This is the pretty much the film that laid out the blueprint for the buddy cop genre that was to follow for the following 15 or 20 years, and it has never looked so good on home video before now. Highly recommended.
48 Hrs. (Paramount Presents) is out on Blu-ray July 6, 2021 from Paramount Home Entertainment
---
Rating Certificate: R
Studios & Distributors: Paramount Pictures | Lawrence Gordon Productions | Paramount Home Entertainment
Director: Walter Hill
Written By: Roger Spottiswoode | Walter Hill | Larry Gross | Steven E. de Souza
Run Time: 96 Mins.
Street Date: 6 July 2021
Aspect Ratio: 1.85:1
Video Format: AVC 1080p
Primary Audio: English Dolby TrueHD 5.1
Secondary Audio: German DD 2.0 | French DD 2.0 |Japanese DD 2.0 | Isolated Score Track
Subtitles: English | English SDH | German | French | Japanese