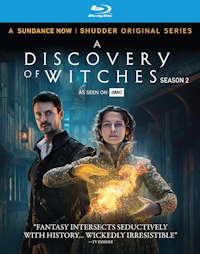 A Discovery of Witches: Season 2 begins with Diana and Matthew narrowly escaping the congregation of vampires, witches, and daemons and they find themselves in the past, Elizabethan London. In the past, Diana must find a powerful witch to help tutor her in her magic as a time weaver while they both continue the search for the powerful Book of Life. Meanwhile in the present, Diana's aunts must take shelter with the witch hunter Ysabeau de Clermont at her ancestral home. There's also a pregnancy for the daemons Nathaniel and Sophie who must be protected and a search on to find out where exactly Mathew and Diana disappeared to and get to the Book of Life before they do.
While this season scales back on some of the soapy romance elements of the first season in favor of a heady mixture of historic events (we get to meet Sir Walter Raleigh and Queen Elizabeth I among others) and the contemporary, that romantic twist is still there for fans holding their breaths over the fates of Diana and Matthew. But it is the magnificently designed costumes and sets of Elizabethan London and the gallery of players that make this season the superior season so far. If they can keep the momentum going, this series could have legs.

A Discovery of Witches (TV) (2018-- )
The Video
A Discovery of Witches: Season 2 was shot on the Arri Alexa Mini with Panavision PVintage lenses. This digital source comes to Blu-ray in an AVC 1080p encodement framed in the OAR of 2.0:1. It looks very solid outside of the occasional issue with some color banding that could be due to a relatively low bitrate on the encoding or maybe even some in-camera issues. There's lots of depth and detail and a vibrancy to the colors and visual effects such as when Diana uses her magic, and we see lots of brightness and an array of colors with great contrast against what is many times a dark background.
The Audio
The sole audio track on this release is a serviceable lossless English DTS-HD Master Audio 5.1 mix. This mix doesn't do too much but it does stay out of the way, providing some atmospheric effects and music in the surround channels and clear, front-heavy dialogue. Don't expect too much low-end oomph from this mix either.
The Supplements
These three brief featurettes are very EPK in style and they cover the basics of the origins of the series from the novel to designing the Elizabethan world.
The Story of A Discovery of Witches (1080p; 00:06:30)
Can Love Survive? (1080p; 00:05:22)
Creating Elizabethan London (1080p; 00:05:44)
The Final Assessment
The second season of this supernatural fantasy series is a lavish visual experience and tasty dose of history and magic. The Blu-ray release offers a strong upgrade over the streaming versions.
A Discovery of Witches: Season 2 is out on Blu-ray August 17, 2021 from RLJE
---
Rating Certificate: TV-MA
Studios & Distributors: Bad Wolf | Shudder | Sundance Now | Sky Studios | Universal | RLJE
Run Time: 444 Mins.
Street Date: 17 August 2021
Aspect Ratio: 2.0:1
Video Format: AVC 1080p
Primary Audio: English DTS-HD MA 5.1
Subtitles: English SDH | French