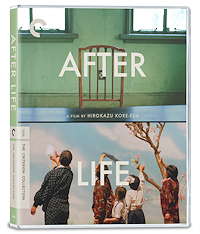 In Hirakaru Kore-eda's (Still Walking) 1998 film After Life the filmmaker tackles one of the deepest philosophical questions there is – the meaning of life. And he does this in one of the most unusual ways, by also confronting the question of death.
The setting is a waystation that looks like a boring, abandoned junior high school building, where the recently deceased have three days to decide on one memory, the best memory of their lives, which will be the one memory from life they will take with them to eternity. They are assisted in their task by guides who interview them as they look back on their past and try to home in on that one memory they feel will be worthy of keeping with them. The new arrivals include an elderly woman fascinated with cherry blossoms, a rebellious high school dropout, dropout, a teenage girl who at first chooses as her memory a day at Tokyo Disney before she is guided away from that, and a 70-year-old war veteran. At the end their memories will be converted into a film they will be shown that will be implanted in them before they move on to the afterlife.
Kore-eda's film is a balance between drama and documentary styles as the director interviewed over 500 people for the film and used this footage as well as actors improvising stories the remembered and reading from scripts to create this drama, this meditation on life, death, and the pliability of memories. This is all filmed beautifully in 16mm by cinematographer Yutaka Yamazaki in his first feature film, who brings his documentarian filmmaking sensibility, and lends a wonderful touch of diffuse lighting, often referred to as "Vermeer Lighting". The painterly settings often frame people in doorways or window frames that provides a beautiful visual backdrop for this rumination on life.

The Video
This release of After Life is a new 2K digital restoration created by TV Man Union taken from a 35mm duplicate negative taken from the original 16mm camera negative. It was approved by director Hirokazu Kore-eda. It is presented in its original 1.66:1 aspect ratio in an AVC 1080p encodement. Given the provenance of this film, one shouldn't expect pristine visuals and absolutely crisp details, but the diffuse light and painterly settings of Kore-eda's vision, with a natural grain structure and warm earth tones.
The Audio
The original monaural soundtrack was remastered from the digital master audio files and is presented on this Blu-ray in LPCM 1.0. It is more than adequate for what is a dialogue-driven, almost documentary style film. The sound is clear and remains mostly in the range of normal conversations.
The Supplements
The collection of bonus features is worth going through for an understanding of the film and the creators. The interviews with the director and cinematographer are a must as is the very informative audio commentary by Linda C. Ehrlich.
Audio commentary recorded for the Criterion Collection in 2021 by Linda C. Ehrlich, PhD, author of The Films of Kore-eda Hirokazu: An Elemental Cinema.
Hirokazu Kore-eda (1080p; 00:19:18) – This interview with writer-director Hirokazu Kore-eda was recorded by the Criterion Collect ion in Seoul, South Korea, in 2021.
Yutaka Yamazaki (1080p; 00:19:41) – This interview with director of photography Yutaka Yamazaki was recorded by the Criterion Collection in Tokyo in 2021.
Masayoshi Sukita (1080p; 00:15:38) – This interview with photographer and cinematographer Masayoshi Sukita was recorded by the Criterion Collection in Tokyo in 2021.
Treasure of Memory (1080p; 00:16:52) – This program presents the deleted scenes from After Life.
Trailer (1080p)
Essay by novelist Viet Thanh Nguyen
The Final Assessment
This Kore-eda film is contemplative examination of life and the memories we hold dear wrapped in a visually artistic package that Criterion Collection presents on a solid Blu-ray released of the director-approved 2K restoration. Fans of the filmmaker, cinephiles, and Criterion completists should definitely pick this one up.
After Life is out on Blu-ray August 10, 2021 from the Criterion Collection
---
Rating Certificate: Not Rated
Studios & Distributors: Engine Film | Sputnik Productions | TV Man Union | The Criterion Collection
Director: Hirokazu Kore-eda
Written By: Hirokazu Kore-eda
Run Time: 119 Mins.
Street Date: 10 August 2021
Aspect Ratio: 1.66:1
Video Format: AVC 1080p
Primary Audio: Japanese LPCM 1.0
Subtitles: English