–
The Film
[Rating:4/5]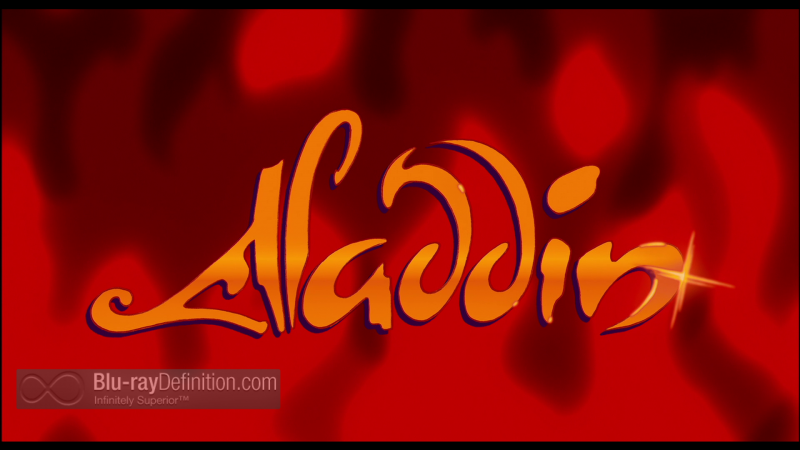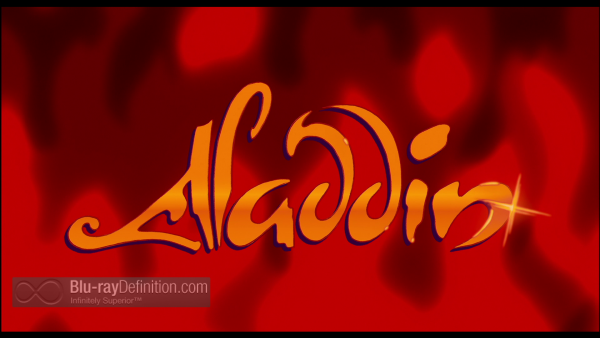 Aladdin was the third in a series of animated films from Disney that started the resurgence of the Disney and the animated feature film renaissance in the 1990s which began with The Little Mermaid in 1989 and continued with Beauty and the Beast. Aladdin kept the trend going in 1992, mixing the traditional Disney elements of fantasy, adventure, romance, memorable melodies, monsters, and a scary villain into one tight family friendly package.
A sultan (Douglas Seale), under the spell of his nefarious Vizier, Jafar (Jonathan Freeman), orders his beautiful young daughter, Princess Jasmine (Linda Larkin), to marry within three days and since there is no prince to be found, that person will have to be Jafar who is plotting to become Sultan. Meanwhile, the streetwise orphan Aladdin, who'd previous met the princess in a street market when she tried to escape from the palace, comes across a magical lamp in the cave of forbidden treasure. When he rubs the lamp, out pops a powerful genie (Robin Williams) who swears his allegiance to Aladdin and grants him three wishes. Aladdin uses his wishes to help gain the hand of Princess Jasmine, but he will have to get past Jafar and other dangerous obstacles before the happy ever after ending for the young couple is to be.
The magic in the film is in both the gorgeous trademark Disney animation, pushing the boundaries of traditional hand drawn and CGI assisted animation before the days of the 3DCG dominated animated world, and the breakneck improv of Robin Williams' comedic genius as the genie. Williams keeps this film afloat and outshines the entire cast with his mile-a-minute impersonations, inside jokes, and spot on comedic timing. Is this the beginning of making sure there's a big name attached to your animated feature? Maybe, but it's still a treat regardless.

Video Quality
[Rating:5/5]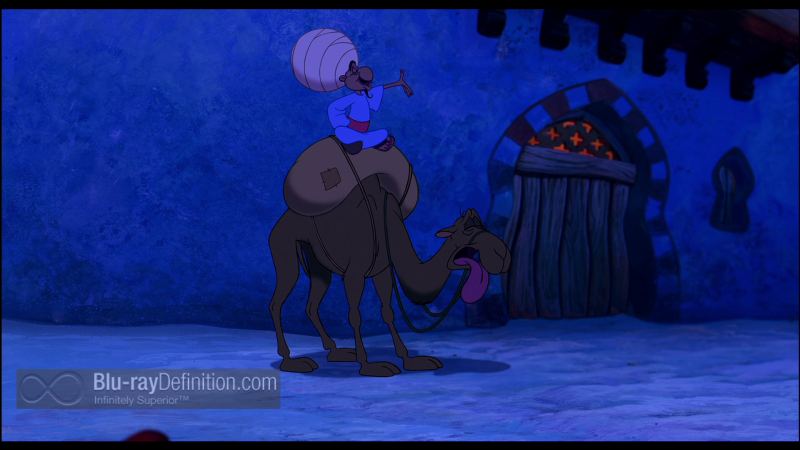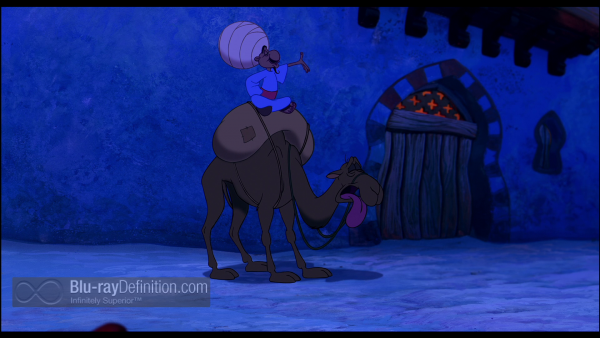 Aladdin simply put looks gorgeous on this AVC 1080p Blu-ray release from Disney. The colors pop beautifully, the contrast is strong, the image is bright and clean and detail is sharp. There are no motion artifacts that can be spotted, there's no video noise, and no aliasing. This is A+.

Audio Quality
[Rating:5/5]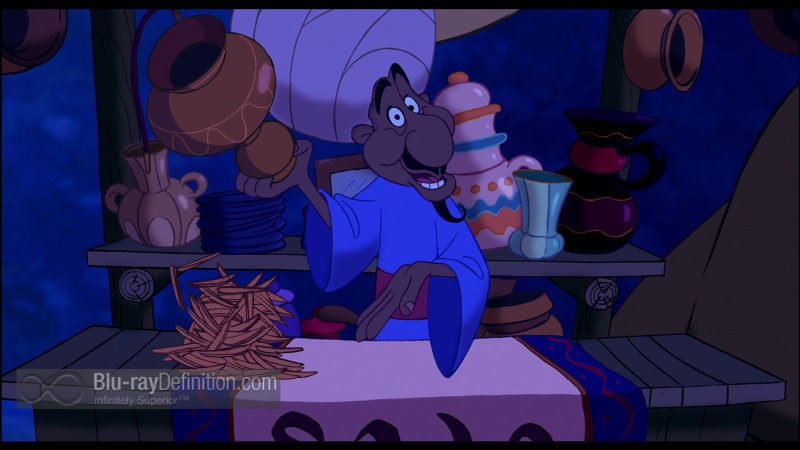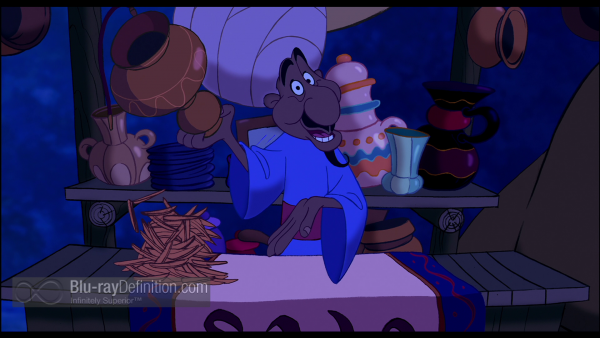 Aladdin gets fantastically upgraded sounded in a DTS-HD Master Audio 7.1 (48kHz/24-bit) soundtrack on Blu-ray. The highs and lows are so well balanced and natural, the dialogue and vocals during the songs are clear and full, and sound effects are solidly placed around the room effectively throughout the film. One of the best moments comes when Aladdin enters the cave of the forbidden treasure to recover the lamp and it begins to collapse. There is a wonderful wall of sound that pulls you right into the action and the score also cuts through clearly.

Supplemental Materials
[Rating:5/5]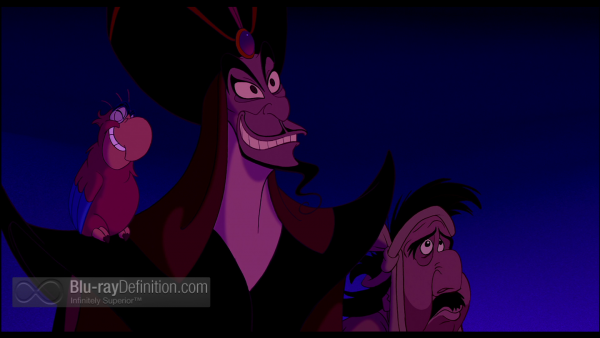 Disney Movies Anywhere Digital HD – Let's you play your movie anywhere via iTunes, VUDU, Google Play, Microsoft, the Disney Movies Anywhere app.
Play film with Lyrics On-Screen
The Genie Outtakes (1.78:1; 1080p/24; 00:08:53)
Aladdin: Creating Broadway Magic (1.78:1; 1080p/24; 00:18:53) – A look at Disney's Broadway version of Aladdin.
Unboxing Aladdin (1.78:1; 1080p/24; 00:04:40) – Get the inside scoop on some Easter eggs in the Aladdin movie.
Genie 101 (1.78:1; 1080p/24; 00:03:59) – A 'tutorial' on the numerous impressions that the late great Robin Williams runs through in Aladdin from Scott Weinger, the voice of Aladdin.
Rob & John: You Ain't Never Had a Friend Like Me (1.78:1; 1080p/24; 00:05:36) – The producers/directors get together for a lighthearted discussion about their long partnership and friendship.
Classic Bonus:

Deleted Songs (1.33:1; SD; 00:13:57):

"Proud of Your Boy" (Original Demo Recording)
"You Can Count on Me"
"Humiliate the Boy"
"Why Me"

Deleted Scenes (1.33:1; SD; 00:05:43):

Aladdin & Jasmine's First Meeting
Aladdin in the Lap of Luxury

Music Videos:

"Proud of Your Boy" performed by Clay Aiken
Original Story Reel
Behind the Scenes of the Music Video
"A Whole New World" performed by Jessica Simpson & Nick Lachey
Behind the Scenes of the Music Video
"A Whole New World" performed by Regina Belle & Peabo Bryson

Disney Song Selection:

"Arabian Nights"
"One Jump Ahead"
"Friend Like Me"
'Prince Ali"
"A Whole New World"

Inside the Genie's Lamp: Guided Tour (1.33:1; SD; 00:06:13)
The Genie World Tour (1.33:1; SD; 00:03:14)
Audio Commentaries:

By producers/directors John Musker and Ron Clements & Co-Producer Amy Pell
By Supervising animators Andreas Deja, Will Finn, Eric Goldberg and Glen Keane

A Diamond in the Rough: The Making of Aladdin (1.33:1; SD; 01:10:52)
Alan Menken: Musical Renaissance Man (1.33:1; SD; 00:19:55)
The Art of Aladdin: Art Review with Filmmakers' Commentary (1.33:1; SD; 00:08:45)
Publicity:

Original Theatrical Trailer (1.33:1; SD; 00:02:50)
Trailer: The Return of Jafar (1.33:1; SD; 00:00:43)
Original Trailer: Aladdin and the King of Thieves (1.33:1; SD; 00:01:30)

The Definitive Word
Overall:
[Rating:4.5/5]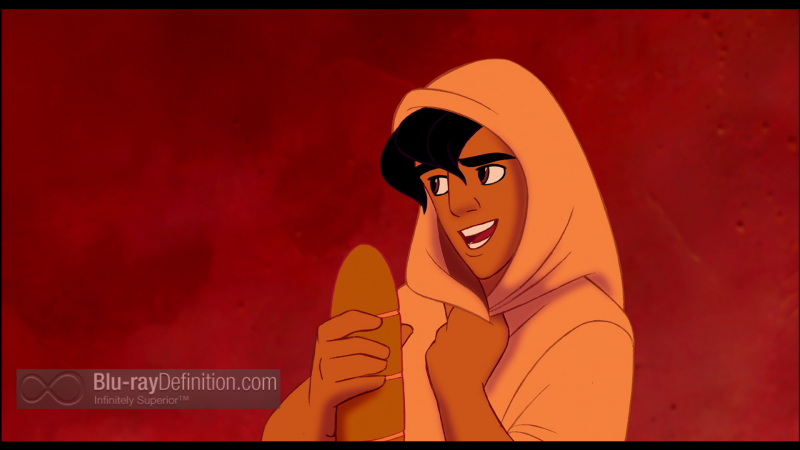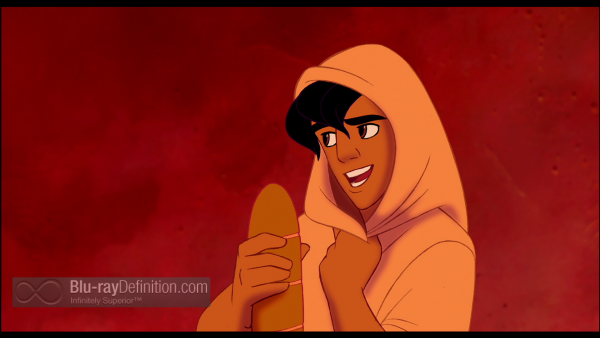 Aladdin is a testament to the lasting comedic genius of Robin Williams and the enduring quality of Disney's family friendly animation. This '90s classic is still enjoyable and holds up perfectly well against the 3DCG competition in this beautiful new Diamond Edition Blu-ray.

Additional Screen Captures