The Film
[Rating:3.5/5]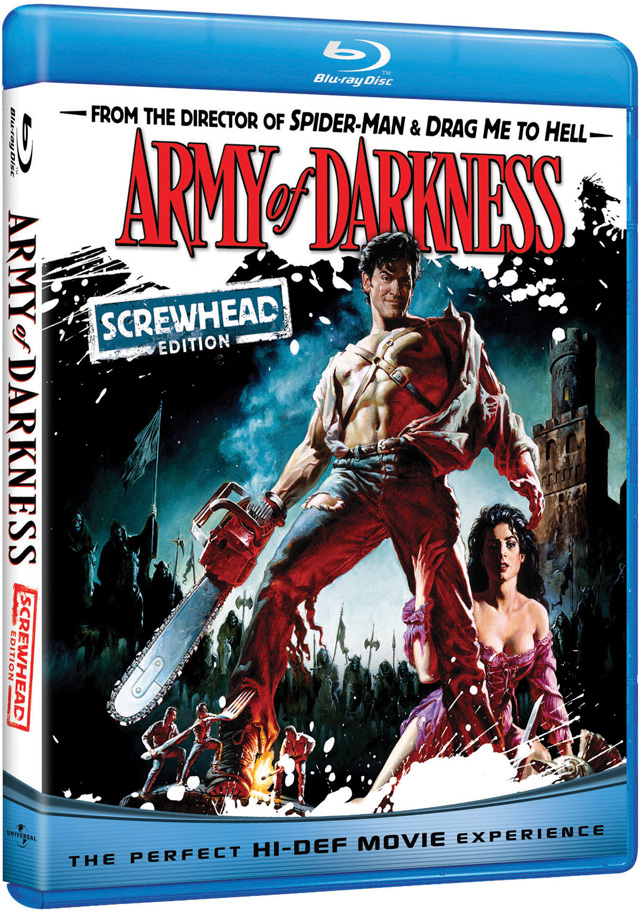 Before he became known for directing the big budget Hollywood blockbusters like Spider-Man, Sam Raimi was known for directing Bruce Campbell as the undead-battling hero Ash in the unrated horror cult films Evil Dead and Evil Dead 2. Moving to a major studio and gaining a larger budget of around $11 million, Army of Darkness became the third film in the Evil Dead series. Working under the watchful eye of Universal Studios, who requested that Raimi change the name from Evil Dead to Army of Darkness and make the film less gory than its predecessors, Raimi and his brother Ivan set out to craft a story that was to pay homage to the classic stop-motion fantasy films of Ray Harryhausen, such as The 7th Voyage of Sinbad and also to Jonathan Swift's Gulliver's Travels.
Army of Darkness picks up from where Evil Dead 2 left off, with Ash sent back in time to medieval England where he is once again forced to battle the undead, known as the Deadites, in order to recover the Necronomicon (The Book of the Dead), which contains the formula that will enable him to be sent back to his own time. A Wiseman (Ian Abercrombie) tells Ash what he must do to retrieve the Necronomicon, so he sets off through a haunted wood and a graveyard to retrieve it and take it back.
This entire sequence is very reminiscent of The 7th Voyage of Sinbad or Gulliver's Travels, as Ash is chased into a windmill and while inside breaks a mirror into tiny pieces from which emerge little copies of him. Many people miss the point entirely of the visual effects of Army of Darkness. Unless one has seen 7th Voyage of Sinbad or It Came from Beneath the Sea and other Harryhausen films, one might be apt to disregard Army of Darkness as awful filmmaking with terrible special effects, but it is a true throwback to those early stop-motion films of the 1950's and 60's.
What Raimi does so well in Army of Darkness is not just imitate the style of Harryhausen, but craft an original tale based on his own Evil Dead mythology that is unique and truthful while still respectful of the Harryhausen legacy. Adding to the success is the underlying humor of Army of Darkness. Being less reliant on the gore than the previous two films, Army of Darkness is fortunate to have Bruce Campbell (still showing his talent for humor on Burn Notice) in the role as the reluctant, guns-blazing demon fighter.  Like he says, "Good. Bad. [He's] the guy with the gun." His wisecracking delivery is perfect for the role of Ash. He's just the sort of guy you'd believe could fight off an army of skeletons and win the hand of a beautiful maiden at the end of the day.


Video Quality
[Rating:4/5]
Army of Darkness' 1080p VC-1 transfer is a solid one straight through. Apart from the occasional appearance of some obvious specs of dirt and scratches in the source that only seem to add to the charm of this quirky piece of cinema, the film is relatively clean and vibrant. Brighter scenes reveal an incredible amount of detail with accurate flesh tones and true, sharp film grain is retained. In darker scenes, things break down just a tad, softening slightly, but shadow detail is strong. Black levels do seem more grayish than inky, but they are still acceptable. Overall, Army of Darkness looks quite good for a film now seventeen-years-old. Grain structure is retained, there are no compression artifacts visible, and edge enhancement is not an issue. I'm certain fans of the film will enjoy this new Blu-ray presentation.
Audio Quality
[Rating:3.5/5]
Army of Darkness arrives on Blu-ray Disc with a DTS-HD Master Audio 5.1 lossless soundtrack from Universal. Dialogue is clean and the sound is rather dynamic. As opposed to constantly booming aural assault that can become somewhat fatiguing to the ears, Army of Darkness seems to be mastered to a somewhat lower volume level, allowing for some breathing room, so to speak. Though there is use of the surround channels for some low level discrete sound effects, the overall mix still seems a little stagnant. There is good low frequency extension during the big battle sequences towards the film's climax and a more immersive sound experience during these scenes as well, but there is no sense of overall cohesion to the mix.
Supplemental Materials
[Rating:3/5]
Army of Darkness is disappointingly thin on the extras, but there is a good lengthy featurette on the film's visual effects.
The supplements available on this release are:
Creating the Deadites (1.78:1; 1080i/60; 0:21.29) — Special Effects Makeup Artists Howard Berger and Greg Nicotero discuss creating the visual effects for Army of Darkness.
Alternate Ending (1.33:1; 480i/60; 0:04.42)
Theatrical Trailer (1.33:1; 480i/60; 0:02.03)
U-Control — Watch Army of Darkness with picture-in-picture production stills.
BD-Live
$5.00 Halloween Candy Cash — A $5.00 coupon towards the purchase of any candy product at participating stores is included in the package.
The Definitive Word
Overall:
[Rating:3.5/5]
Sam Raimi's love letter to Ray Harryhausen is eighty minutes of ridiculous fun and this Blu-ray release presents it quite nicely. This should be a hard one to pass up for fans of horror or stop-motion animation. Well done.