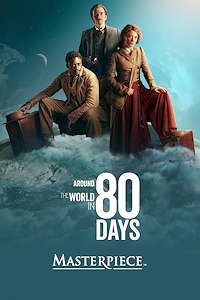 Jules Verne's classic novel Around the World in 80 Days inspired a classic film adaptation in 1956 that took home five Academy Awards, including Best Motion Picture, and featured a cast of principals and long list of cameo appearances that would be impossible to duplicate today. Nearly half a century later, Walt Disney Pictures released an extensively revised version as a martial arts vehicle for Jackie Chan that was a box office bomb. On January 2, 2022, a new BBC One eight-episode series has started airing on the PBS Masterpiece network.
Phileas Fogg (David Tennant) receives an anonymous postcard containing just one word— "Coward"—just before he heads to his gentlemen-only club for lunch. The quiet of the Reform Club is shattered by the appearance of a woman, newspaper columnist Abigail Fortescue (Leonie Benesch) who berates a club member, her father Bernard (Jason Watkins), for removing her name from a recent article that she has written about the possibility of circumnavigating the globe in 80 days. Fogg announces to the club members in attendance that, on this very evening, he will begin that same journey. Fellow club member Nyle Bellamy wagers ten thousand pounds against Fogg who counters with twenty thousand pounds that he will succeed.
Frenchman Passepartout (Ibrahim Koma) has just quit his waiter's job at the Reform Club and soon presents himself to Fogg as his new valet. Meanwhile Abigail convinces her father to let her accompany Fogg and write a column on this trip using her mother's maiden name "Fix." She joins Fogg and Passepartout on their way to Paris where they find themselves surrounded by a huge public demonstration against the President of France, an assassination target for Passepartout's estranged brother Gerard (Loic Djani). Gerard's bullet misses the President and strikes Phileas in the chest but, fortunately, the whiskey flask in Phileas's pocket stopped the bullet. The police kill Gerard, and then chase Fogg, Abigail, and Passepartout through the Paris underground until the trio soars to freedom in a giant balloon bound for Italy as the first episode concludes.
The eight, hour-long episodes permit the inclusion of more action scenes than were possible in the original three-hour film, as trailers for future episodes show a trek on camelback across the Yemen desert, a trip to India where a traditional wedding is underway, and an eventual arrival in the American Wild West where their journey stalls. By way of a spoiler alert, unless you have already seen the original film or read the novel, the final episode will give you every reason to believe that Fogg's monumental effort will fail.
Show creators Ashley Pharoah and Caleb Ranson have given David Tennant a more diffident Phileas Fogg than the one confidently portrayed by David Niven.Also absent here is the original film's tense subplot in which Fogg is the prime suspect in the Bank of England robbery, pursued by a Scotland Yard detective, the original Fix, whose surname is now bestowed upon a far less intriguing female reporter. Ibrahim Koma's Passepartout lacks the comedic chops of Cantinflas, a trait that would have provided some welcome relief from the many serious moments lying ahead in this high-wire adventure series. On the positive side, we do get terrific camerawork by Mannie Ferreira and Alvaro Gutierrez if not on the scale of Lionel Lindon's overwhelming Todd-AO 70mm panoramas. Similarly, noted film composer Hans Zimmer has delivered a decent atmospheric soundtrack but one clearly outpointed by Victor Young's Oscar-winning masterpiece. While there are some dramatic shortcomings so far in this new version of Verne's classic tale, it is still worth watching for the committed performances of its principals although I do miss the original film's deftly humorous touches and its endless parade of cinematic luminaries. Season One will complete the original tale, and it has already been announced that our intrepid traveler will tackle new challenges in a second season. Outshone by the original film, this is at least better viewing fare than most of what is currently being doled out on the small screen.
Around the World in 80 days is broadcasting on PBS and streaming on the PBS Masterpiece Amazon Channel
---
Show Creator: Ashley Pharoah | Caleb Ranson
Release Date: 2 January 2022 (USA)
Network: PBS | PBS Masterpiece (Streaming)
Ep. Run Time: 60 Mins.
Num. Eps.: 8
Studios & Distributors: Federation Entertainment | France Televisions | RAI | Seven West Media | Daro Film Distribution, Zweites Deutsches Fernsehen, Slim Film + Television, BE-FILMS, PBS Masterpiece, Peu Communication Solutions | RTBP Fiction | BBC One