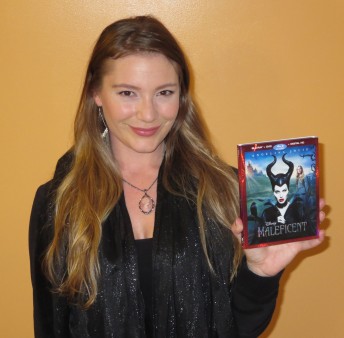 Darker than its traditional telling, Disney re-makes the classic tale of Sleeping Beauty with a modern day twist. Writer Linda Woolverton (Beauty and the Beast) humanizes the classic villain by weaving an intricate tale of love and betrayal, providing enough back story to make anyone love Maleficent.
Once a young carefree fairy, Maleficent (Angelina Jolie, Salt) spent her days frolicking in the moors with its blooming flowers, lush landscapes, waterfalls, and rivers; it was a peaceful paradise. Outside the moors, lies the human kingdom, a land of greed, ambition and corruption – it was everything the Moors weren't. A poor boy from the human side of the land wanders into the Moors and is caught red handed. Stefan (Sharlto Copley, Elysium) and Maleficent grow to be fast friends, he visits her as often as he can until one day their friendship blooms into something more. Stefan gifts the young fairy with true love's kiss. And from that point on Maleficent is smitten.
They grew apart as they aged, Stefan slowly stopped visiting, and a heartbroken Maleficent had to accept the loss of her first love. The politics of the human world had won Stefan over and his sights were set on the crown. That kind of greed was unfathomable to a fairy. Though Maleficent was no ordinary fairy, she was the strongest of her kind and as such became the protector of the Moors.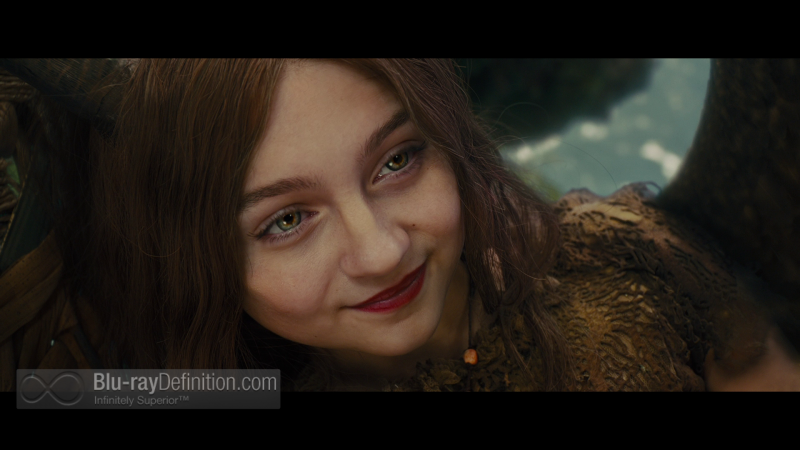 Sometimes even the strong have a weakness, and for her it was Stefan. He came back one day, for a surprise visit that played out more like a romantic date. Together they drank and stared at the moon, just like old times. But it wasn't. Stefan drugged his date with the intent to harm. In what felt like a thinly veiled metaphoric rape, Maleficent was violated as she lay there comatose unable to protect or defend herself. This was a dark moment for Disney, but very necessary. It was the agony of the betrayal more than the physical pain itself that turned Maleficent's heart to stone.
In her darker moments, Maleficent turns to a crow for friendship and guidance. She looks to him to be her wings now, turning him from animal to human and back again whenever she sees fit. Diaval (Sam Riley, On The Road), the crow becomes her fantastically entertaining and willing spy. He's also the messenger, bringing constant updates about what the humans are up to. Which is how Maleficent learns of Aurora's birth, Stefan's only daughter. The pain and suffering she's endured can now be avenged with a simple curse.
What Maleficent never counted on was falling for Aurora (Elle Fanning, Super 8) herself. Spying on the young child, watching her grow, Maleficent refers to the young thing as "beastie." First in a disdainful way, but as time goes on it morphs into a loving pet name. Maleficent's heart warms as she rediscovers love from an unlikely source. Sadly not even she can break the curse she made, and sixteen years goes by fast.
Angelina Jolie wowed in her role as Maleficent. And it was more than her razor sharp cheekbone enhancements, smoldering green eyes, or wickedly designed horns. A storm brewed beneath just below the surface, her composure was impeccable. No one could have played this better; in fact I think Jolie is the only one who could have pulled this off. She takes her role seriously, playing up a loveable character without trading her villain card in.
Elle Fanning was the perfect cherubic Aurora. She gushes happiness, and as Jolie said in a behind the scenes interview, Fanning is like "pure sunshine." I couldn't agree more.
Director Robert Stromberg armed with a team of experts, created a believable fantasy world with complex characters that aren't good or bad, but complicated emotional beings. The CGI effects were well done and hardly noticeable. This is a great movie about female empowerment that every little girl should see.
VIDEO QUALITY
[Rating:5/5]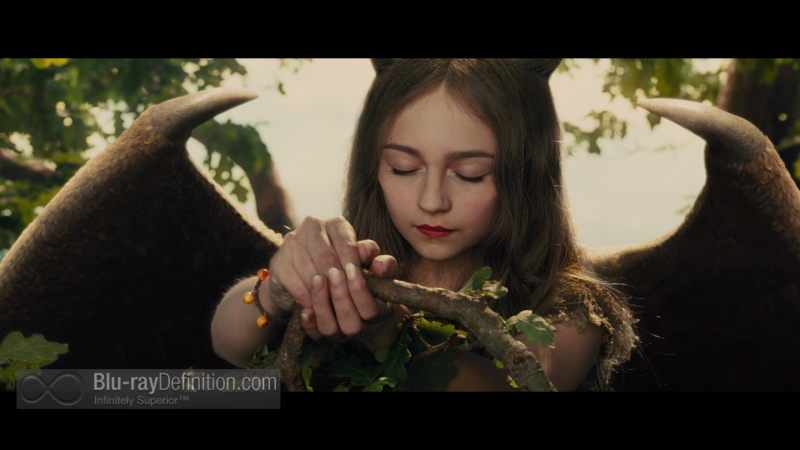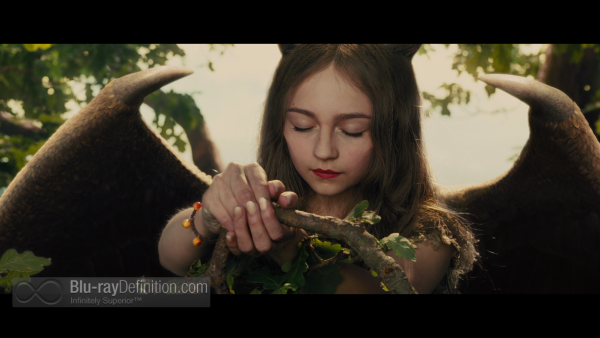 Disney's Maleficent is stunning in a 1080p AVC encoded transfer in 2.40:1. Watching this fairytale come to life so vividly and in such a rush of detail was like watching art in motion. This was cinematic brilliance. Every ridge, line and bump in Jolie's horned headpiece was presented with a flourish. From her perfectly lined lips, soulful gaze, and miniscule pores the close-ups revealed it all. The moors were exquisitely captured, as were all the fairy and forest creature folk. The skin tones ring of truth while the blacks are unadulterated and earnest. With crisp, sharp detail and a fearless color palette the aesthetics in this are divine.
AUDIO QUALITY
[Rating:4.5/5]
With a DTS-HD Master Audio 7.1 lossless soundtrack Maleficent is sure to wow. Every speaker is utilized to bring this melodic mix to life. Dialogue was clearly emphasized and never lost amid the chaos. From the ambient sounds to the compelling use of bass during the great battle, this track delivered as expected. With fantastic directional sound this is one immersive experience that won't disappoint.
SPECIAL FEATURES
[Rating:2.5/5]
Aurora: Becoming a Beauty — Actress Elle Fanning energetically talks about her character and her own personal interactions with Sleeping Beauty.
From Fairy Tale to Feature Film – Actress Angelina Jolie, Writer Linda Woolverton, Executive Producer Palak Patel, Producer Joe Roth and Actress Elle Fanning comment on how they created this version of Maleficent.
Building An Epic Battle – Writer Linda Woolverton, Producer Joe Roth, Stunt Coordinator Eunice Huthart, SFX Supervisor Michael Dawson, and Senior Visual Effects Supervisor Carey Villegas discuss the hard work that went into creating the battle of humans verse creatures of the Moors.
Classic Couture – Millinery Designer Justin Smith describes the work behind Maleficent's headpiece and horns.
Maleficent Revealed – A behind the scenes look at the CGI additions with very little narrative guide
Deleted Scenes – Stefan In King's Chamber, Pixies Seek Asylum, Pixie Idiots, Diaval Asks About The Curse, and Suitor.
Aurora Snow Says
OVERALL:
[Rating:4.5/5]
Maleficent is a retold fairytale done right. With its credible backstory, the original Sleeping Beauty has not been discounted, therefore purists shouldn't have much to complain about. Humanizing the evil villain, Maleficent, teaches children about the complexities in life. And that love while warm and wonderful can also be confusing, painful and eye opening. With movies like this, Frozen and Brave we're encouraging girls to be more than just a damsel in distress waiting on a prince and his true love's kiss.
More Screen Captures
[amazon-product]B00M4ADWTK[/amazon-product]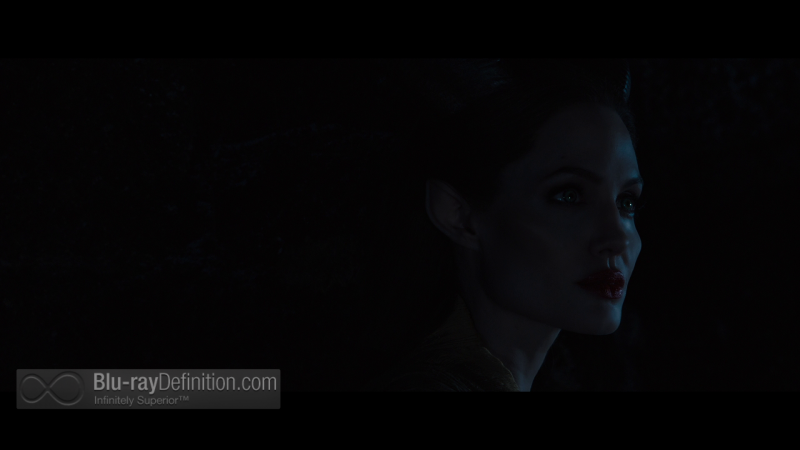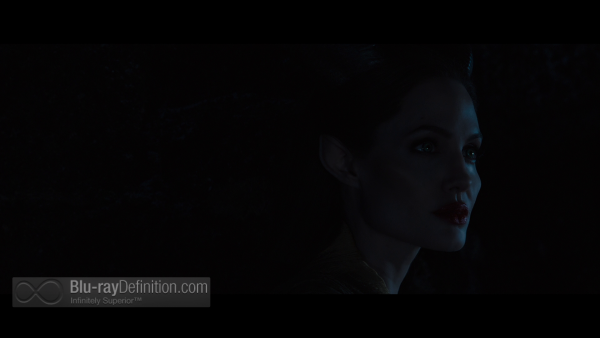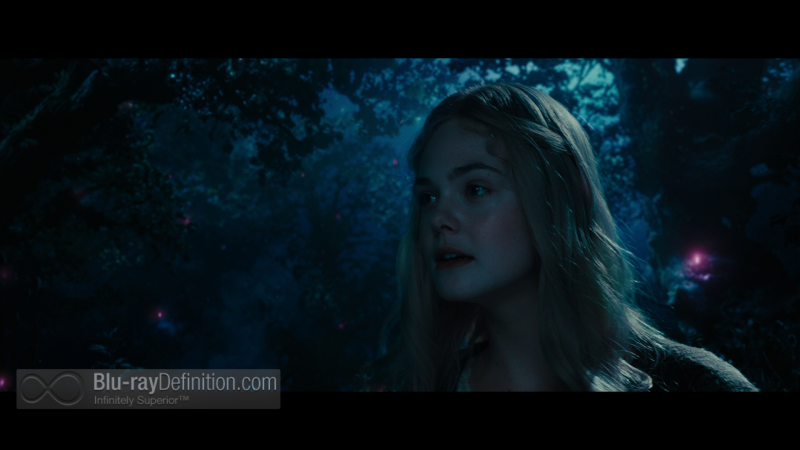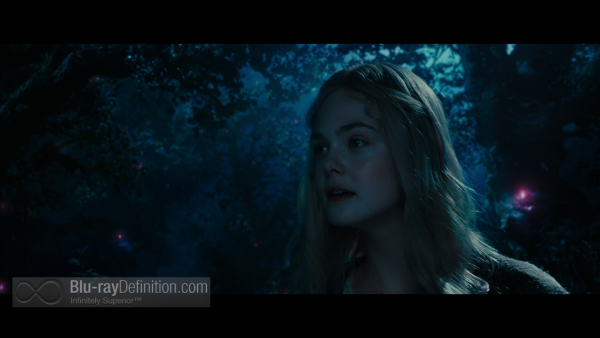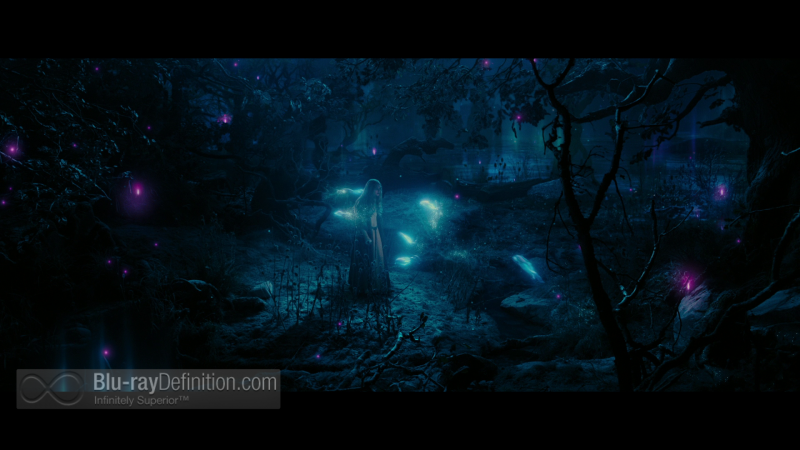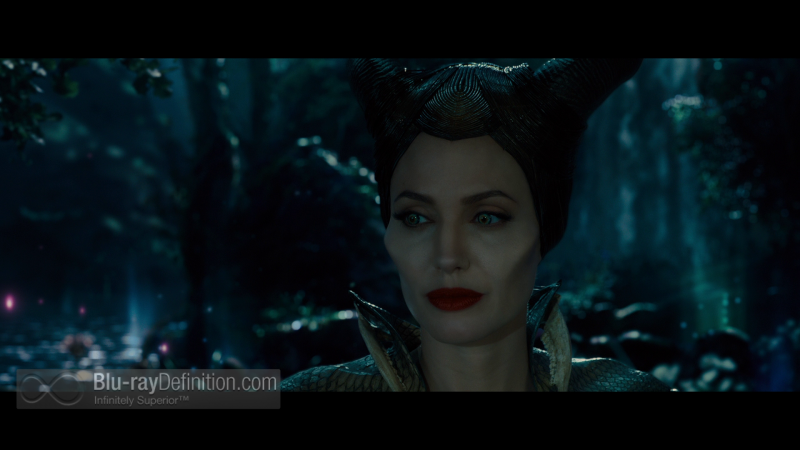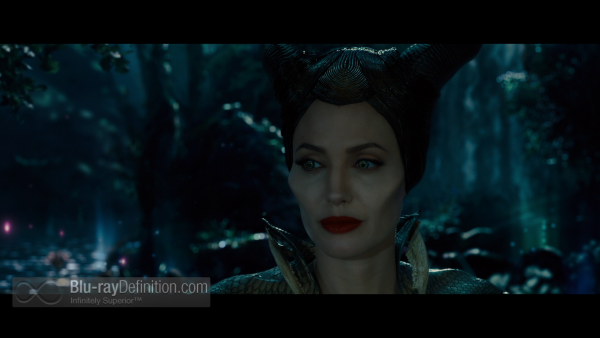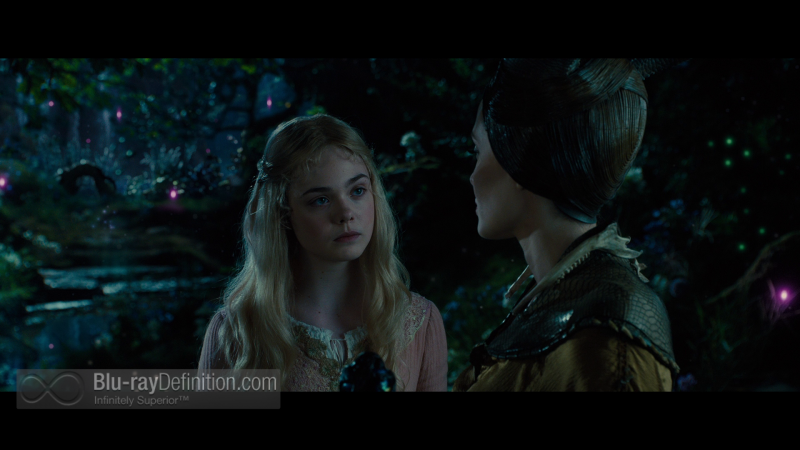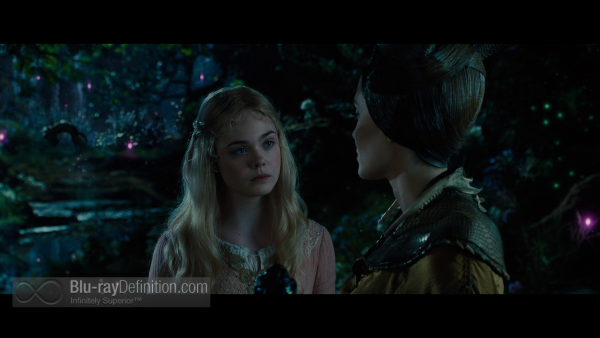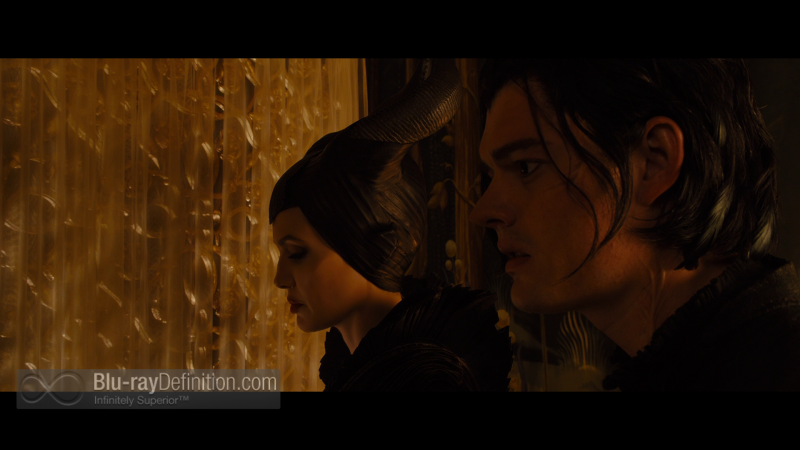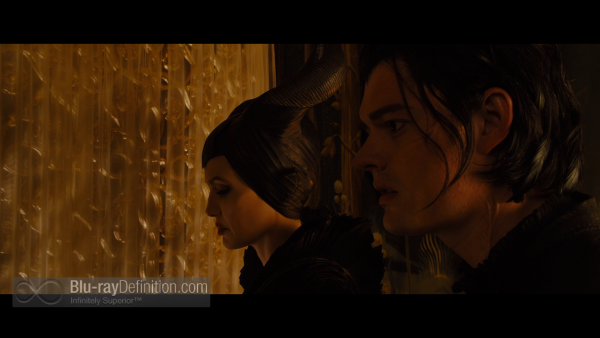 [amazon-product]B00M4ADWTK[/amazon-product]