"Mother"

No matter how much we swear we'll never be like our parents somehow we always end up just a little like them. The apple never falls from the tree. Few of us possess the self awareness it takes to realize that sometimes fighting our own heritage makes us just like the people we strive to be so different from.
Like so many, Regina is determined to be nothing like her mother she detests so vehemently. Yet her dark heart, lack of love and insistence on vengeance make her more alike than she'd care to admit.
In a similar fashion, Lily is a lot like her mother. Despite Maleficent's warm, fuzzy, forgiving demeanor in this episode, we've seen her dark side and it's those genes Lily is wrestling with. Apparently turning into a dragon is genetic and poor Lily finds out the hard way. Luckily for her, Maleficent is on hand and ready to guide her long lost daughter through the magical metamorphosis. Maleficent is facing the same problems Snow and Charming did when they first encountered Emma. Instead of holding a grudge, Maleficent turns to them in her time of need. Though the Charmings failed her once, she's counting on them to make it up to her. If ever there was a time to recognize Maleficent as a class act it's now. Even the Charmings don't let go of grudges that easily!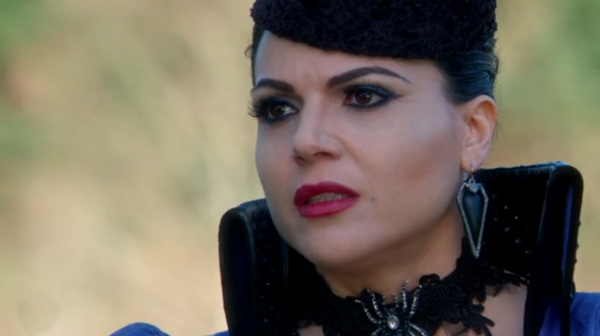 Emma never had to turn dark. Regina solved the riddle, figuring out it was Lily who carried Emma's darkness. Therefore only a drop of Lily's dark savior blood was necessary to enchant the author's ink. I was wondering how Emma could go from good to bad and back to good again. I'm so happy we didn't have to find that out! Emma and Hook are getting cozy! I love them as a couple and hope to see more of them on screen. Hook is clearly in love and he's such a chivalrously handsome pirate!
Ready for her happy ending, Regina figured out the perfect way to deal with Zelena. It was simple really, the author would write her out. It'd be like she never existed. Problem solved. It would have been perfect, and perhaps the old Regina wouldn't have thought twice, but the new Regina is far more layered. This modern day emotionally complex version realized that not only was she becoming her mother, but that Cora was right — the only one standing in the way of her own happiness was herself. Regina didn't need the author after all. She has plenty of power as the Mayor of Storybrooke, she can tie Zelena up with custody battles for a long, long time. In a town where magic is used to solve almost every problem this was a hilarious and unexpected resolution. Kudos to the creative team on this one!
Regina's revelation came a little late. It wasn't until the moment she was going to wipe Zelena out that the reality of her situation hit. Her dismissal of the author should lead us into a very interesting fifth season (if OUAT continues down this path). Armed with the magic quill and enchanted ink, the author writes himself over to Rumpelstiltskin. My first thought when this happened is: why? Not sure why the author would care if Rumpel dies and leaves the loveless Dark One in his stead. Perhaps it's the author's curious, yet ornery nature that leads him to Rumpel. Whatever it is, seeing the author scrawl the words "Once Upon A Time" in a new book titled Heroes and Villains is enough to make a fan shiver with anticipation. What an incredible way to begin the next season!
Of course we still have the finale to get through, but with such an ominous title it's clear that Rumpel may actually shift the balance of good and evil. And if he does, that shouldn't be explained away in one amazing finale…so you can see why I'm already speculating about the fifth season. At this point, who isn't?

Aurora Snow Says
Episode Rating:
[Rating:4/5]