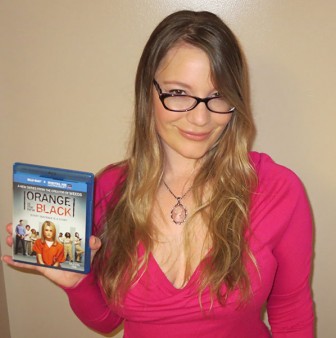 Creator Jenji Kohan has another hit series on her hands. If anyone was wondering what she'd do after Weeds ended, here is your answer: Orange is the New Black. Kohan fought hard and beat out several other producers for the rights to Piper Kerman's memoir. After seeing what she's done with it, I couldn't imagine the material in more capable hands.
Orange isn't your stereotypical show about a women's prison, nor is it a show that has only one star. Instead, this new series from Netflix features an incredible cast of lesser known actors that are about to be recognized everywhere they go. Piper Chapman (Taylor Schilling) stars as the thirty-something urbanite who shops at Whole Foods and makes scented soap destined to be sold in high end retail stores like Barneys, but has a terrible mistake from her past resurface. It's that mistake from ten years ago that lands her in the Litchfield prison (the statute of limitations is twelve years). Despite her current yuppie appearance, Piper was a lesbian who enjoyed bending the rules in her 20s. And for that she's paying the price.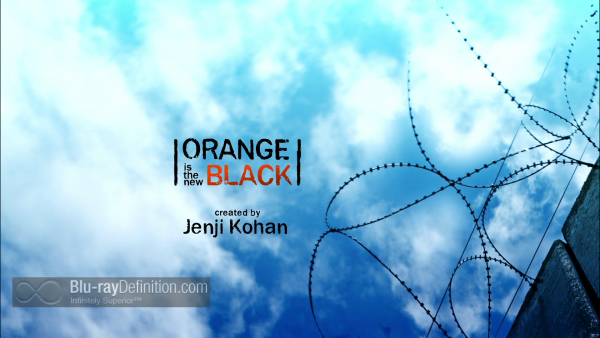 Remember Laura Prepon from That 70s Show? Forget the preppy character she played then, she's transformed into quite the badass vixen. I'm not sure I'd have labeled Prepon as "hot",  but after seeing her star as the raven-haired Alex Vause, I would now. Vause is a former international drug cartel operator, Piper's ex-girlfriend and ultimately the reason Piper ends up incarcerated. Vause and Piper end up in prison together which brings back a lot of memories.
Piper's fiancé Larry (Jason Biggs from American Pie) has promised to wait the fifteen months until she's out. He didn't find out about his fiancée's somewhat checkered past until after the engagement, but when you love someone enough to marry them that shouldn't matter anyway. Larry isn't sitting at home twiddling his thumbs, he's a writer and he makes the most out of his fiancée's predicament by turning their relationship into a public media affair. He manages to create quite the career telling the story about his future wife, the inmate.
Piper has to learn how to live under constant scrutiny of both guards and inmates, use the bathroom while others watch, use communal showers and choke down rubbery prison food. She now fantasizes about outside food, taking her fantasy to the next level she has her fiancé describe his groceries to her in a call reminiscent of phone sex. The writers manage to tread lightly over potentially dark subject matter, giving the show a comedic flair.
Orange is a show that explores not just Piper's story, but that of her fellow inmates. Their back stories are explored through flashbacks and we're given just enough information to sympathize with their plights, but not too much that it clogs up the storyline. This is a robust female-driven series with an intriguing cast of characters.
And some of the inmates are crazy. Taryn Manning appears as Tiffany "Pennsatucky" Doggett a lesbian-hating, born again Christian who killed someone at an abortion clinic and now leads a group of followers in the Lord's prayer behind bars. She believes the Lord can speak through her, which leads to all sorts of hilarious problems. Then there is Uzo Aduba who plays Suzanne "Crazy Eyes" Warren. Crazy Eyes falls in love and does her dandiest to become Piper's prison wife, but when her advances are turned down she goes a little nutty. Aduba shines in this role, from her antics to her posture she nails the "crazy."
Not all of Litchfield's inmates are crazy, some are just there trying to serve their time as peacefully as possible. Kate Mulgrew stars as Galina "Red" Reznikov the prison cook, inmate, and mother hen to most of the inmates. Red rules with an iron fist, but genuinely cares about "her" girls. You do not want to be on her bad side, as Piper soon learns. Here's a tip, always be nice to the cook and you won't starve.
Lorna Morello (Yael Stone) is unflinchingly loyal to Red and the sweetest little inmate there ever was, all she can talk about is her dream wedding to Christopher. This petite red lipped beauty hardly looks like she belongs in prison, but then again who does?
Danielle Brooks stars as Tasha "Taystee" Jefferson the outspoken inmate who is more like a class clown than a prisoner. But don't let that fool you, she spends most of her prison sentence working in a law library, the clowning is just an act. Brook's real life best friend, Samira Wiley, won the role of her on screen sidekick Poussey Washington. Poussey was a track star with a scholarship when she took up with the wrong crowd and landed behind bars.
Dayanara Diaz (Dascha Polanco) is a budding sketch artist who joins her mother behind bars and falls in love with a correctional officer. She doesn't have a very healthy relationship with Mama, if anything things are so tense they hardly communicate. But when Diaz finds herself in a tough predicament it's her Mama who comes through.
Miss Claudette (Michelle Hurst) is a legendary inmate, a tough old women rumored to be in for murder but she doesn't quite live up to the urban legend. But once you learn her back story she becomes an endearing woman, one who's emotional conflicts are well played thanks to Hurst.
Constance Shulman is Yoga Jones, the spindly yoga teaching inmate and resident zen practitioner. She wasn't this zen on the outside, her dark past is what drives her forward.
I'm thrilled to see Natasha Lyonne resurface. It's been a long time since we've seen her mug. Lyonne stars as cheeky inmate Nicky Nichols the recovering junkie with mommy abandonment issues. As a lady lover herself, Nicky always knows how to spot a fellow lesbian. She and Morello have a thing going on even though Morello has someone on the outside. Turns out prison is like Vegas, whatever happens there stays there.
Very few shows have tackled the transgender issue but Orange courageously pushes it forward. Laverne Cox plays the sassy transgender Sophia Burset who also doubles as the inmate's chatty hair dresser. This raises some real questions about what life would be like for a transgender behind bars. It's something I've always wondered about. And while Sophia is disliked by some, there are plenty more who accept her as is. I just wonder how true to life this is. Lucky for us Cox has a twin brother, who was cast to play the pre-op version of Sophia which helped to nail the transgender transformation. Some of the most touching moments of the season revolve around Sophia and the struggles "his" wife goes through to accept her husband as he is now. It'll bring a tear to the eye. As an added treat, it was a Jodie Foster directed episode exploring Sophia's back story!
While the male roles aren't fully explored, the guards thus far have been supporting characters at best. Michael J.Harney, Pablo Schrieber and Matt McGorry all do a splendid job portraying three very different types of prison guards.
Orange is a remarkable new series with an intriguing story telling technique. Piper is the gateway, her entry into the prison system is merely the launching point for this narrative. While there is the usual theft, brawls, and graphic (but not gratuitous) sex scenes, Orange also provides us with a charming thoughtful interpretation of a life we don't normally get to see. With so much left to explore this series has a good chance at longevity.
Video Quality
[Rating:4/5]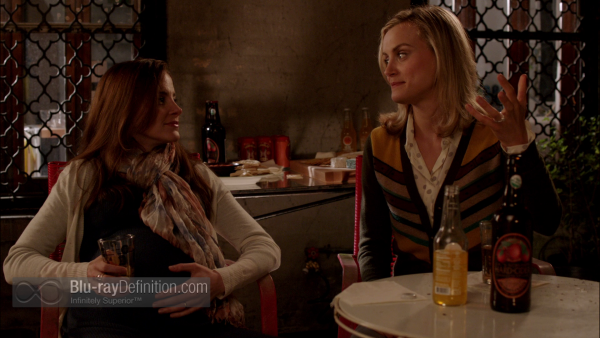 This 1.78:1, 1080p high definition transfer from Lionsgate looks incredibly natural. Though a lot of the series is spent behind bars, there are plenty of flashbacks and even some exterior prison shots to show case the cinematography. The vividly orange prison uniforms "pop" on screen against the cold grays of the cement penitentiary. Most of the inmates however are dressed in dull brown uniforms which tend to blend with the other purposefully drab indoor tones. Though there is plenty of color that bursts through from the cook's shockingly red hair, to the red lips of one inmate and the thick black eye liner of another. These bits of color that rise up intermittently are a fascinating compliment to the overall story.
While I suspect some of the actresses were uglied up for their roles, it was the details that added to their credibility, the disheveled looks, the dirty faces, and enlarged pores. Skin tones were marvelous as was the contrast. Every detail was on full display, which made the slimy chunks of prison food that much more detestable. It wasn't hard to imagine what that must smell like either. It was so clear it felt like you were sitting right there at the lunch table with all the other inmates. Overall there's some nice depth with a keenness for clarity.
Audio Quality
[Rating:4/5]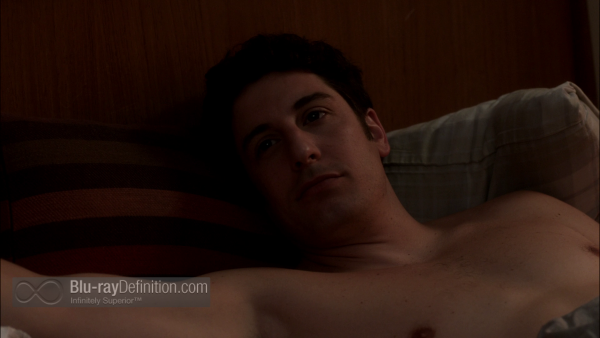 Orange is the New Black features an English 5.1 DTS-HD Master Audio as well as a French 5.1 Dolby Digital Audio track. Dependable and well paced this audio refuses to disappoint. This is primarily a dialogue driven presentation that can be well heard, it's neither so quiet you're straining to hear nor is it ear shattering. The prison ambience is believable and well thought out. From the quiet of the evening to the dull lunchtime chatter and the soft moans of lovers who don't want to be caught, this track performs as expected. Overall it sounds pretty good for a television series.
Special Features
[Rating:3/5]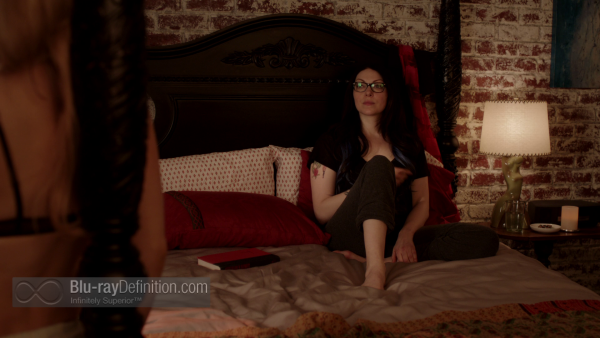 Digital HD UltraViolet
"I Wasn't Ready" Audio Commentary with Producers Jenji Kohan, Tara Herrmann and Mark Burley
Trailers
"New Kid on the Block" featurette : Executive Producers Piper Kerman, Jenji Kohan, co-executive producer Lisa I. Vinnecour and cast talk about bringing the series to life.
"It's Tribal" featurette : Executive Producer Piper Kerman, Jenji Kohan and cast talk about life behind bars and what really goes on between the inmates.
"Can't Fix Crazy" Audio Commentary with producers Jenji Kohan, Tara Herrmann and Mark Burley
"Mother Hen: Red Runs the Coup" featurette : the cast and crew take a deeper look at Red's character
"Prison Rules" featurette : there are prison rules and prisoner rules according to executive producer Piper Kerman. Cast and crew take an in depth look at the rules of prison life
Gag Reel
Aurora Snow Says
Overall:
[Rating:4/5]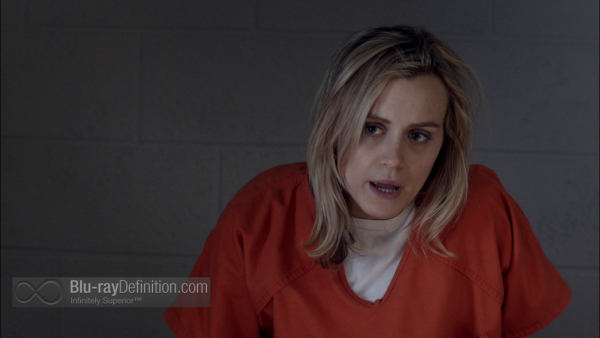 Orange is the New Black is a character driven show about so many different types of women I doubt there's another show quite like it. With fantastic writing that'll leave you wanting more, it's the kind of show that makes you want to binge watch. At times it makes being behind bars look bearable and fun even. This is a modern day fish-out-of-water tale that pushes the envelope. I highly recommend it.
More Screen Captures
[amazon-product]B00HW3ELGW[/amazon-product]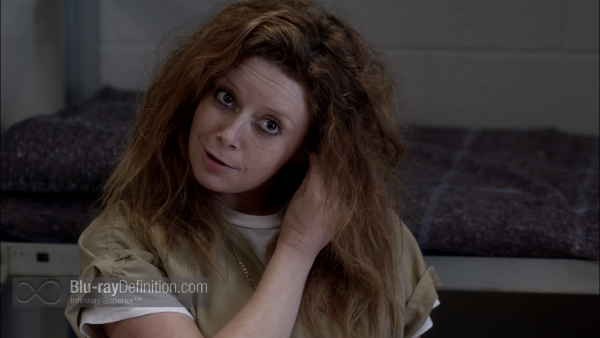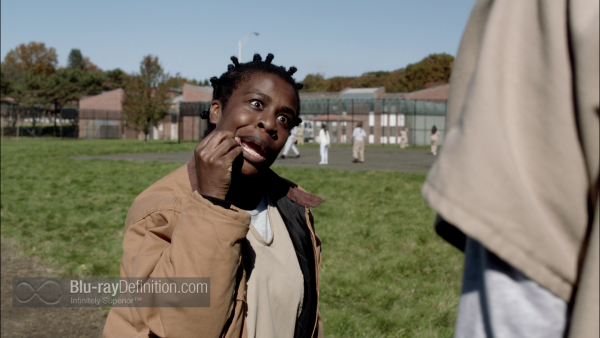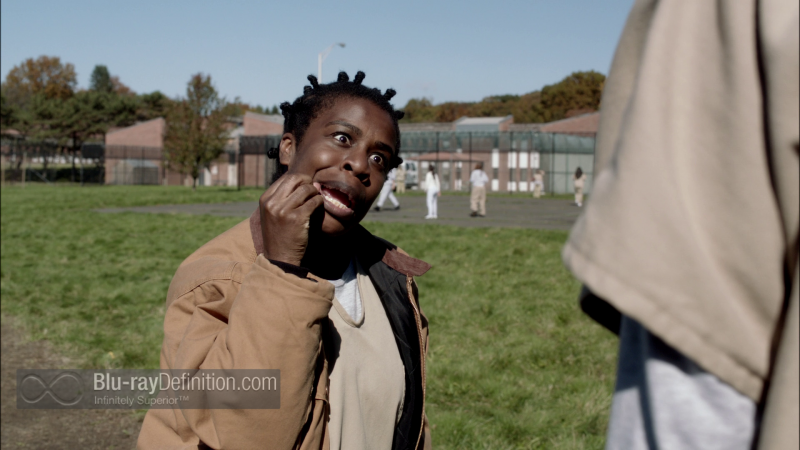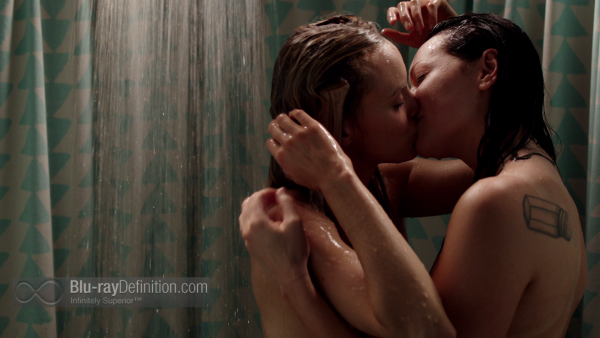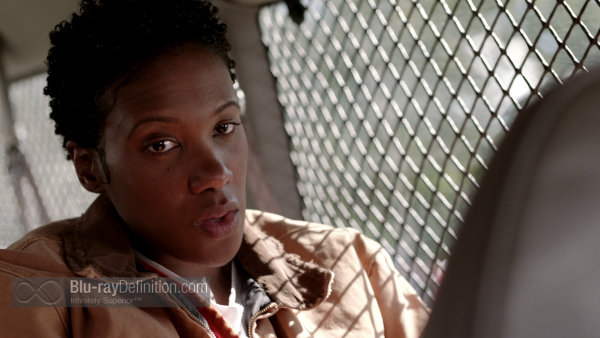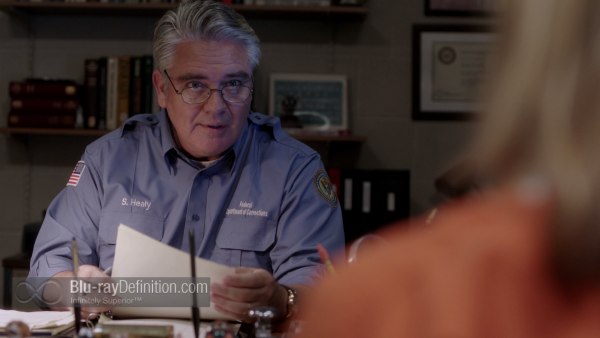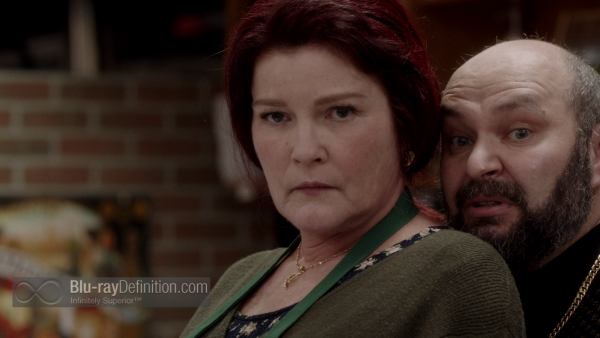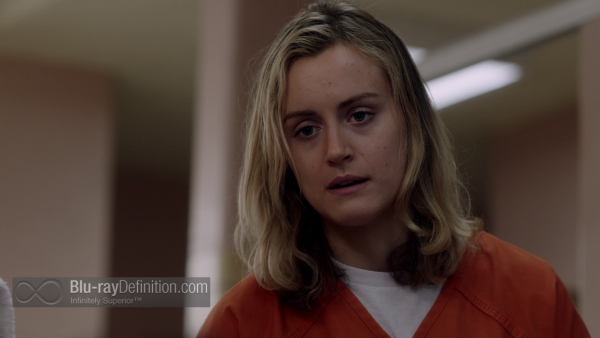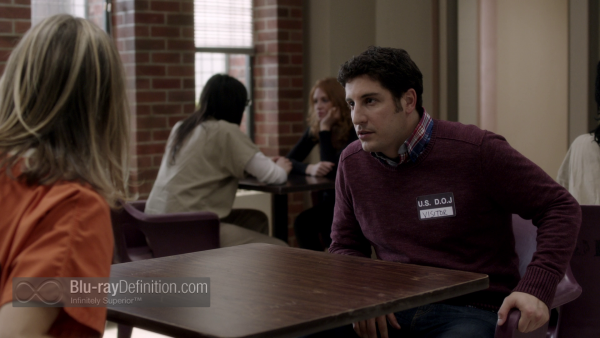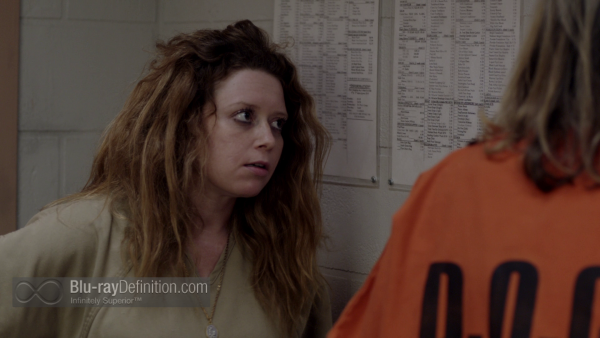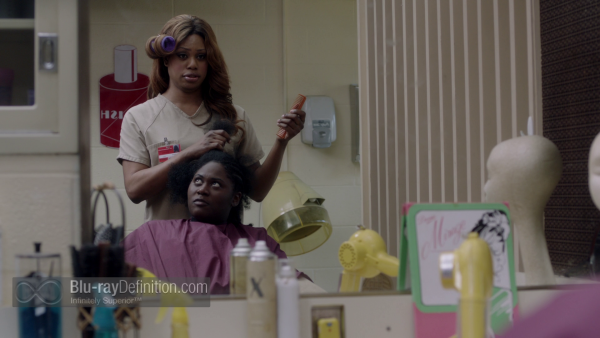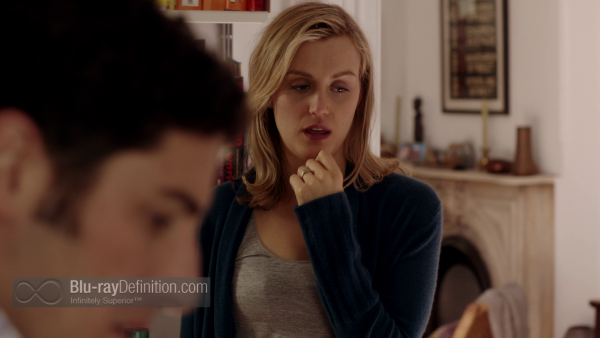 [amazon-product]B00HW3ELGW[/amazon-product]