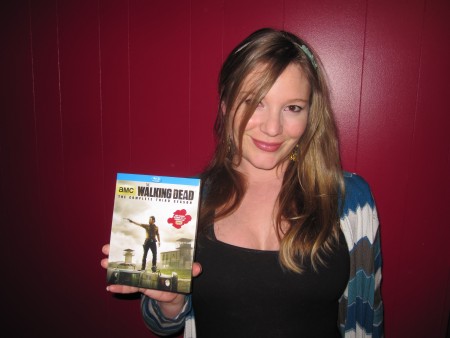 Not your typical prime time drama, this might be the darkest show on television. The world has gone to bloody hell and it seems like every win against the odds is just too small to make that much of a difference. There is so much about this season that could be considered depressing if written out on paper, but on screen it's anything but. It's a gut-wrenching saga that has you cheering and sympathizing with the characters until your tear-stained cheeks give you away. An expertly written season full of transformational foresight: planting and nurturing the seeds of characters until they blossom with growth (unfortunately these flowers can be mowed down at any time).
When fearless leader Rick Grimes (Andrew Lincoln) and his group of survivors are forced to leave the farm behind they accidentally stumble upon their new home base, a prison compound. It's ironic that this desperate group wants to break in and make it home. It's the perfect zombie defense area. However, the prison comes with its own share of problems, including a surprise group of unsavory survivors, yet the benefits outweigh the cost. With Rick's pregnant wife Lori (Sarah Wayne Callies) in tow, the group had to find a place to call home and fast.  Thanks to the well-stocked prison and the brave hand to zombie combat the group used to secure the premises, they can finally breathe a sigh of relief if only briefly.
In the past I found it difficult to warm up to Lori, yet this season she becomes not only likeable, but somewhat heroic by making a huge sacrifice. Her sacrifice alters the shows dynamics and creates an emotional spiral for the characters closest to her. Rick and Lori's little boy Carl (Chandler Riggs) can hardly be called a kid anymore; he becomes a man grown before his time trapped in a boy's body. He has to deal with the dark reality of life like the mature adult he's forced himself to be. Bravo for this little guy, who took on a heavy role and as an actor plays it up beautifully.
Fan favorite from season one, Merle (Michael Rooker), makes a surprise return and is one tough character. There is more heart to this guy than first meets the eye, but that still doesn't make him less of an antagonist. Don't get too attached or you'll be sorry.
Almost too good to be true, life flourishes with a normal façade in the town of Woodbury, but things are not what they seem. For one thing, The Governor (David Morrissey) is a few cards short of a deck. For such a bubbly warm place Woodbury has a maggoty stench corruption.  Andrea (Laurie Holden) a former member of Rick's group is not only charmed by The Governor but taken in by the normalcy of Woodbury.  I cannot blame her for wanting it all to be true. However her zombie survival partner, Michonne (Danai Gurira), isn't fooled as easily and the tension between the two mounts.
More warrior than survivor, Michonne is my new favorite character (pet zombies anyone?). This hardened character is a lion of a woman. The brilliance of her coping skills and the skeptical attitude she applies to every situation and human makes her an asset to any scene. She's the fresh new blood the show needed to catapult it into greatness.
To survive this season our characters aren't just fighting off zombies or the hunger in their bellies, they have to fight other survivors. It's became a bitter war among the humans, each faction battling it out in this decrepit world. It's a harrowing look at what the world could become if we were all forced into survival mode. And yet it's the emotional gravity that keeps us coming back for more.
Video Quality
[Rating:4.5/5]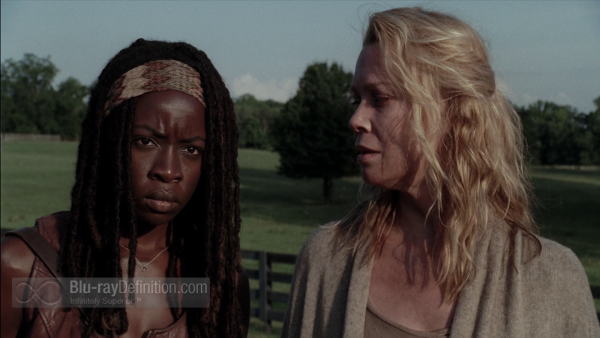 Despite being a 16mm film transfer I feel the conversion is superb. Sure there are some grainy areas, but that's to be expected and is the vision of the Director of Photography, in order to give the world and the make-up a more realistic feel. Still, if you aren't seeing the special effects zombie makeup on Blu-ray then you're truly missing out, as the difference between DVD and Blu-ray here is apparent. I cannot stop thinking about the graphic close-ups on the zombie eyeballs (eew): sunken in, fogged over and so veiny. Every little gory detail was superbly rendered. It was beautifully gruesome to see the blood splatter of killing mixed with the sweat of the effort and the dirt of existence. Well done color placement, from the bright outdoors to the gray grunge of the prison. I was truly surprised by how good this looked.
Audio Quality
[Rating:5/5]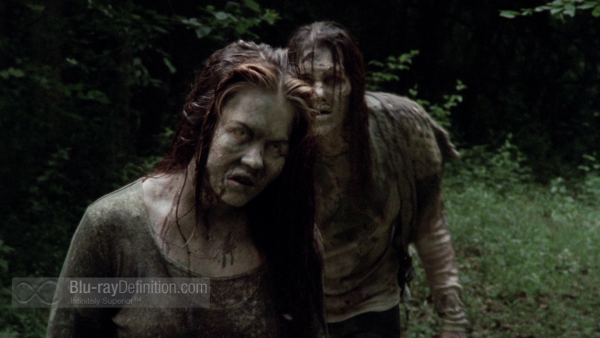 With its Dolby True HD 7.1 lossless audio this show has a lot of thump to it, bass-heavy in the most frightening of ways. Sharp clear sound that resonates from the speakers like it was designed to do so. Outdoor ambience is just as distinct as the dialogue. While the heavy silence that plays like unspoken words is underscored beautifully. From the soft moans of shuffling, scraping zombies to the explosive barbaric combat and gunfire this soundtrack makes the most of every sound high and low. Great sound well mixed proportionately for ultimate tension with a fluid soundtrack.
Special Features
[Rating:5/5]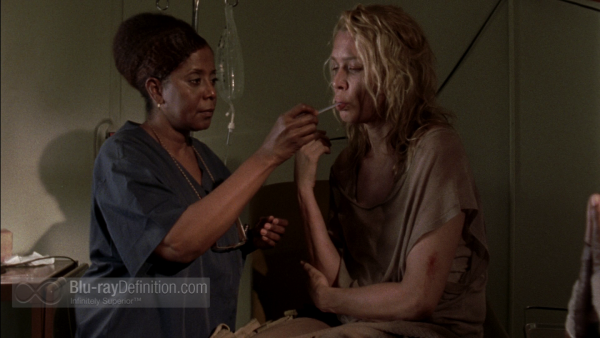 -Audio Commentaries: various audio commentaries featuring directors, executive producers, make-up artists and actors.
-Rising Son: thought this was a fascinating extra. An inside look at the transformation of young Carl Grimes and the actor Chandler Riggs.
-Evil Eye: an in depth look at the development of The Governor.
-Gone, But Not Forgotten: like the ABCs of death on the show from the dead character's makeup process to how their deaths take a toll on cast and crew.
-Heart of a Warrior: my favorite character, Michonne shines in this introspective look at her character.
-Michonne vs. The Governor: examines the conflicts that exist between these two alpha characters.
-Safety Behind Bars:  a tour of the prison set including the details behind its creation.
-Making the Dead: a privileged peek at the creation and destruction of zombies.
-Guts and Glory: an additional look at death and the characters its taken.
-Deleted Scenes: a neat extra, but I can see why these didn't make the cut.
Aurora Snow Says:
My Overall Rating:
[Rating:4.5/5]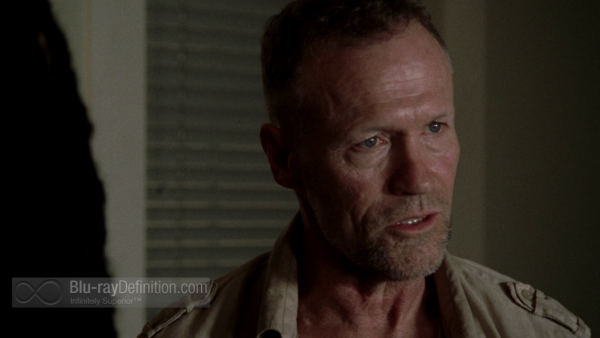 An incredibly brutal blood stained season for The Walking Dead. Violent and merciless it's a horror story about what groups of people will do when pushed to the brink of survival. Some seek salvation while others are out for retaliation in this gripping, edge of your seat drama. A must-own for zombie aficionados and those who just enjoy a good gruesome story brimming with substance.
More Screen Captures
[amazon-product]B009FZFONO[/amazon-product]
[amazon-product]B009NH6JRE[/amazon-product]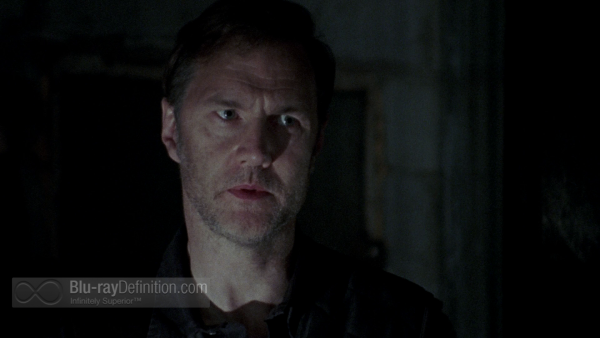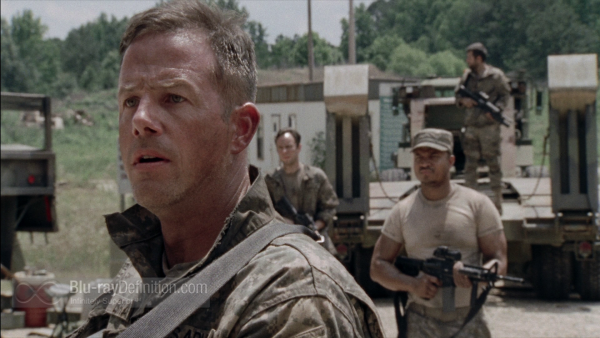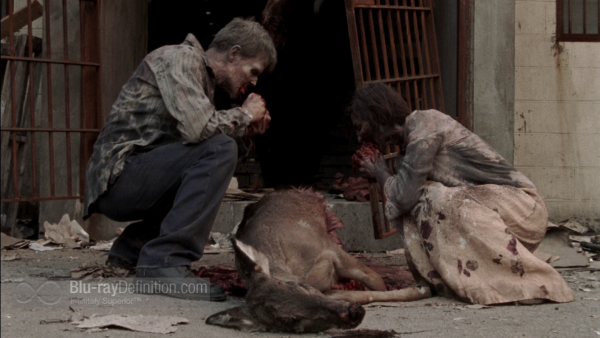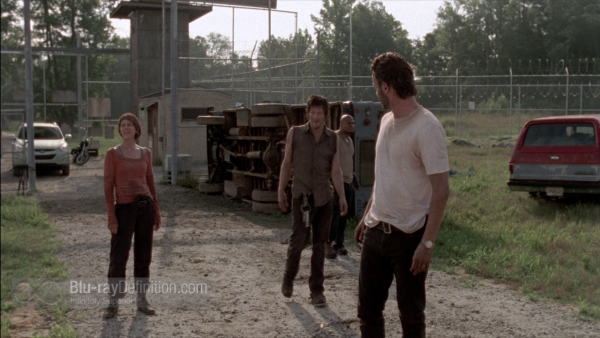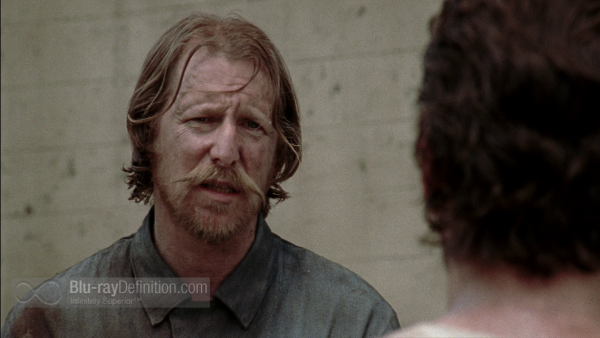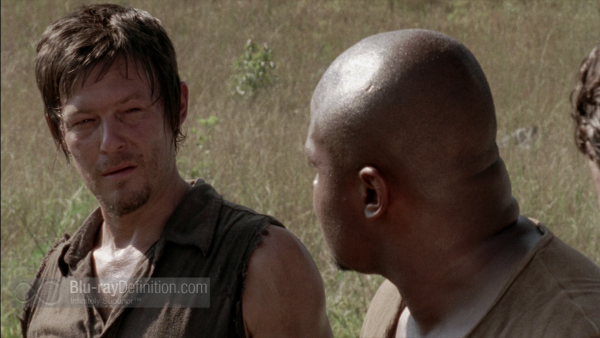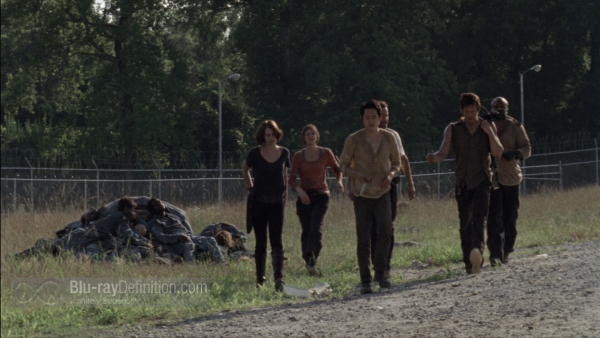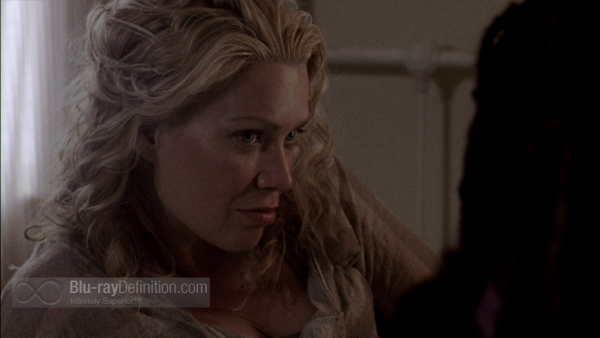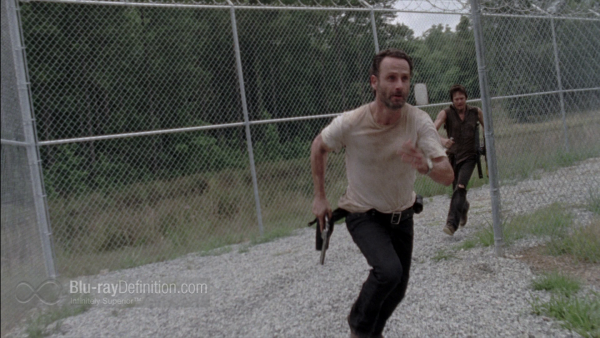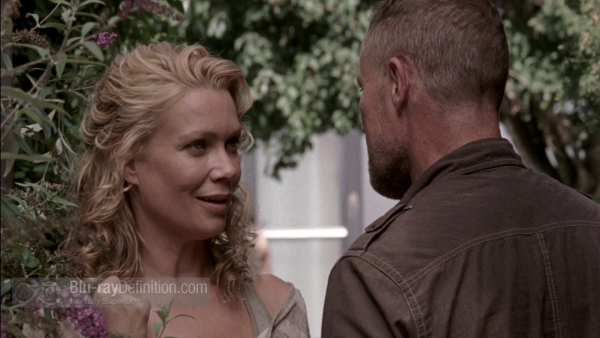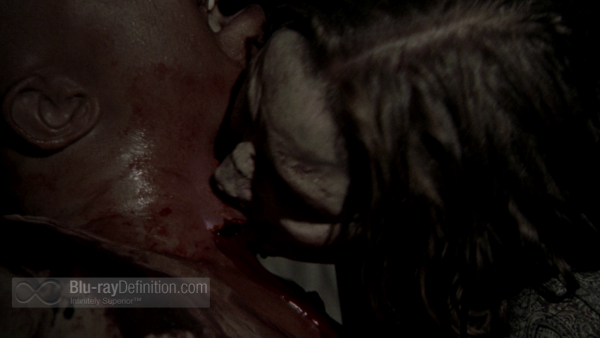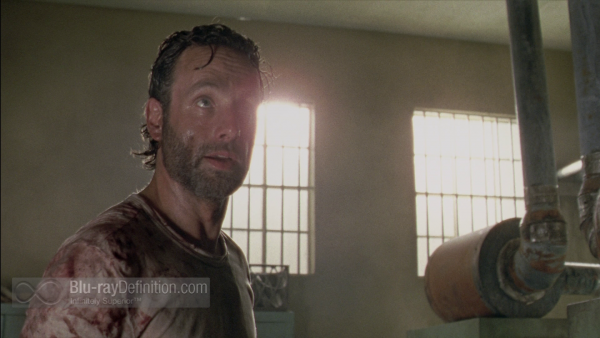 [amazon-product]B009FZFONO[/amazon-product]
[amazon-product]B009NH6JRE[/amazon-product]