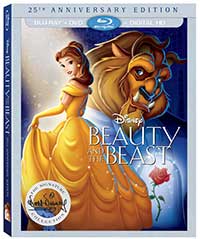 Disney's 1991 animated classic, Beauty and the Beast, anchored what has come to be known as the "renaissance" of the studio's animated division. What began with 1989's The Little Mermaid, continued, with great success, in Beauty and the Beast, a film that would go on to become the first animated feature to garner an Academy Award nomination for Best Picture. It would also capture two Oscars in 1992 for Best Original Song ("Beauty and the Beast") and Best Original Score, and three 1992 Golden Globes for Best Motion Picture, Best Original Score, and Best Original Song.
The story is a musical fairy tale based on the old fairy tale of the beauty and the beast, most likely from the first-ever published version by Jeanne-Marie Le Prince de Beaumont from the 18th century. At the center is a cursed prince who has been turned into a hideous beast by an enchantress who comes to his house one night in the middle of a storm. Under the guise of an ugly old woman, the enchantress begs the prince for shelter, but he turns her away and she turns him into a beast as payback, leaving him with a single rose. He must now find a woman to love and love him back before the rose loses its last petal on his 21st birthday or he will remain a beast forever.
Into this falls Belle, the daughter of a local inventor in the quaint French town where the story takes place. The whole town is fond of Belle, including Gaston, a local macho, he-man that is in pursuit of her as his wife, but Belle has no interest. Belle's father finds himself at the Beast's enchanted castle in the middle of a storm and the Beast imprisons him. Belle, fearing for her father, goes to look for him and finds him at the castle. She offers herself in place of her father, and the Beast agrees. Through the help of the castle's enchanted staff, which includes talking teapots, candle sticks, and wardrobes, Belle begins to see through the Beast's rough exterior and a classic romance ensues.
Beauty and the Beast is a lavish musical filled with memorable songs and a big heart. This is classic Disney through and through. One can draw a line from Snow White through Sleeping Beauty all the way to Beauty and the Beast and see the Disney legacy on display. The film also has the distinction of being the first of Disney's hand-drawn animated films to use CGI for the backgrounds in the famous ballroom dance scene.
[envira-album id="92735″]
The Video
This is not a new restoration of Beauty and the Beast from Disney for its 25th Anniversary release. In fact, this particular restoration has been released a couple of times in Disney's Diamond Edition and Diamond Edition 3D sets. It's a beautiful restoration and transfer in AVC 1080p that is clean yet detailed and absolutely sparkles on Blu-ray. The colors pop off the screen and the '90s era hand drawn animation looks fantastic.
The Audio
We also get the same, marvelous English DTS-HD Master Audio 7.1 audio mix for Beauty and the Beast that has previously appeared on Blu-ray. While an upgrade to Atmos or DTS:X may have been lovely to hear, this mix is no less engaging and still remains a reference. There is a good balance of ambience in the surrounds and discrete sound effects panned throughout the room. Dynamic range is wide, but not excessive and low-frequency extension is good, providing a hefty, but not booming bottom to the sound. High frequencies are smooth and relaxed while dialogue and vocals are clean and balanced perfectly into the mix.
The Supplements
The supplements have been scaled back for the 25th Anniversary release, but we get some new HD extras and all three versions of the film, just as on previous releases.
DVD
DisneyMovies Anywhere — Digital copy of the film that can be played back from virtually any provider, including iTunes, VUDU, Google Play, and Microsoft.
Three Versions of the Film – Original Theatrical Edition, Special Extended Edition, and Sing-Along Edition
Always Belle (1.78:1; 1080p/24; 00:11:32)
Menken & Friends: 25 Years of Musical Inspiration (1.78:1; 1080p/24; 00:19:06) — This featurette features some of Disney's greatest composers.
#1074: Walt, Fairy Tales & Beauty and the Beast (1.78:1; 1080p/24; 00:09:36) — A look at Walt's early development of the fairy tale.
The Recording Sessions (1.78:1; 1080p/24; 00:03:48)
25 Fun Facts About Beauty and the Beast (1.78:1; 1080p/24; 00:05:24)
Beauty and the Beast Sneak Peek (1.78:1; 1080p/24; 00:01:24) – A look at the production of the forthcoming live action Disney remake of Beauty and the Beast.
Song Selection (Sing-Along Edition Only
Audio Commentary (Extended Edition Only)
Classic Bonus Preview (1.78:1; 1080p/24; 00:00:43)
The Final Assessment
After 25 years this animated behemoth is still dazzling fans of Disney and animation enthusiasts. Although this 25th Anniversary edition is more of a repacking with a couple of new extras (and many older ones excised), it is still worth getting for those few who still don't own it.