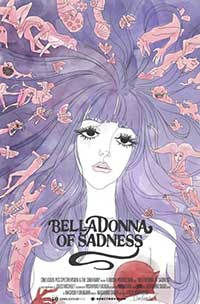 Belladonna of Sadness was the last of the adult-themed Animerama trilogy produced by the godfather of anime and manga, Tezuka Osamu and directed by his long time collaborator Yamamoto Eiichi (Astro Boy and Kimba The White Lion).This erotic psycho-sexual fantasy, a longtime cult classic amongst anime fans in the know, unfolds like a late-Gothic motion comic. Owing as much to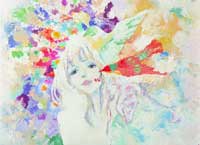 Tolkien's The Lord of the Rings as it does to the watercolors of the Renaissance, the film, from a French novel by Jules Michelet , follows the story of Jean (Itô Katsuyuki) and Jeanne/Belladonna (Nagayama Aiko). On the night of the couple's nuptials, the local lord asserts his droit du seigneur, or the supposed right of feudal lords to have sex with women subordinate to them on their wedding nights. Jeanne is violently raped by the lord and his minions, and returns home to Jean, who is despondent. That same night, a phallic symbol (voiced by Nakadai Tatsuya from Kurosawa's Ran) of the devil inside of her appears to Jeanne and encourages her to take revenge on the people who wronged her. Jeanne enters into a pact with the devil and becomes a powerful, feared witch overseeing life, death, and drug-fueled orgies.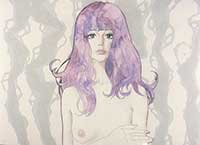 The animation for Belladonna of Sadness unfolds in a series of still vignettes, often ghoulish, very sexualized, and incredibly surreal. The climax, so to speak, is a relentless orgy of townsfolk morphing into writhing, naked, drugged up, phallic and yonic shapes forming a sexual ouroboros. Director Yamamoto also teases us with clips of real-world images interspersed amongst the bleak, nearly colorless watercolor imagery of the animation.
The film has never been officially released in the United States until now, where it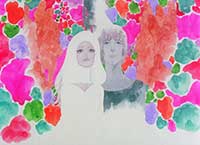 is seeing a theatrical release for the first time in a brand new 4K restoration courtesy of Cinelicious Pics, SpectreVision and The Cinefamily. The new restoration, which I had the pleasure of seeing in April of this year (2016), is gorgeous. It was completed in-house at Cinelicious from the original camera negatives. Material censored from the negative was recovered using a 35mm print from the Belgian film archives. The colors, few though they may be, are beautifully vibrant, and the image as been miraculously brought to life with very little wear and tear visible. That's not to say it doesn't look authentic anymore – it does. It looks every bit like how an actual animated film from 1973 should look, not like a film from 2016, meaning, it looks organic and wonderful.
Belladonna of Sadness is now playing in select theaters including The Metrograph in New York City. It will be available on VOD July 12 and is currently available for pre-order on iTunes.