Estimated reading time: 6 minutes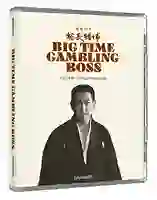 Big Time Gambling Boss is one of the standout films from the earlier era of ninkyo eiga or "chivalry" films, a subgenre of yakuza films in Japan. Studios like Toei were pushing out many of these films, but only a few of them would rise above the production line quality that was feeding popular tastes. Director Yamashita Kôsaku's film is one of them.
Set in pre-World War II Tokyo, 1934, Big Time Gambling Boss or Bakuchiuci: Sôchô Tobaku follows a yakuza clan that runs a profitable gambling den. When the clan's boss is suddenly taken with a stroke, the under bosses must gather to choose a new leader. When Nakai (Tsuruta Kôji) refuses the offer to take over due to his keeping with their code – he was originally from Osaka – the leadership should have fallen to Matsuda (Wakayama Tomisaburô) who is just being release from prison. However, the leadership pass over Matsuda and select Ishido (Nawa Hiroshi), the boss' son-in-law. This leads to a major conflict between Matsuda and Ishido, machinations behind-the-scenes leading up to Ishido's anointing as the clan's leader. The conflict also tests the vow of brotherhood between Nakai and Matsuda.
Yamashita is crafty in putting together a character-driven film that builds toward an astonishing and dynamic conclusion. From early in the film, we feel the ties of honor that supposedly bind the two leads Nakai and Matsuda. As that code slowly falls away, we are witness to increasingly visceral violence untethered to any sort of restraint.
If there are any flaws in the film, it is that the women who are all painfully beautiful seem to be mere window dressing. They are there to serve the narrative, but not necessarily to stand on their own. In one case one of the women is there to shift the film's third act into its inevitable conflict.
That being said, this is a special yakuza film that deserves its place as one of the most revered in the ninkyo eiga genre. It is well acted, superbly filmed, and visceral, but it doesn't rely simply on sword and gunplay or violence. There is a complex interplay of stories that all come together in a spectacular climax.
The Video
Big Time Gambling Boss arrives on Blu-ray in a 2.35:1 AVC 1080p digital transfer. The movie was shot on 35mm and this transfer retains a natural granularity and texture, and a cinematic quality. The colors, while not natural, are vibrant. The biggest issue with this transfer is the presence of a slow flicker in the image in some places. This could be from the source, but it is noticeable. Otherwise, this a satisfying and natural transfer.
The Audio
The original Japanese audio mix for Big Time Gambling Boss is provided in LPCM 1.0. The sound is as clean and listenable as one can expect from a monaural track from 1968. There is only the slightest hint of audible hiss and compression 'pumping'.
The Supplements
The on-disc bonus features are slim for this release, but they pack a lot of quality. The two video essays provide a lot of information on the film and the yakuza and ninkyo eiga subgenre. There is also a booklet with essay and more.
Limited edition of 2000 copies, presented in full-height Scanavo packaging with removable OBI strip
Reversible sleeve featuring original and newly commissioned artwork by maarko phntm
Limited edition booklet featuring new writing by author Stuart Galbraith IV, and critic Hayley Scanlon
On the Disc:
Ninkyo 101 (00:14:35) – In this video essay, Mark Schilling, author of The Yakuza Movie Book, delves into the history and impact of the classical style of Yakuza genre, the Ninkyo Eiga or "Chivalry Films".
Serial Gambling (1080p; 00:25:24) – A video essay by Chris D., author of Gun and Sword: An Encyclopedia of Japanese Films 1955-1980, on Big Time Gambling Boss's origins in the Toei Studio's serialized Yakuza movie production and what sets the film apart.
Gallery promotional imagery (1080p)
Trailer (1080p)
The Final Assessment
Radiance does not have a long track record, but if the company are putting forward this release as one of the few samples of things to come, then smile and buckle up! Big Time Gambling Boss is both an exemplary film and disc release. Recommended.
---
Big Time Gambling Boss is out on Blu-ray January 17, 2023, from Radiance
---
Rating Certificate: Not Rated
Studios & Distributors: Toei Kyoto | Radiance
Director: Yamashita Kôsaku
Written By: Kasahara Kazuo (screenplay)
Run Time: 95 Mins.
Street Date: 17 January 2023
Aspect Ratio: 2.35:1
Video Format: AVC 1080p
Primary Audio: Japanese LPCM 1.0
Subtitles: English