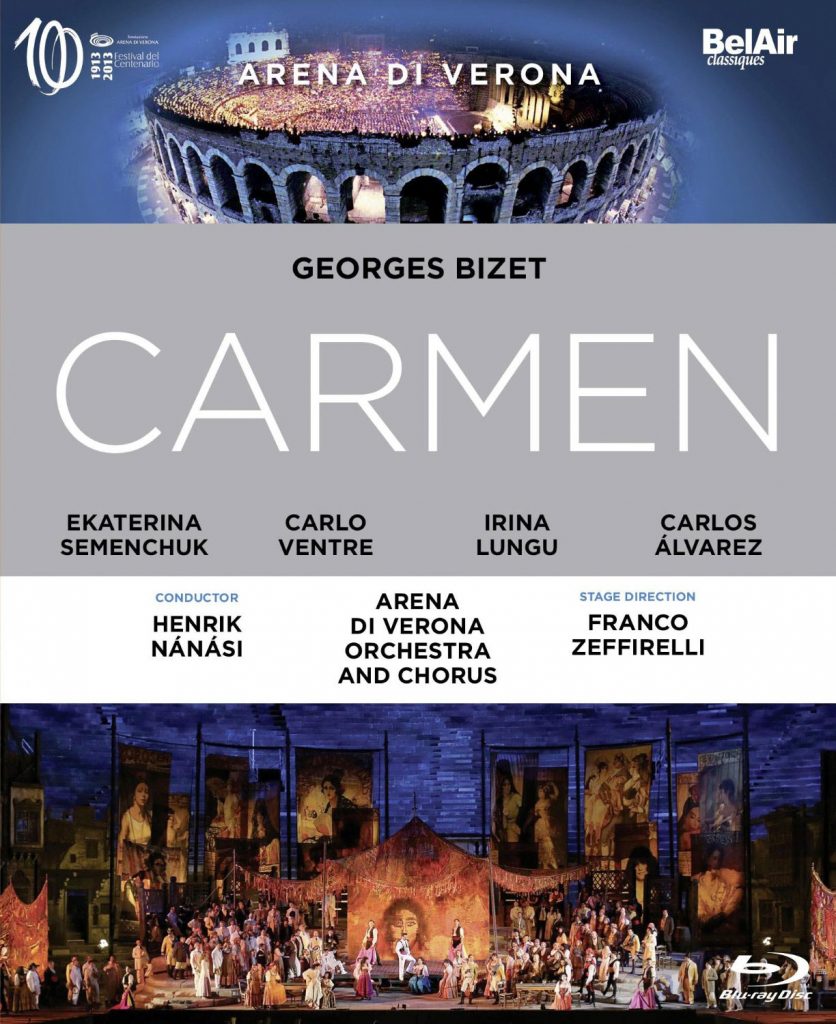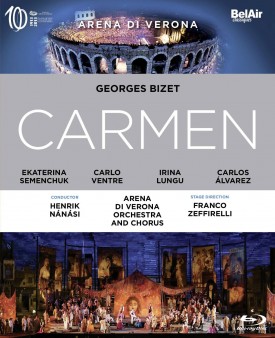 –
The Performance
[Rating:3.5/5]
The fifth Blu-ray version of Carmen to come my way in the past five years once again demonstrates that Georges Bizet's timeless classic never lacks for performances. The story, based on Prosper Mérimée's novella, deals with a lusty cigarette girl, the gypsy Carmen (Ekaterina Semenchuk),  and her fatal attraction to two men, the provincial soldier, Don José (Carlo Ventre) and the suave toreador Escamillo (Carlos Alvarez).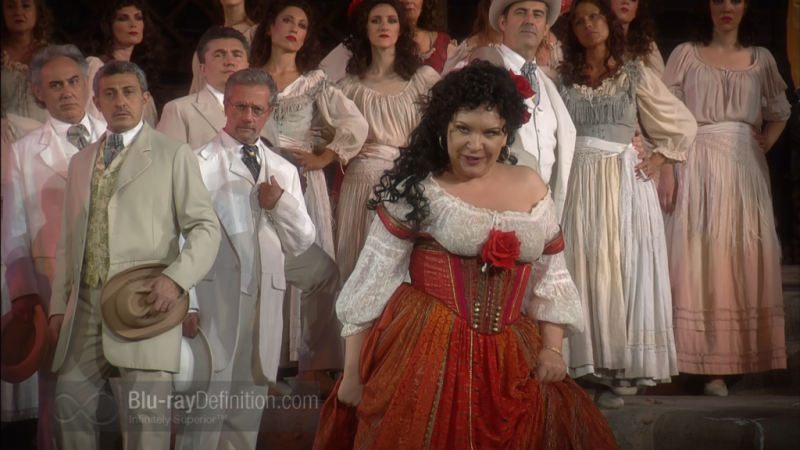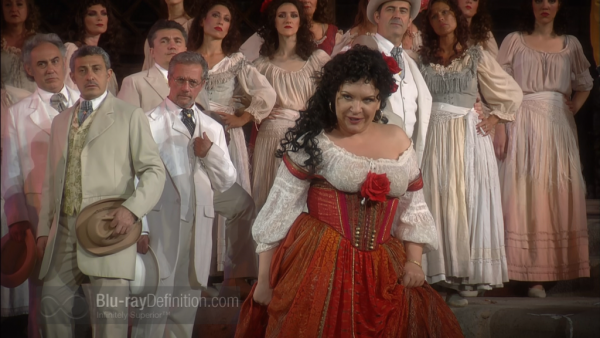 In a Spanish barracks  a young girl, Michaela (Irina Lungu) looks for her boyfriend Don José. They meet briefly, but José soon becomes infatuated with Carmen who is arrested for attacking another cigarette girl. José allows Carmen to escape and is imprisoned.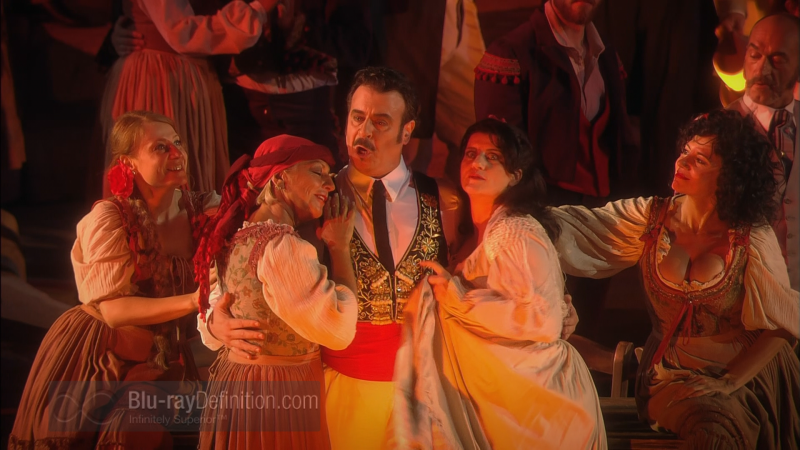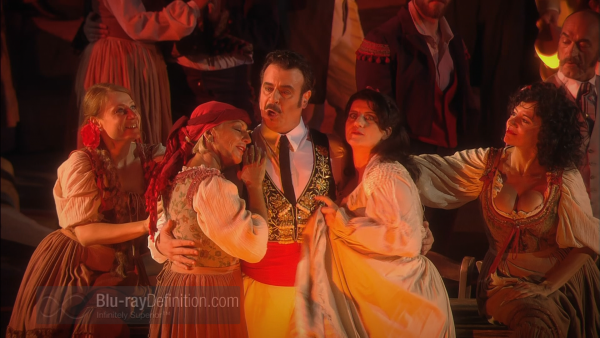 Carmen joins friends Frasquita (Francescall Micarelli) and Mercedes (Cristina Melis) at a local tavern and catches Escamillo's eye. Smugglers Le Dancaire (Federico Longhi) and Le Remendado (Paolo Antognetti) urge this trio to help them distract customs agents as the men traffic their goods. Don José, now released from prison, returns to Carmen, but her price tag is high: his utter devotion and complete desertion from the army.  José's superior officer Zuniga (Seung Pil Choi) appears, thinking that he too has an assignation with Carmen. After the smugglers break up a fight between José and Zuniga, the young soldier and his gypsy girl head for the mountains.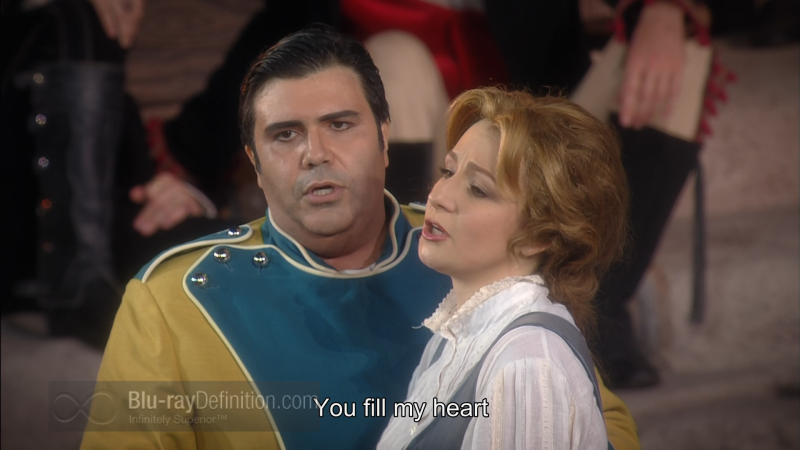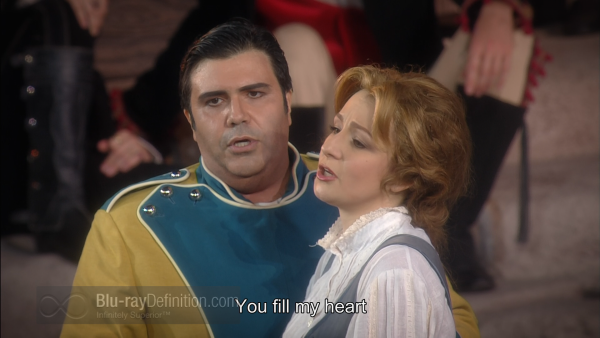 The José-Carmen love affair is on the rocks when an unlucky card foretells her death. Escamillo enters the smugglers' camp and fights José for Carmen's affections. The men are separated and Escamillo invites the entire group to Seville to see his next bullfight. When Michaela appears and tells José that his mother is dying, the disgraced soldier quickly returns home.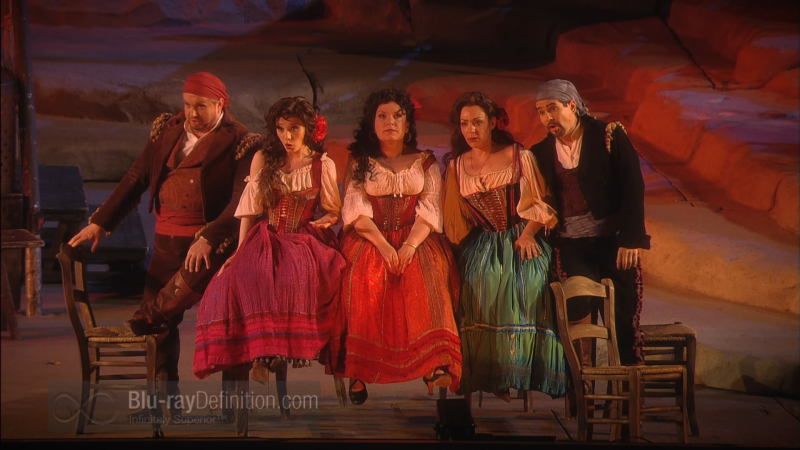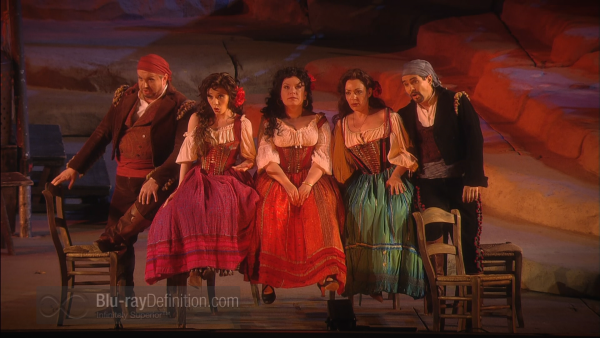 Outside of the bullring in Seville, Escamillo and Carmen pose as a couple. A distraught Don José pleads with Carmen to return to him but when she denies him this last chance, he kills her.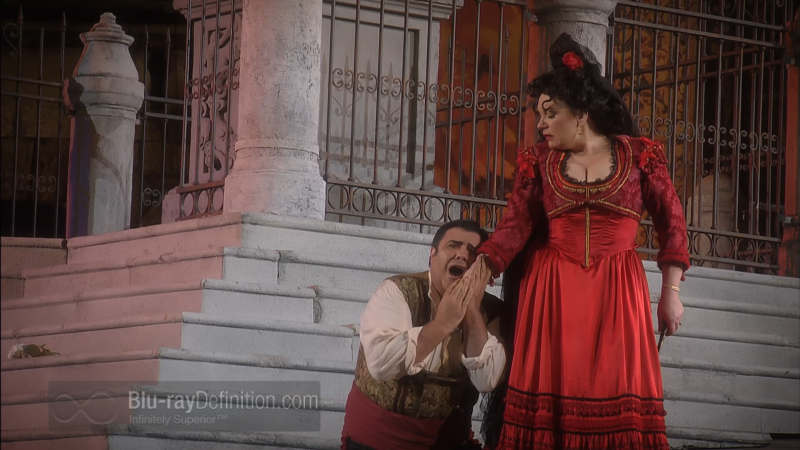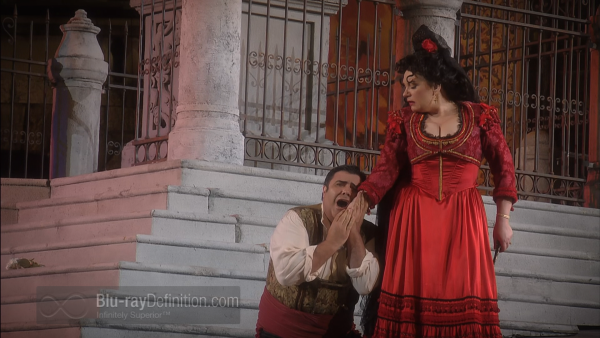 This large-scale 2014 Zeffirelli production showcases the biggest Carmen cast that I have ever seen on il Teatro di Verona's huge stage.  Young Hungarian maestro Henryk Nanasi leads his Veronese orchestra and chorus in a surprisingly idiomatic rendering of Bizet's score. The vocal principals yield mixed results. Russian mezzo-soprano Semenchuk, a bit on the stocky side, is vocally sound and gives a well-informed but somewhat cautious account of the title role. Italian tenor Carlo Ventre's voice sounds frequently stressed and lacks shading and color, in contrast with the lovely lyric soprano of Russian Irina Lungu. Spanish baritone Alvarez (better known for his Verdi roles) gives us an Escamillo with machismo and potent vocalism to boot. All of the minor roles are well supported. Special mention goes to the corps de ballet that adds the essential Spanish flavor to the intermezzi.

Video Quality
[Rating:4/5]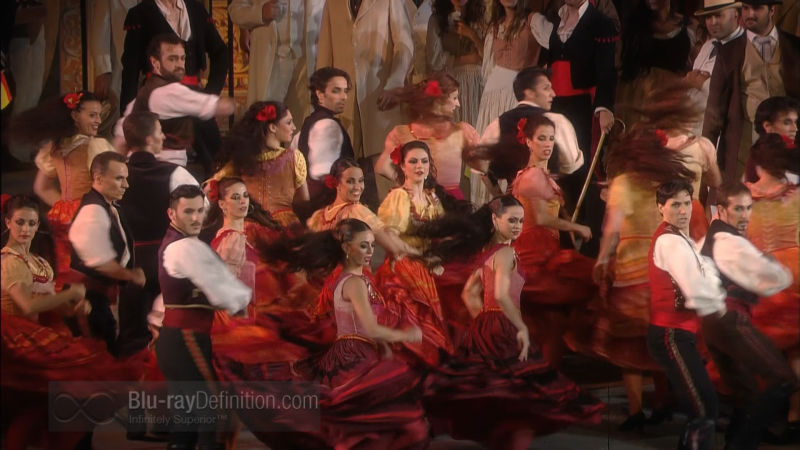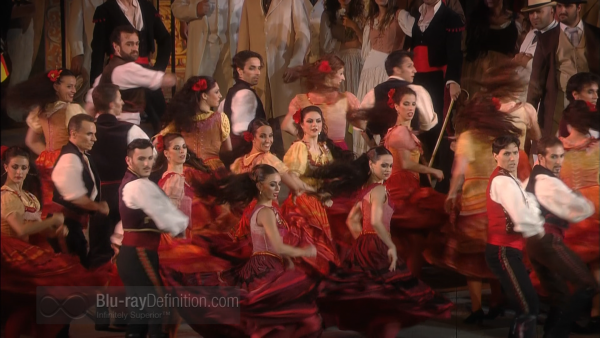 The Arena di Verona production challenges Andy Sommer's video team as this outdoor performance begins in the early evening and becomes dark quite quickly. There are some oversaturated reds in the Act II tavern scene but overall, details, flesh tones, and the remainder of the color palette is excellent.

Audio Quality
[Rating:4/5]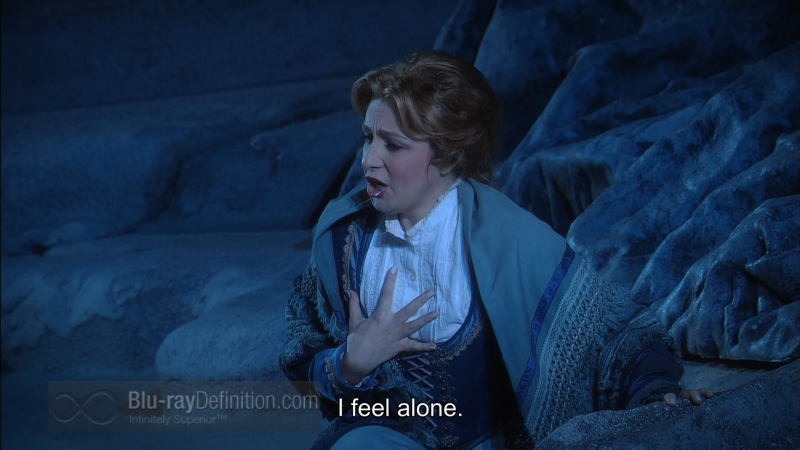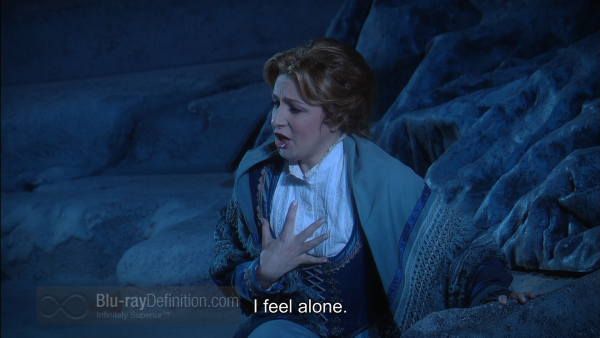 This is a very lively production with good space, ambience and audience effects in the surround channels. Voices are reasonably prominent (the result of miking) but the orchestra is well reproduced. There is a good amount of stage noise as would be heard in live performance by those sitting near the stage.

Supplemental Materials
[Rating:0.5/5]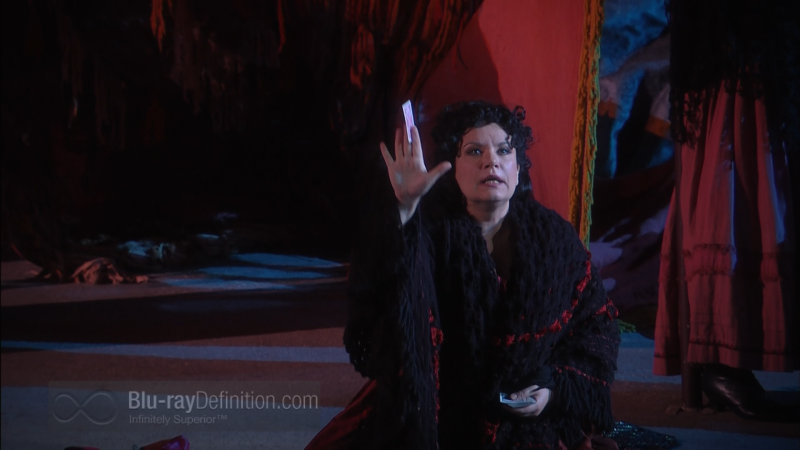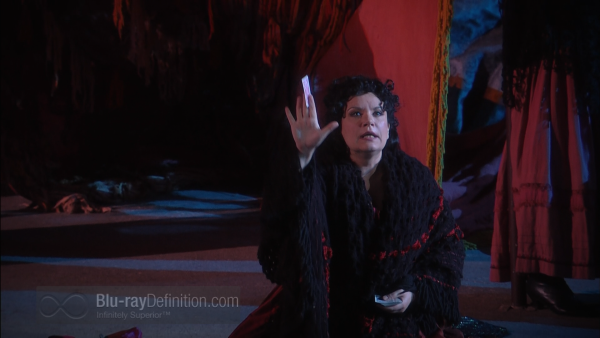 BelAir Classiques provides a slim program booklet with some cast photos, credits, track listings, and a plot synopsis.

The Definitive Word
Overall:
[Rating:3.5/5]
This is Carmen on the grandest scale currently available on Blu-ray and if such production values excite you then this one is certainly worth your attention. Getting more specific, this performance is more competent than exciting. The real letdown is Ventre's Don José, lacking in vocal finesse and failing to generate any real chemistry with his costar Semenchuk. My go-to Carmen remains the remarkable Covent Garden production with Jonas Kaufmann, Anna Caterina Antonacci and Sir Antonio Pappano. The real finds of this current Blu-ray are young conductor Nanasi, and soprano Lungu (who received the biggest applause at final curtain), both names to be watched.
Additional Screen Captures