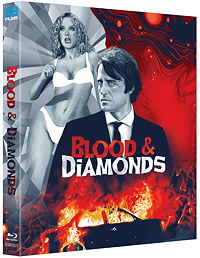 One of the numerous poliziotteschi out of Italy in the 1970s, Fernando Di Leo's Blood and Diamonds is sort of a companion piece to his own Caliber 9 (1972).
A story of revenge and diamonds, Guido Mauri (Claudio Cassinelli) was setup up the crime family he worked for and sent to prison for five years. After his release, he vows revenge on the crime boss Rizzo (Martin Balsam) who gives him a few days to get out of town before he sends his attack dogs to kill him. But Guido, who witnesses the killing of the woman he loves at the hands of these killers, is intent to fight and to get a large cache of diamonds that Rizzo is on the hunt for. The film also stars the gorgeous Barbara Bouchet, an Italian cinema regular and a big star in Italian film to this day.
Although this may not be Di Leo's strongest film, it is a watchable crime drama presents many opportunities for both the lovely Bouchet to show off her skills and for Di Leo to have a bit of fun within the boundaries of the genre. The full-on fist fight that drags on between Pier Paolo Capponi and Claudio Cassinelli – with what appears to be no stunt doubles – is an awesomely brutal moment rarely seen in American cinema.
Blood and Diamonds (1978)
The Video
Blood and Diamonds is a new 4K remaster taken from the original camera negative. 88 Films brings it to Blu-ray in a 1.85:1 AVC 1080p encodement. There is nothing to really complain about with the transfer itself. The source and original production have a softness and at times out of focus look that does not allow for the crispest detail or strongest sense of depth of field. That said, the granularity looks natural and never becomes overwhelming and there is no appearance of excessive DNR, grain reduction, or ringing.
The Audio
Original Italian and English dubs are included in LPCM 2.0 mono. Neither track is going to set your sound system on fire, but they provide clean dialogue and little clipping and hiss.
The Supplements
The audio commentary for this film by Howarth and Thompson is a fantastic and educational listen. The other supplements on Di Leo are also solid watches.
First Pressing Slipcase, Poster and Booklet
Reversible sleeve with original artwork by James Neal and original poster artwork
Audio Commentary with Troy Howarth and Nathaniel Thompson
Down by Di Leo: A Journey of Love Discovering Fernando Di Leo (1080p; 01:36:38)
Blood and Di Leo: A Portrait by Luc Merenda (1080p; 00:19:20)
Italian Opening, Intermission, and Closing Titles (1080p; 04:15)
Original Trailer (1080p)
The Final Assessment
Beautiful women, brutal fights, and a big bag of diamonds – what's not to like about Fernando Di Leo's Blood and Diamonds, especially in this new 4K remaster on Blu-ray from 88 Films? Combined with the gorgeous packaging and collectibles included, this one is easy to recommend.
Blood and Diamonds (Special Edition) is out on Blu-ray December 13, 2022, from 88 Films

---
Rating Certificate: Not Rated
Studios & Distributors: Teleuropa International Films | 88 Films
Director: Fernando Di Leo
Written By: Fernando Di Leo
Run Time: 102 Mins.
Street Date: 13 December 2022
Aspect Ratio: 1.85:1
Video Format: AVC 1080p
Primary Audio: Italian LPCM 2.0 Mono
Secondary Audio: English LPCM 2.0 Mono
Subtitles: English