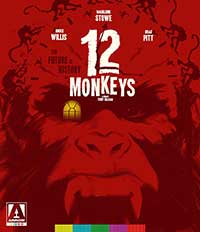 An intense and hyperactive film about time travel, this '90s cult favorite 12 Monkeys was the second film from its director Terry Gilliam — a member of the comedy troupe Monty Python – to help him on his way to building back his trust with the big studios after the battle with Hollywood that were his classic Brazil and the disaster of Baron Von Munchausen.
This steam punk classic based on Chris Marker's benchmark 1962 short film La Jetee, follows James Cole (Bruce Willis), a prisoner of the state in 2035 who is sent into the past by the authorities that be to help avert a plague that will wipe out most of humanity in 1996. Cole arrives six years too early in 1990 and finds himself locked up in a mental hospital since his warnings about a plague sound like the ravings of a lunatic. While in there, he meets the scientist named Dr. Kathryn Railly (Madeleine Stowe) and Jeffrey Goines (Brad Pitt), the raving son of a virologist (Christopher Plummer). Cole is brought back to 2035 where he is questioned and reprimanded on his failed mission before being sent back to the correct year of 1996. He eventually kidnaps Dr. Railly and forces her to help him in his quest to avert the impending doom. Meanwhile, Goines also becomes a central figure in his mission.
Gilliam's 12 Monkeys fits easily into the director's style with its almost chaotic and surreal plot, but Gilliam keeps it from completely falling apart and these qualities are what make the film interesting. The actors all put in excellent performances, with Bruce Willis' Cole falling somewhere between his Korben Dallas from The Fifth Element and his John McClane from Die Hard. Brad Pitt is convincingly unhinged and maniacal while Madeleine Stowe acts as a calming focal point. Visually, the film looks much more interesting than its meager budget should allow it too, and evokes Gilliam's 1981 comedy/fantasy Time Bandits.
The Video
12 Monkeys is a brand-new restoration from a 4K scan of the original negative by Arrow Films, approved by director Terry Gilliam. It arrives on Blu-ray in a beautiful AVC 1080p encodement. It the image is clean and crisp with only a few spots that look a little soft, mostly due to the production and visual effects. Dynamic range, colors, and shadows are excellent.
The Audio
12 Monkeys comes to Blu-ray with an English DTS-HD Master Audio 5.1 mix that is engaging and has a good low end. There are good sound effects mixed around and lots of ambience, but for a more authentic experience, the strong LPCM stereo track is also a great option.
The Supplements
This release of 12 Monkeys from Arrow comes packed with their usual amount of high-quality special features. The feature-length 'making of' and the new 'Appreciation' video by author Ian Christie are must-watch features.
Commentary by Terry Gilliam and Charles Roven
The Hamster Factor and Other Tales of 12 Monkeys (1.33:1; 1080i/60; 01:27:34) – A feature-length fly-on-the-wall documentary on the making of the film, directed by Keith Fulton and Louis Pepe.
The Film Exchange with Terry Gilliam (1.33:1; 1080i/60; 00:23:50) – An interview with Terry Gilliam conducted by Jonathan Romney, recorded at the 1996 London Film Festival.
Appreciation by Ian Christie (1.78:1; 1080p/24; 00:16:11) – A newly filmed appreciation by the author of Gilliam on Gilliam
12 Monkeys Archive
Theatrical Trailer (1.78:1; 1080p/24; 00:02:26)
Reversible sleeve featuring original and newly commissioned artwork by Gary Pullin
FIRST PRESSING ONLY: Illustrated collector's booklet featuring new writing on the film by Nathan Rabin and archive materials
The Final Assessment
12 Monkeys is at times scary, other times whacky, yet always inventive and unpredictable. Gilliam used the film to help rehabilitate his image in Hollywood. He did go on to direct Fear and Loathing in Las Vegas and Tideland, so perhaps it worked. This release from Arrow Video with its new 4K restoration on Blu-ray approved by Gilliam looks gorgeous and comes packed with excellent special features.
12 Monkeys is out on Blu-ray on October 30, 2018 from Arrow Video
R (for violence and language)
Rating Certificate
Universal Pictures | Atlas Entertainment | Classico | Arrow Video
Studios & Distributors
Chris Marker (film La Jetée) | David Webb Peoples (screenplay) | Janet Peoples (screenplay)
Writer
English DTS-HD MA 5.1
Audio
English LPCM 2.0 Stereo
Secondary Audio
Summary
In this intense time traveling film by director Terry Gilliam, Bruce Willis plays a convict from the future sent back in time to 1996 in order to uncover the origins of a man-made viral plague that wipes out most of humanity. Gilliam draws from his usual surreal toolbox for what is a thoroughly enjoyable joyride through a dystopian, steampunk fantasy world helped along by an unhinged performance by Brad Pitt and calming performance by Madeleine Stowe. Arrow Video's new 4K restoration approved by Gilliam looks wonderful.
What people say... Login to rate
Be the first to leave a review.
Show more