– –
The Film
[Rating:4/5]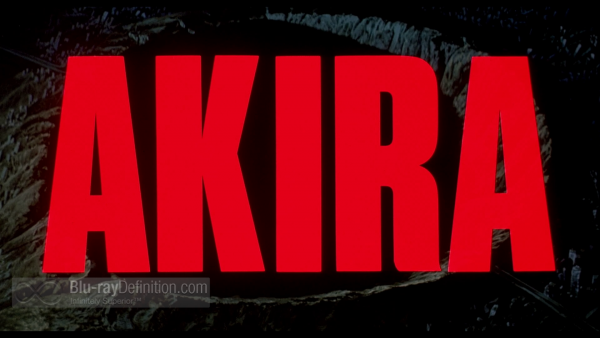 Otomo Katsuhiro's 1988 anime based on his sprawling, nearly 3,000-page manga takes place where many Japanese anime do — in a post-war dystopian future ravaged by nuclear destruction where an oppressive and all-powerful military government is in control of people's lives. The importance of Akira in the world of anime cannot be overstated. Its adaptation of cyberpunk manga to the screen, innovative lip-synch techniques at a time when most anime did not use such a thing, full-body motion animation and exploration of philosophical themes of metaphysics, technological advancements, and war preceded Ghost in The Shell and The Matrix by several years, influencing those films immensely.
Taking place in Neo-Tokyo, a city built on the sea by the nearby ashes of the Tokyo that once was, some 30-years after World War III, the city is overrun by warfare between motorcycle gangs and drug abuse. As the protagonists of the story, a motorcycle gang led by Kaneda and his ultra-customized motorcycle, are introduced to viewers, so is a clandestine government program to test people for psychokinetic abilities. During a fight with a rival gang called the Clowns one day, Kaneda's best friend from childhood, Tetsuo is beat up, but just before they can rape his girlfriend Kei, Kaneda and the rest of his gang show up to rescue them. After the fighting is over, military men descend upon them and abduct Tetsuo, because he has begun to exhibit powers of superhuman ESP and telekinesis.
What follows from there is an amazing science-fiction adventure that is not always easy to follow, but is multi-faceted and always entertaining. As it falls to Kaneda, a girl named Kei,  and her group of resistance fighters to rescue Tetsuo and save the world from another disaster, director Katsuhiro Otomo's cyberpunk classic is squeezed into a 2-hour drama that is masterfully depicted and scored. The artwork and backgrounds of Akira may seem outdated against the standards of those so used to today's anime features supported by the wizardry of CGI effects, but the hand-drawn animated cels hold up well under contemporary scrutiny in the same way the Disney classics stand the test of time.
It is not possible for Akira to be completely fulfilling given that its original manga was started in 1980, not fully realized until 1990 and this film saw its release in 1988 and squeezed the complex themes of the nearly-3,000 page manga into only 2-hours. With that being said, however, Akira should still not be passed up by any film or animation enthusiast.
Video Quality
[Rating:4/5]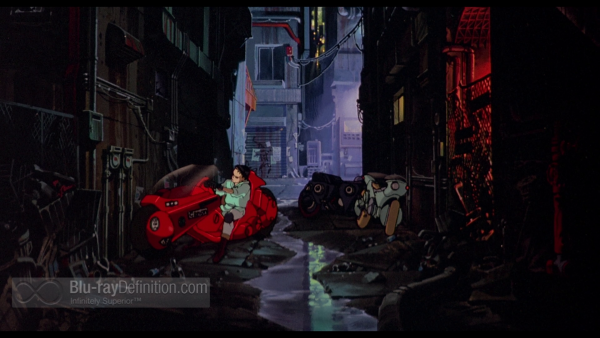 Akira arrives on Blu-ray from FUNimation taken from the same 2001 restoration that was released on Blu-ray in 2009 by Bandai/Honneamise. It appears that the framing has been adjusted somewhat, however, so that the black borders around the sides are no longer there. Colors are also brighter. Apart from that, 1.85:1 framed Blu-ray encoded in AVC/MPEG-4 at 1080p/24 looks just as good as it did before for an anime film now 25-years of age. You'll notice it doesn't look too scrubbed clean like Disney's Cinderella, which also scrubbed away much of the detail and line art, but, rather, it retains a lot of grain and texture. The original cels show some obvious wear in places and black levels fluctuate from deep and inky at times to washed out with high levels of noise, but the level of overall detail in the transfer is strong, colors are bold and the line art is distinct. Colors really leap out at you, especially the primaries like reds.
Audio Quality
[Rating:5/5]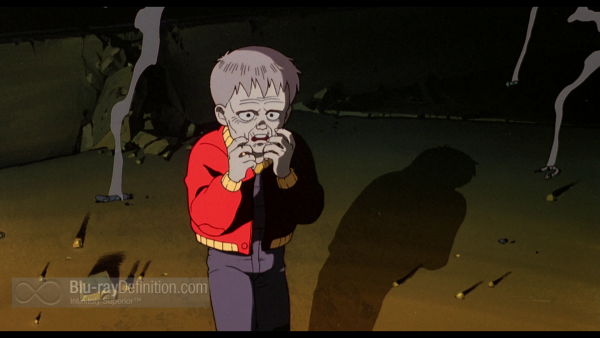 Akira is the first Blu-ray film to be released with a 192kHz/24-bit lossless soundtrack (there have been music-only Blu-ray Audio discs from 2L previously released with 192Khz/24-bit LPCM and lossless 5.1 mixes) and as such it will probably be held up as a reference for a long time to come. As far as I know, there haven't been any other films released on Blu-ray with a 192/24 surround soundtrack, but I could be wrong (feel free to contact me with a correction if I am).
Akira's Japanese Dolby TrueHD 5.1 (192kHz/24-bit) soundtrack is an amazing thing to listen to. It's the same mix that appeared on the Bandai release and was dubbed "hypersonic" sound, by that distributor. It is a relentless balance of sound design fully utilizing the entire 360-degree soundfield and filling it up with discrete effects, tons of ambience and an extremely wide dynamic range. Low frequency extension is quite impressive, with every explosion resounding with great effect and Kaneda's iconic motorcycle engine — actually a composite of a 1929 Harley-Davidson motorcycle and a jet engine — roars with authority. Even the film's score gets the aggressive treatment, with instrumentation being placed around the room. Occasionally the sound effects can drown out the dialogue in some of the more aggressive scenes, but the mix is still strong overall.
Where FUNimation steps it up over the previous Bandai release is in providing the 2001 English 5.1 dub mix in Dolby TrueHD 5.1 (96kHz/24-bit) and the original 2.0 English mix in Dolby TrueHD 2.0 (96kHz/24-bit). As before, however, the English 5.1 mix is mild in comparison, and really takes things down a few levels, keeping the sounds more front-heavy, less atmospheric, and less exciting. The 2.0 track sounds fairly boxy and also has some distinctly audible crackle in the dialogue that isn't as noticeable on the 5.1 track.
Supplemental Materials
[Rating:3.5/5]
The bulk of the supplements here have been ported over from the previous standard definition releases from 1988 and 2001, apart from some minor additions like the Glossary and graffiti translation slideshow.
The supplements:
DVD
Akira Sound Clip [1988] by Geinoh Yamashiro Gumi (1.33:1; SD; 00:19:22; Dolby TrueHD 2.0 – 96kHz/24-bit) – This featurette explores the composition of the musical score, with behind-the-scenes looks at the scoring stage and plenty of animation clips.:

Music for Akira
Kaneda's Theme
Exodus
Ethnic Meets Hi-Tech
Awakening
Mutation
Requiem

Director Interview (1.33:1; SD; 00:29:11; Dolby TrueHD 2.0 – 96kHz/24-bit)
Storyboard Collection (1080p/24; 00:30:58; Dolby TrueHD 2.0 – 96kHz/24-bit)
The Writing on the Wall (1080p24) – A slideshow of various frames from Akira translating the graffiti that can be seen throughout the film, saying various things like "Victory to the Unions", "Don't Litter", and "Kill me!"
Original Trailers (1.85:1; 1080p/24; Japanese Dolby TrueHD 2.0 – 96khz/24-bit)
Original Commercials (1.85:1; 1080p/24; Japanese Dolby TrueHD 2.0 – 96kHz/24-bit)
Restoring Akira [from the 2001 special DVD release] (1.33:1; SD; 00:11:01; English Dolby TrueHD 2.0 – 96kHz/24-bit):

Picture
English Voice Over
English 5.1 Audio Mix

Glossary
U.S. Trailer [2013] (1.85:1; 1080p/24; Dolby Digital 2.0
FUNimation Trailers
The Definitive Word
Overall:
[Rating:4/5]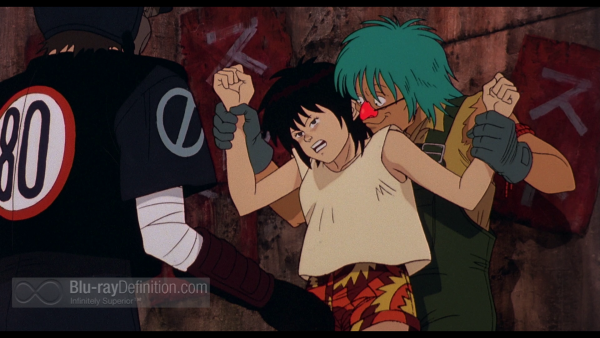 Even with the advances in technology, newer films coming along, more modern techniques and characters, Akira continues to remain pertinent, exciting, and just as relevant today as it was two-and-a-half decades ago. It's one of the most visually stunning and mentally stimulating pieces of cyberpunk anime ever created, and this 25th Anniversary Edition, though not a big step up in quality from the previous Blu-ray release, will be a welcome one for those who may have missed it the first time around.
Additional Screen Captures
[amazon-product]B00ENNA62W[/amazon-product]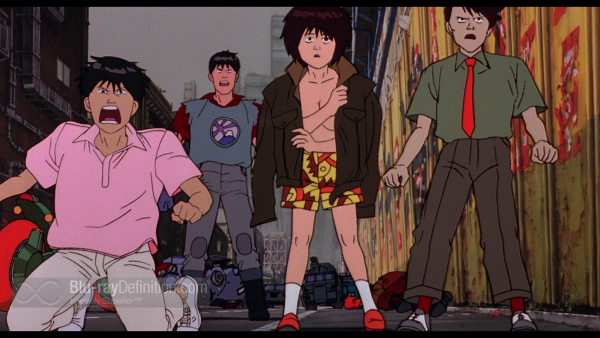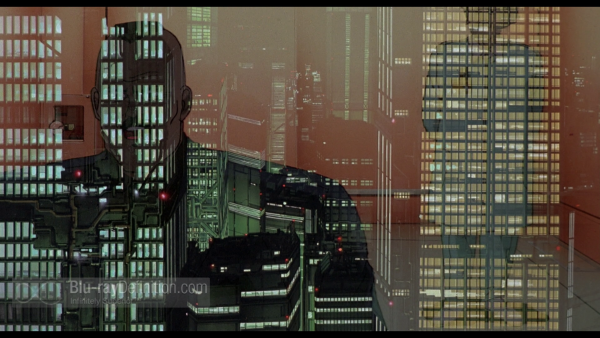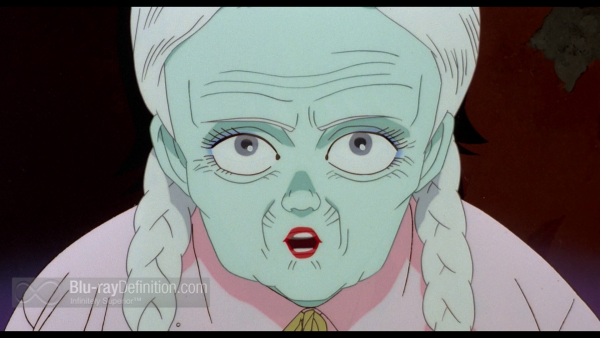 [amazon-product]B00ENNA62W[/amazon-product]