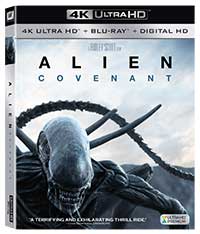 Alien: Covenant is both a sequel to the 2012 film Prometheus and prequel to the greater Alien franchise beginning with Ridley Scott's 1979 original, Alien. This sci-fi horror (available now on 4K Ultra HD Blu-ray from Fox) film fills in many of the dots about how, where, and why the deadly, voracious aliens that have populated the film series came about. The main themes will recognizable to anyone already familiar with the franchise and newcomers can still find entertainment in the dark, foreboding overtones of Scott's film.
Alien: Covenant starts off with a quiet yet uneasy scene with the android David (Michael Fassbender), which we first met in Prometheus, in an almost all white room being awoken by his creator Peter Weyland (Guy Pearce). A discussion about creation takes place between David and his 'father' Weyland, "If you created me, who created you?," David asks. It's a foreboding of things to come.
Meanwhile, in 2104, the spaceship Covenant is on its way to the remote planet Origae-6 on a colonizing mission carrying 2000 passengers who are in a deep sleep for the long journey. The android Walter (also played by Fassbender) is accompanying them along with the captain (James Franco) and other crew members when the ship hits major storm, taking serious damage resulting in the death of dozens of crew members. Still several years away from Origae-6, the crew determines to divert to a nearby planet, which seems like a good choice, an idyllic planet. It turns out to be a bad decision. On the planet, they encounter David, who has been residing there for 11 years since his mission went 'bad' and crash-landed (Prometheus).
If you are familiar with the Alien films, you'll already know that the Covenant crew will find themselves encountering vicious alien creatures ready to tear into them. Ridley Scott doesn't spare the blood and gore in Alien: Covenant at all, but it is not really this violence and the eerie surrounding that make the film horrifying. It is the idiosyncratic android David, whose off-kilter 'human' emotions and veiled motivations that provide the true horror. The interplay between the two androids, Walter, who is a updated, emotionless android who is all about service and duty, and David who fancies himself more human than human, are spellbinding. Fassbender, never one to disappoint in his roles, shines in this one as the AI 'brothers' showing two sides of the Promethean coin, so to speak.
Katherine Waterston, who plays Daniels, the mission's head of terraforming and for all intents and purposes this film's 'Ridley' is also spot on as the one who has to knock the mission back into shape and confront the challenges head on when things go sideways.
Overall, there is nothing really new or genre defining in Alien: Covenant, and one would have to see Prometheus to get a better overall sense of what is going on, despite the previous film's rather cryptic ending, but there is enough here for fans to sink their teeth into and for newcomers to get hooked on.
The Video
Alien: Covenant was shot on the Arri Alexa XT with Angenieux Optimo DP Rouge, Panavision PCZ and PVintage lenses at 2K resolution and a 2K DI was used in post processing. It was mastered with Dolby Vision high dynamic range as well and it comes to 4K Ultra HD Blu-ray in an HEVC 2160p encodement with HDR10 high dynamic range. Being sourced from a 2K production and master, this is has been up-scaled to 4K, but they have done a very fine job of it and the HDR has been masterfully applied. Even in the opening scene, which is in an almost monochromatic white room with David and his creator, the wide color gamut and HDR offer color delineations of whites and hints of greys that can't be seen on the Blu-ray. Things get even better as we jump forward to the scenes on the Covenant and the highlights of the various displays aboard the spaceship 'pop' against the shadowy surroundings of the ship. I'd say the details, contrast, and colors of the UHD are so vibrant, crisp, clear, and nuanced, that at times the CGI of the spacecrafts comes across as fake. On the Blu-ray disc included in this set as well, the image still looks filmic and clear, but the nuance, colors, and contrast do not 'pop' as much and the visual effects, particularly of the ship against the blackness of space, doesn't look as artificial. Take that how you will.
The Audio
The 4K Ultra HD Blu-ray of Alien: Covenant gets a Dolby Atmos sound mix that is one of the best I have heard on disc recently. This one is filled not just with plenty of discrete sounds well placed through the channels, but a lot of atmospheric sounds that really place inside the action. There were plenty of little moments aboard the Covenant, for example, when a little 'beep' or a 'hissing' sound of some sort reverberated from somewhere far off to the side or overhead. Of course, the Atmos channels add to the immersion when the action picks up with overhead sounds, screeching, explosions and more. The dynamic range is magnificent as well going from faint whispers to full on bombast. Dialogue is full and clean straight through. The Blu-ray gets a non-immersive DTS-HD Master Audio 7.1 soundtrack that, while it may not be the latest and greatest is nothing to sneeze at. The atmospherics aren't quite as distinct, especially when handling the panning of sounds emulating an overhead sort of effect, but the balance and dynamics are still superb and it is almost as tightly woven as the Atmos track.
The Supplements
This 4K Ultra HD Blu-ray release comes with a Blu-ray Disc that contains the feature film in HD plus a collection of special features including the solid audio commentary from Ridley Scott, deleted and extended scenes, and an hour-long 'Master Class' documentary with interviews with Scott and behind the scenes footage of the making of Alien: Covenant.
Blu-ray Disc with Feature Film and Special Features
Digital HD UltraViolet + iTunes Digital HD Digital Copy
Director commentary by Ridley Scott
Deleted and Extended Scenes (1080p/24; 00:17:37):

Prologue (Extended)
Walter in Greenhouse
Gram and Daniels (Extended)
Walter Visits Daniels
Daniels Bedroom Flashback
Jacob's Funeral (Extended)
Ledward's Fall
Crossing the Plaza (Extended)
Daniels Thanks Walter
Rosenthal Prayer
Walter Reports Back
Stairs to Eggroom (Extended)

USCSS Covenant:
Sector 87 – Planet 4:
Master Class: Ridley Scott (1080p/24; 00:55:30)
Production Gallery
Theatrical Trailers
The Final Assessment
A solid entry that answers questions about where the 'aliens' in this long-running franchise come from that is decidedly "R" rated and sticks to the well-defined themes of the franchise, Alien: Covenant is filled with great action, superb visual effects, and a powerhouse performance by Michael Fassbender.
Alien: Covenant is out on 4K Ultra HD Blu-ray August 15, 2017.
[amazon_auto_links id="103543"]
R (for sci-fi violence, bloody images, language and some sexuality/nudity)
Rating Certificate
Twentieth Century Fox Film Corporation | Scott Free Productions (Production) | TSG Entertainment (in association with) | Brandywine Productions | 20th Century Fox
Studios & Distributors
Dan O'Bannon (based on characters created by) | Ronald Shusett (based on characters created by) | Jack Paglen (story) | Michael Green (story) | John Logan (screenplay) | Dante Harper (screenplay)
Writer
$26.99
MSRP
HEVC (H.265) 2160p | AVC 1080p (Blu-ray)
Video
4000 Nits
Maximum Luminance
0.005 Nits
Minimum Luminance
English Dolby Atmos (Dolby TrueHD 7.1 Compatible)
Primary Audio
English DTS-HD MA 7.1 (BD Only) | English Descriptive Audio 5.1 | Spanish DD 5.1 | French DTS 5.1 | Spanish (Castilian) DTS 5.1 | German DTS 5.1 | Italian DTS 5.1
Secondary Audio
English SDH | French | Spanish (Castilian) | Spanish (Latino) | Danish | Dutch | Finnish | German | Italian | Norwegian | Swedish | Chinese
Subtitles
HDR Effect (If Applicable)
Summary
This hybrid sequel/prequel sci-fi horror film answers a lot of questions in the Alien franchise, but is mostly entertaining for the great performance from Michael Fassbender and dazzling visual effects and sound design.
What people say... Login to rate
Be the first to leave a review.
Show more