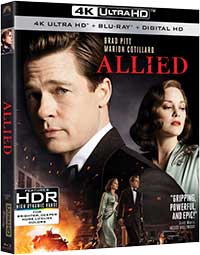 In the tradition of wartime noir such as Casablanca, Robert Zemeckis directs this lavish World War II spy thriller starring Brad Pitt and Marion Cotillard.
Pitt plays Canadian pilot Max Vatan who's sent on assignment to Casablanca to meet up with French Resistance fighter Marianne Beauséjour (Cotillard) where the two must play a married couple until they carry out their assignment to assassinate a high-ranking Nazi official. Eventually their make-believe marriage leads to real romance, nuptials, and a family of their own against the backdrop of German bombing raids in England. Max's happy family life comes crashing down around him, however, when his superiors inform him that his wife may be a Nazi spy and he is ordered to carry out what they call a "blue dye" operation on Marianne to determine if she has sent secrets back to the enemy. If it proves true, he must kill her with his own hands or face death himself.
Zemeckis' film is sweeping, romantic, and glamorous, hitting all the notes we'd expect from a Jazz Era wartime epic, from the silk gowns and leather gloves to the hyper-steamy sex scene in a car smack dab in the middle of desert sandstorm. While these things place us in this era, they also give us almost a kitschy sense of pop theater at times. It doesn't help that Zemeckis cuts the film into three strongly divided acts either, cutting the continuity and flow of what should feel like a smooth film, given the roundness, visually speaking, of the imagery and the era, from the rounded automobiles, the rounded airplanes, flowing gowns, and even the big round bombs.
The highlight of Allied, however, is the chemistry between Pitt and Cotillard. Despite the vast difference in their ages – something Hollywood just can't seem to break out of when casting male and female leads – Cotillard and Pitt sizzle on screen together. Marion Cotillard, perhaps under-utilized outside of her native France, is a force on screen, and not just because of her innate physical beauty. Since seeing her in the Edith Piaf biopic, I have been a convert to her magical talents. Brad Pitt plays off of her excellently here, almost comically in the first act, and they make a delightful onscreen pairing. Ultimately, it is this pairing and the glamour of Allied that will engage viewers with this solid thriller.
(Editor's Note: For a different take on this film read our theatrical review of Allied by Lawrence Devoe).
The Video
Allied was shot in 6K and 8K resolution on the Red Weapon Dragon with Panavision Primo 70, Leica Summicron-C, Summilux-C and Angenieux Optimo lenses and a 4K DI (Digital Intermediate) was used in the processing stage. So, what we have on this 4K Ultra HD Blu-ray is a fully native 4K transfer in HEVC with HDR (High Dynamic Range), and it looks the part with staggering detail and depth of field, wonderful application of the HDR, and extended shadow details. The little things like flames or the anti-aircraft fire in the night sky over Britain during the bombing raids really leap from the screen. At no time did I see any black crush in the shadows or on darker colors. The daylight scenes looked very vivid and natural without any clipping. The film arrives in its original widescreen 2.40:1 framing.
The Audio
I was disappointed to find that Allied did not come with a sound mix in one of the new object-oriented formats such as DTS:X or Atmos. In fact, it doesn't even have a 7.1 mix, just DTS-HD Master Audio 5.1. I was even more disappointed when I listened to Allied and heard that they didn't do much at all with that 5.1 mix (there are some 5.1 mixes that sound better than their 7.1 and Atmos/DTS:X counterparts). The sound is rather stagnant, without much going on in the surround channels. There are moments where the activity in the film allows things to come alive, such as when Marianne and Max carry out their assassination in Casablanca or during the blitzkrieg in England, but even then it is a very front-heavy mix. The dialogue and dynamics are good, but it is hardly a mix that draws you into the film's world.
The Supplements
The over hour-long making of featurettes explore practically every aspect of the film's production and each segment's title is rather self-explanatory In addition this release comes with Digital HD and the standard Blu-ray, but no DVD.
Digital HD UltraViolet + iTunes Digital HD Digital Copy
Standard Blu-ray with main feature and special features
Making of Featurettes (1.78:1; 1080p/24; 01:07:54):

Story of Allied
From Stages to the Sahara: The Production Design of Allied
Through the Lens: Directing with Robert Zemeckis
A Stitch in Time: The Costumes of Allied
'Til Death Do Us Part: Max and Marianne
Guys and Gals: The Ensemble Cast
Lights, Pixels, ACTION! The Visual Effects of Allied
Behind the Wheel: The Vehicles of Allied
Locked and Loaded: The Weapons of Allied
That Swingin' Sound: The Music of Allied
The Final Assessment
Allied will be the romantic wartime thriller that acts as a breath of fresh air for adult viewers looking for a change-up from the onslaught of big budget special effects popcorn films, raunchy comedies, and the latest animated hit their kids drag them to. While it could have used some slight improvements in its story arc, the performances, glamour, and tight mystery are more than enough to satisfy moviegoers.
[amazon_auto_links id="97784"]
R (for violence, some sexuality/nudity, language and brief drug use)
Rating Certificate
GK Films | Huahua Media | ImageMovers | Paramount Pictures
Studios & Distributors
$25.99
MSRP
HEVC (H.265) 2160p (UHD) | AVC 1080p (BD)
Video
English DTS-HD MA 5.1
Audio
English | English SDH | French | Portuguese | Spanish
Subtitles
English Audio Description | French DD 5.1 | Portuguese DD 5.1 | Spanish DD 5.1
Secondary Audio
Summary
A glamorous wartime thriller featuring Brad Pitt and Marion Cotillard, whose performances help propel the film. Allied looks excellent in this 4K Ultra HD Blu-ray release.
What people say... Login to rate
Be the first to leave a review.
Show more