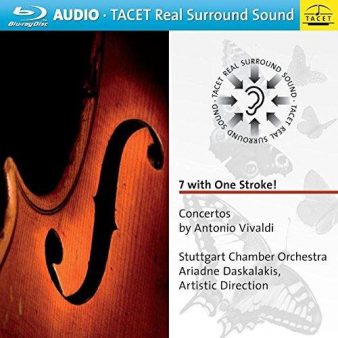 – –

The Recording
[Rating:4.5/5]
One of the most venerable chamber ensembles in the world, the Stuttgart Chamber Orchestra, founded by legendary conductor Karl Munchinger in 1945, has established a reputation for superb performances, focusing mostly on music from the Baroque period. This 2012 Tacet recording in both "real surround sound" (LPCM 5.1 (96kHz/24-bit)) and two-channel LPCM (96kHz/24-bit) versions is devoted to several concerti grossi of Antonio Vivaldi, included in his Opus 3, also known as "L'Estro Armonico"(Harmonic Inspiration) as noted in the playlist below
Concerto for 3 Violins and Orchestra in F major (9:36)
Concerto for Violin, Violincello, and Orchetra in B flat major (8:40)
Concerto for 4 Violins and Orchestra in E minor (7:12)
Concerto for 2 Violins and Orchestra in G Minor (10:21)
Concerto for 2 Violins and Orchestra in A Minor (9:36)
Concerto for 4 Violas and Orchestra in E Minor (Transcribed by Jochen Neurath) (9:20)
Aria "il figlio, il reo" from"Tito Manlio"arranged for Double Bass and Orchestra (4:14)
With the exception of the 4-violin concerto (that has four movements), the other concerti assume the typical 3-movement fast-slow-fast format.  There are two rarities in this program.  First is Vivaldi's transcription of J.S. Bach's concerto for four harpsichords that he turned over to four violins, and in this program the score has been transcribed for four violas. The second is a transcription of an operatic aria that, in this instance, has been transcribed for a double bass and orchestra.
The Stuttgart Chamber Orchestra receives its musical direction in this recording from Ariadne Daskalakis, a well-recognized Baroque violin specialist with an established concert career as both soloist and concertmaster. In piece after piece, the seamless ensemble work and spot-on pacing reflect the long association between many of the players and their familiarity and love for this music.

Audio Quality
[Rating:4.5/5]
Tacet sound engineer Andreas Spreer surrounds the listener with the high strings to the right and left, a theorbo in the center, and the lower strings to the rear right and left channels. When they are needed, keyboards (organ or harpsichord) take the rear center position. There is a natural warmth to these instruments that is quite like that expected in live performance and while the two-channel version is quite beautiful, the "real surround" 5.1 version is much more engaging and highlights the various players perfectly.

Supplemental Materials
[Rating:1.5/5]
Thomas Seedorf contributes a background essay on Vivaldi and his compositions, Andreas Spreer describes the surround recording technique used for the program, and there is a brief history of the Stuttgart Ensemble and soloist Daskalakis.

The Definitive Word
Overall:
[Rating:4.5/5]
For many classical music fans, Vivaldi's "Four Seasons" was their introduction to the world of the Baroque concerti grossi, works that featured stringed instruments and adhered to a standard arrangement of three or four movements. Given the literally hundreds of concerti that Vivaldi composed during his long career, it is difficult to pick and choose favorites among them. This Stuttgart Chamber Orchestra recital provides brilliant examples of how this composer was able to highlight the soloists while never compromising the integrity of the ensemble. Beautifully performed and recorded, another highly recommended Blu-ray audio from the Tacet catalog.
[amazon-product tracking_id="bluraydefinit-21″]B00LLS5RNU[/amazon-product]
[amazon-product region="ca" tracking_id="bluraydefinit-20″]B00LLS5RNU[/amazon-product]
[amazon-product]B00LLS5RNU[/amazon-product]