–
The Film
[Rating:4/5]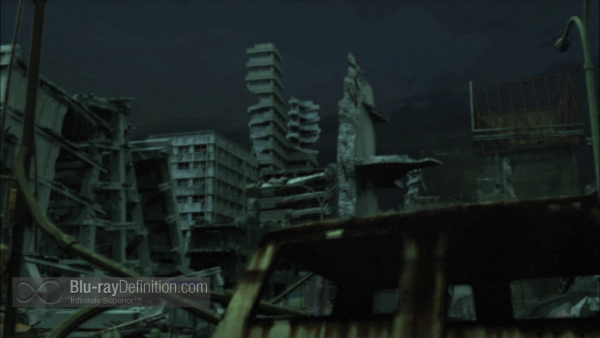 Appleseed is the 2004 film based on the original manga by Shirow Masamune. It differs from the 1988 OVA of the same name, also based on the manga, in that it does not follow the manga's timeline exactly and in fact takes liberties with the plot.
Set in the distant future after a devastating global war, the story of this Appleseed film follows Deunan Knute, a female soldier and survivor of the last Global War, who is rescued by a bioroid named Hitomi and taken to a refuge, utopian city called Olympus run by bioroids, human-like androids that have had their emotions and reproductive systems suppressed. There, she also reunites with her former lover, Briareos Hecatonchires who is now a cyborg. Olympus is ruled by the female bioroid Athena, but its military, ESWAT, is controlled by humans who are suspicious of bioroids. There is also a council of "elders", humans using an elaborate life support system and a central supercomputer to make decisions on the direction of the bioroids and humanity. These separate factions in Olympus lead to many conflicts, and the main one, the distrust humans have for bioroids, gets Knute caught up in a struggle to find an artifact known as "the appleseed." It becomes extremely necessary to find when the bioroids ability to extend their limited life span is compromised. The appleseed will remove this limit and restore the bioroids' ability to reproduce. There are many who do not want to see that happen, however, and Deunan and Briareos become targets.
While the story is not completely original, taking many of its cues from cyberpunk cliches, the production and execution of Appleseed are what make it standout from the crowd. Yes, it is beautiful to watch, its motion capture 3DCG world is engrossing, its blend of techno music and eye-popping action sequences make the world it resides in vast, slick, energetic and hypnotizing.
The script is just good enough to support the extremely well done animation and the likable characters in Appleseed, propping up the familiar themes of this sci-fi action film. This is more about the look and feel than it is about a cerebral experience, like Ghost in the Shell, for instance. And on that level, Appleseed succeeds, and it helped set a standard for this branch of 3DCG anime.

Video Quality
[Rating:3.5/5]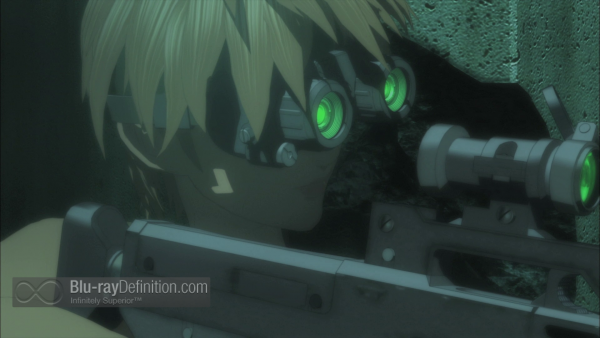 Appleseed comes to Blu-ray in an AVC/MPEG-4 1080p encodement from Sentai Filmworks. Sourced from a digital 3DCG master, the image looks about as good as it can, but there are anomalies inherent to the source that keep Appleseed from being a truly reference release. Perhaps it was the newness of this motion capture in anime back in 2004, but there is a lot of banding, aliasing and video noise that detracts from the beauty of the imagery.

Audio Quality
[Rating:4.5/5]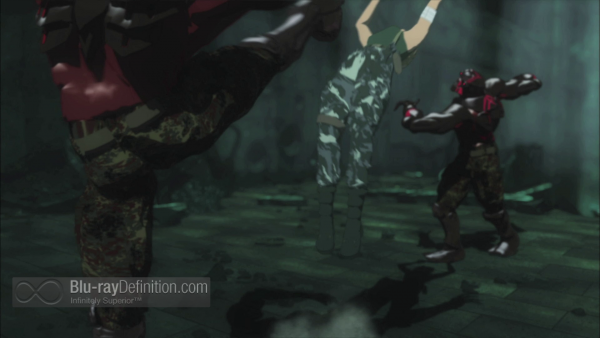 This Blu-ray contains the original Japanese soundtrack and the updated English dub produced by Seraphim Digital featuring the English voice cast from Appleseed Ex Machina. The sound is excellent, reference quality, and aggressive, with plenty of solid sound effects mixed through the surround channels and plenty of low end. Even so, there's good dynamic range, it isn't all loud all the time, and we get good atmosphere, clean dialogue, and beautiful music balanced through the mix.

Supplemental Materials
[Rating:2.5/5]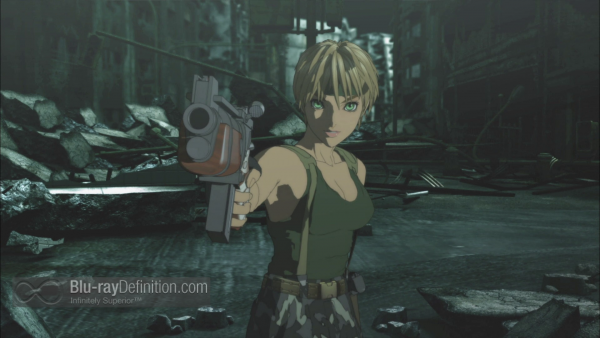 We get DVD of the film as well as all the original extras from the 2010 Blu-ray release from Sentai Filmworks and additional Sentai Filmworks trailers.
DVD
Commentary with Aramaki Shinji (Director) & Sori Fumihiko (Producer)
The Birth of 3D Live Anime (1.33:1; SD; 00:35:54)
Staff Profiles:

Masamune Shirow – Author of the Original Story
Aramaki Shinji – Director
Sori Fumihiko – Producer
Toyoshima Yusaku – CG Producer
Ohtsuka Yasuhiro – CG Director
Tetsuya Takahashi – Original Score

Sentai Filmworks Trailers

The Definitive Word
Overall:
[Rating:4/5]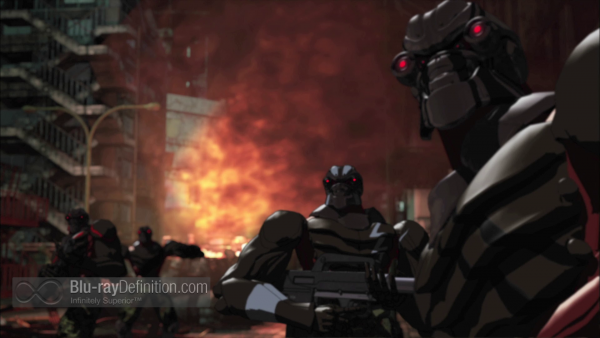 Appleseed is a popular anime franchise that continues to draw people to it. This adaptation of the manga is an awesome experience, even if it is not without its flaws. It has to be considered required viewing for any true connoisseur of anime.

Additional Screen Captures