–
Click thumbnails for high-resolution 1920X1080p screen captures
(All TheaterByte screen captures are lightly compressed with lossy JPEG at 100% quality setting and are meant as a general representation of the content. They do not fully reveal the capabilities of the Blu-ray format)
Editor's Note: Portions of this review not specific to this release were previously published in our Avatar Blu-ray , AVATAR: Extended Blu-ray Collector's Edition, and Avatar Blu-ray 3D reviews.
The Film
[Rating:4.5/5]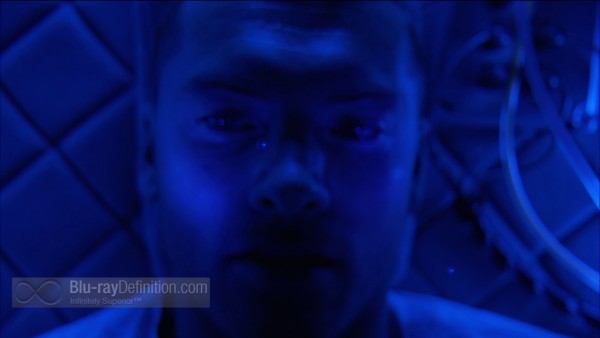 A brief forward:
Ladies and gentleman, Avatar on Blu-ray 3D is finally here for the masses at retail, and I am so happy to inform you all that…it is the same barebones release that Fox has been stuffing into boxes alongside Panasonic 3DTVs for the past two years. That's correct everyone, outside of the snazzy new lenticular packaging and an included DVD, there's nothing new in this "Limited" 3D edition. Not even the transfer has been upgraded in anyway, at least not t0 my eyes. Not that that's a bad thing, Avatar continues to look (and sound) spectacular, maintaining its place at or near the top of reference quality 3D releases on Blu-ray, even as the technology has advanced a bit since it first hit the format. But being that this is now the fourth time I have had the "privilege" of reviewing this title — twice on Blu-ray and now twice on Blu-ray 3D — and there are no changes or bonus features, what you will be reading below, in the interests of full disclosure, is mostly made up of all of the work I have previously put in on this film. Heck, if Cameron and Co. can't make an effort, why should I go out of my way? Just so you know, however, all the screen caps are from this particular release so you can compare and see that they are in fact one and the same. Any differences are only due to variations in the exact frame that was captured and a slight change in our screen grab techniques since. And now on to the review…
Filmmaker James Cameron has never been known to approach any of his films in a small way. He has been pushing the technological and budgetary boundaries of filmmaking for years. His philosophy has always been to bring something new to moviegoers; employing grand spectacle on the big screen to place viewers in a world where they can escape the mundaneness of their real world problems. From The Abyss, through The Terminator to Titanic, Cameron has honed his craft as the wizard of special effects wonder and sci-fi epics. But what Cameron has lacked in any compelling fashion along the way is any inkling that he might perhaps be able to sculpt a deep enough story to hold one's attention for the nearly three-hour journey that Avatar begs its viewers to tag along for.
Of course, when embarking on such an adventure the argument can be made that character and plot development are elements that must necessarily take the background to allow the awesome adventure and flight of fantasy to unfold. If only Tolkien and Peter Jackson were aware of that fact.
As the case may be, Cameron's Avatar is filled with caricatures and platitudes that plod through his heavy-handed ideas on environmentalism, the evils of capitalism and warfare set against the distant backdrop of a faraway land known as Pandora. There the seemingly primitive tree dwelling native population the Na'vi dwell upon a cache of a highly sought after mineral known as — I kid you not — "unobtanium."
In come the evil humans, fresh from their desolate planet where they have used up all the fossil fuels, killed off all the trees and now desperately need to displace the Na'vi to get at the unobtanium for their energy needs. Paralyzed soldier Jake Sully (Sam Worthington) arrives on Pandora into all of this confusion and is used as a human "Avatar." His consciousness is projected into the bioengineered body of a Na'vi. On an expedition into the Pandoran forest with Dr. Grace Augustine (Sigourney Weaver), also in avatar form, Jake is separated from his party when a particularly vicious native beast chases him down. Lost and alone, Jake ends up having to stay overnight in the mysterious forest where the Pandoran Neytiri (Zoe Saldana) finds him. She rescues him from a pack of wolf-like creatures and takes him back to her tribe after receiving a sign from the Pandoran god.
Sully becomes ensconced in the culture of Pandora from that point, learning the ways of the natives and losing his sense of reality — which is the real world and which is the dream world? Of course, Cameron also throws in an obvious inter-alien love story between Neytiri and Jake.
Soon, Jake must make a decision about which side he is on when the humans, that is to say, the corporation and the mercenary soldiers that work for them, are no longer willing to wait for the Na'vi to move peacefully so they can get at the unobtanium.
The cliché story aside, Avatar is a feast for the eyes and ears, even in its regular, flat 2D version, the 3D version makes it even more appetizing to watch. The CGI motion-capture visual effects are nothing short of stunning and the "air brush" color palette simply leaps from the screen. This is an adventure meant to be watched and enjoyed for its technical prowess, and it allows for excusing the at times awfully silly dialogue and obvious plot devices. But Avatar on Blu-ray 3D is a Home Theatre event and it makes it even more clear what lengths Cameron and crew went to, to design this film from the ground up for the 3D format, rather than thinking of 3D as a secondary, last minute money-making gimmick.
Video Quality
HD: [Rating:5/5]
3D Effect [Rating:5/5]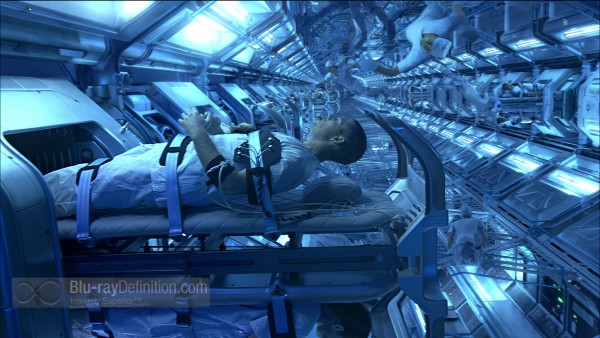 I've already reviewed Avatar on Blu-ray three times, here,  here, and, here they were all excellent. As I mentioned above, this release is identical to the 3D Panasonic-bundled disc, apart from the fact that it comes packed with a DVD and has a fancy new cover. At first, it seemed to have slightly less crosstalk than I recall, but then I remember that I have tweaked my display and switched to 3D glasses which are themselves customizable to minimize crosstalk. Pulling out the Panasonic exclusive disc, I couldn't detect a difference at all in the 3D effect.
From the very opening scenes, it is obvious that this is a different sort of 3D experience being crafted by James Cameron. While Avatar 3D adds great sense of spatial depth while retaining detail and the splendor of its color palette, it doesn't ever lapse into the realm of gimmickry — meaning there are no "in your face" 3D moments. Things don't fly off the screen at you or by you. The closest Avatar gets to that sort of thing is some of the foliage in the foreground in the forests of Pandora coming farther off the edges of screen.
The film, rather, puts you in the middle of the action, sort of like you're in an imaginary Avatar sphere, experiencing the moment with the characters. Some of the most exhilarating 3D scenes are those where Sully is flying his dragon-like creature, and the film's epic battle scene between the Na'vi and the military.
There is some slight crosstalk throughout, but this is still one of the better titles I have seen in that regard, once again adding proof to the belief that a lot of issues with crosstalk are not just display related, but also have to do with the source material.
In straight 2D, Avatar also impresses, as you can read in the two non-3D reviews previously published here. The image is clean with strong contrast, vibrant color reproduction, and lots of textural information.
Audio Quality
[Rating:5/5]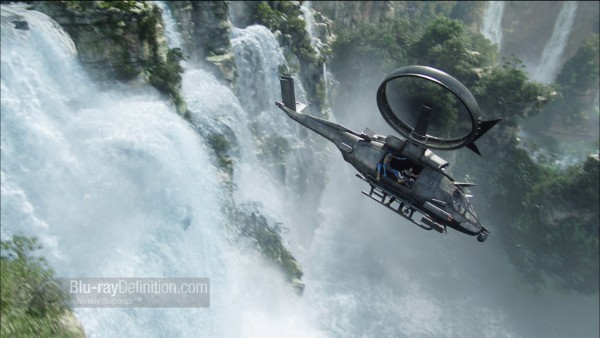 No change here, this soundtrack is still top notch, reference quality material. Provided in DTS-HD Master Audio 5.1 (48kHz/24-bit) the surround channels are engaged throughout the film with all manner of discrete and ambient sound effects while low frequencies are downright thunderous. Dialogue is clear and never lost in the action.
Supplemental Materials
[Rating:0.5/5]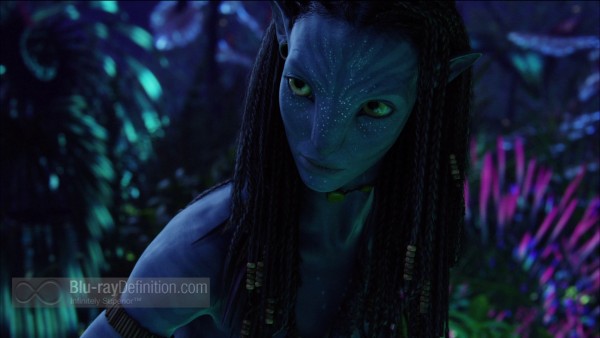 We'll bump this up a half-a-point since they were kind enough to included a DVD, but the lack of on disc extras or even a digital copy is just ridiculous. I suppose all of that will come with the inevitable triple-dip, Super Deluxe Collector's Extended 3D Edition.
The Definitive Word
Overall:
[Rating:4/5]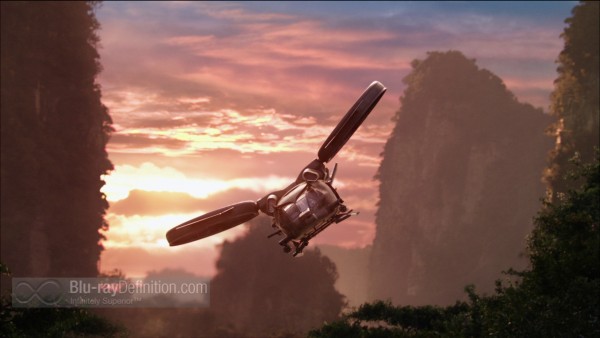 James Cameron has once again pushed the boundaries of what can be technically achieved in filmmaking with Avatar. Despite its storytelling flaws there is no doubt that people will be looking to this film for years to come as the benchmark for visual effects in filmmaking. The Blu-ray 3D continues to be a reference for the format on the whole, but this disappointing wide release debut lacks any of the special features from the Collector's Edition release, which smacks of a ploy to get people to run out to buy this only to have the ultimate collector's edition release be announced.
Additional Screen Captures
[amazon-product]B0044XV3QY[/amazon-product]
[amazon-product]B008XBCJ34[/amazon-product]
Purchase Avatar Limited 3D Edition on Blu-ray  at CD Universe
Shop for more Blu-ray titles at Amazon.com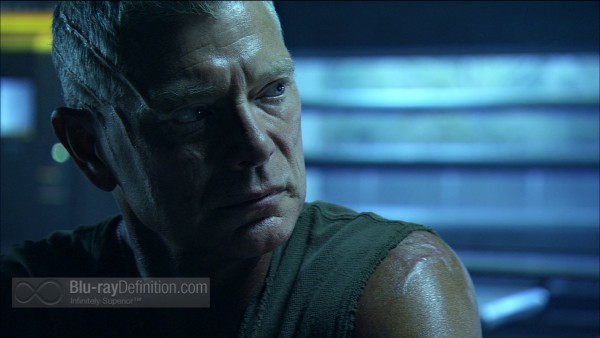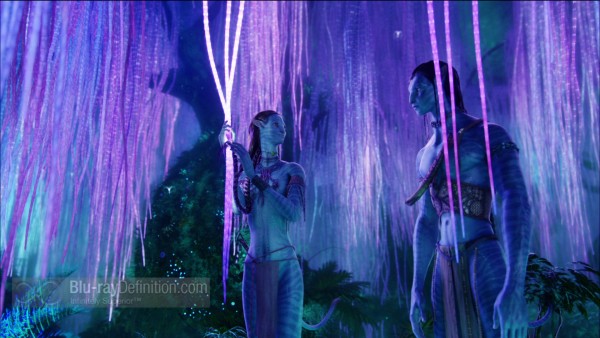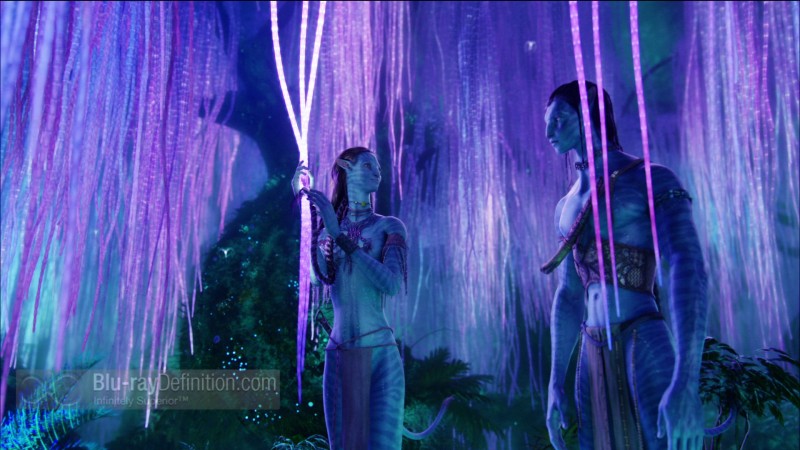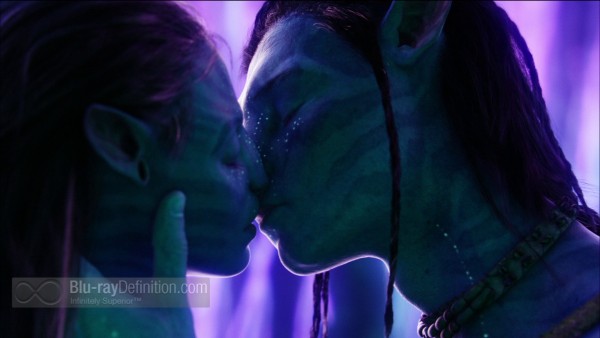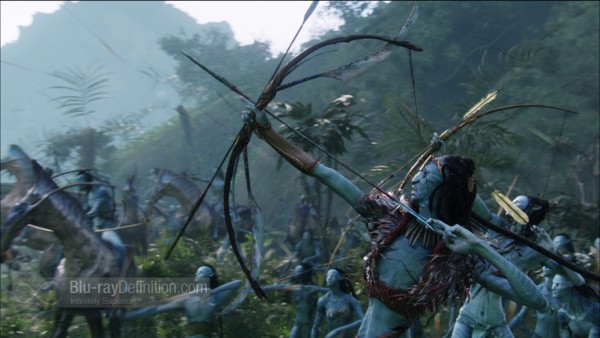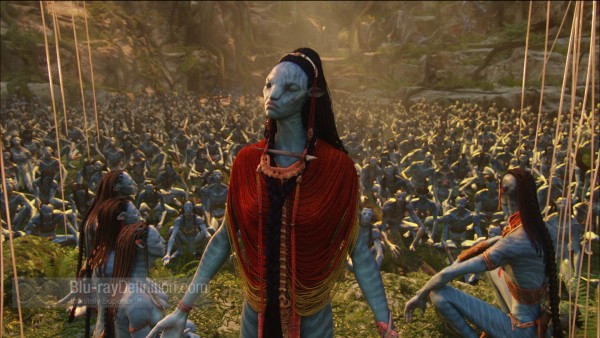 [amazon-product]B0044XV3QY[/amazon-product]
[amazon-product]B008XBCJ34[/amazon-product]
Purchase Avatar Limited 3D Edition on Blu-ray  at CD Universe
Shop for more Blu-ray titles at Amazon.com