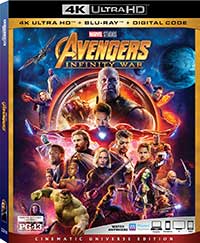 Avengers: Infinity War is the culmination of a decade of the Marvel Cinematic Universe and decades more of Marvel comic books and hero development. Brothers Anthony and Joe Russo, who helmed Captain America: Civil War, return to helm this epic gathering for the first time on the big screen of all of Marvel's Avengers to face a threat to the entire universe.
Marvel, unlike rival DC, has been diligent a building out the MCU, and very consistent at planting seeds of things to come that carry throughout the franchise. This film's supervillain, Thanos (portrayed by Josh Brolin via voice and motion capture) has appeared throughout the MCU in Guardians of the Galaxy (2014), Avengers: Age of Ultron (2015), and now here. A villain taken directly from the pages of Marvels comic books, he is tied-in directly to the Infinity Stones or gems that have been a central plot or subplot in most of the MCU films thus far.
Now, finally, Thanos, who has sought to make himself omnipotent by gathering each of the stones in his single-minded task to wipe out half of all life in the universe in what he believes is the only way to balance everything out and ensure the continued existence of life, is on the verge of uniting the stones.
After the film's stunning, action-packed opening on Thor's (Chris Hemsworth) ship that sees Thor, Loki (Tom Hiddleston), and the Hulk (Mark Ruffalo) take a stunning defeat at the hands of Thanos and lose one of the stones, the film moves on to the desperation of the rest of the Avengers who begin to realize, through contact from the others, what dire straits the world is in. Eventually Iron Man (Robert Downey Jr.), Doctor Strange (Benedict Cumberbatch), Hulk (Ruffalo), War Machine (Don Cheadle), Captain America (Chris Evans), Black Widow (Scarlett Johansson), Vision (Paul Bettany), Spider-Man (Tom Holland) Black Panther (Chadwick Boseman), Scarlet Witch (Elizabeth Olsen), Falcon (Anthony Mackie), and the Guardians of the Galaxy, Star-Lord (Chris Pratt), Groot (Vin Diesel), Rocket (Bradley Cooper), and Gamora (Zoe Saldana) unite to battle Thanos and his minions.
After the Guardians, Iron Man, Doctor Strange, and Spider-Man fail to stop Thanos from attaining the penultimate stone, the last stand comes in a blistering battle in Wakanda, home of Black Panther. For anyone familiar with the comic book universe, the ending may already be a forgone conclusion. Assuming that Marvel sticks to the comics, the next film will be a stunner for those who are not familiar with Thanos and his master plan and inner demons.
That said, Avengers: Infinity War is easily the best of the MCU, and not just because it brings together all the superheroes, but because it effortlessly works in all the best parts of the MCU, from the awesome visual effects to the wisecracking humor, the pathos of the supervillains, and, lastly, the intensity of the conflict. The ending is one of the most stunning in the MCU and it humanizes the superheroes in a way that makes them interesting and relatable characters.
The Video
I was incredibly disappointed that Avengers: Infinity War was not on 4K Ultra HD in with Dolby Vision. Disney made a big show about holding off on the format until Dolby Vision was available on disc and in a sufficient number of players and displays. Now, we get this high-profile release in this HEVC 2160p (4K) encodement shot on an Arri Alexa IMAX camera with Panavision Sphero 65 & APO Panatar lenses at 6.5K resolution mastered with a 4K DI and brought to 4K Ultra HD with HDR10 HDR by Disney/Marvel, which can and does look incredible here with awesome highlights and beautifully nuanced shadows and colors, but Dolby Vision often yields an even better visual experience with its dynamic metadata and varied levels of colors and brightness that tend to look a little more natural and nuanced. Still, most won't be complaining about this disc or the Blu-ray, which is also darn good.
The Audio
Avengers: Infinity War comes with an English Dolby Atmos mix on 4K Ultra HD. It's neither great nor terrible, just average. There's an indefinable sense of the dynamics being stifled although there is certainly some 'boom' in the low end and clarity in the dialogue. The panning is decent, but the overhead speakers are underwhelming. While they do offer up some atmospherics for the score and sound effects, they don't quite give a big sense of immersion. What is Disney doing these days with their soundtracks? This isn't the worst I have heard from them, but where they used to lead the pack, they have become an afterthought. Even the PIXAR soundtracks are underwhelming these days.
The Supplements
We get a collection packed with over 2-hours of bonus materials, including the digital bonus MCU directors roundtable and over 30-minutes of featurettes that offer up interviews with the cast and crew. The audio commentary is an interesting listen, so check it out for an alternative viewing experience to find out more about Infinity War and the MCU.
Blu-ray
Movies Anywhere Digital Code – Play a digital copy via your provider of choice (iTunes, Vudu, Amazon Prime Video, Fandango Now, Google Play)
Featurettes (1.78:1; 1080p/24; 00:32:18):

Strange Alchemy
The Mad Titan
Beyond the Battle: Titan
Beyond the Battle: Wakanda

Deleted Scenes (2.40:1; 1080p/24; 00:10:13)

Happy Knows Best
Hunt for the Mind Stone
The Guardians Get their Groove Back
A Father's Choice

Gag Reel (1.85:1; 1080p/24; 00:02:05)
Audio Commentary — By directors Joe and Anthony Russo, and writers Christopher Markus and Stephen McFeely
The Final Assessment
From the all-out rampages to the more tender moments and the always belly laughing comedy, this film has it all, and it takes us on a wild, wild ride. Plus, we get all the Marvel Avengers in one place – sort of. One spoiler if you haven't seen it already, Captain America never dons the Red, White, and Blue, and Bruce Banner is having some issues. But, that said, this 4K Ultra HD, apart from a bit of an underwhelming Atmos mix, is a no-brainer that easily works as a show-off disc and a fantastic popcorn flick.
[
Editor's Note:
Updated August 3, 2018 to reflect this was mastered with a 4K DI not a 2K DI]
Avengers: Infinity War is out on 4K Ultra HD Combo Pack & Blu-ray + Digital August 14 and available early on Digital July 31, 2018 from Disney
PG-13 (for intense sequences of sci-fi violence and action throughout, language and some crude references)
Rating Certificate
Marvel Studios | Walt Disney Studios Motion Pictures
Studios & Distributors
Anthony Russo | Joe Russo
Director
Christopher Markus | Stephen McFeely
Writer
HEVC (H.265) 2160p (4K) | AVC 1080p (Blu-ray)
Video
1000 Nits
Maximum Luminance
0.0001 Nits
Minimum Luminance
English Dolby Atmos (Compatible w/ Dolby TrueHD 7.1)
Primary Audio
English DTS-HD MA 7.1 (Blu-ray) | English Descriptive Audio 2.0 | French DD 5.1 | Spanish DD Plus 7.1 | Japanese DD Plus 7.1
Secondary Audio
English SDH | French | Spanish | Japanese | Chinese | Korean | Thai
Subtitles
HDR Effect (If Applicable)
Summary
The Avengers must work together to defeat the narcissistic supervillain Thanos (Josh Brolin) from collecting all of the Infinity Stones and obliterating the universe in this action-packed entry in the MCU that brings together all of all Marvel's Avengers on screen for the first time. The film, directed by Anthony and Joe Russo blends all the best elements of the MCU -- big action, wisecracking comedy, and a terrifying villain -- with ease. This 4K Ultra HD Combo Pack includes over 2-hours of bonus materials, features a stunning HDR10 visual transfer and a Dolby Atmos audio mix.
What people say... Login to rate
Be the first to leave a review.
Show more