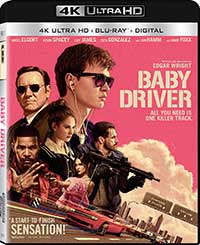 Fast car chase movies have been in the Hollywood wheelhouse for decades, jump started by films like Bullitt. Baby Driver takes pages out of this cinematic playbook but also acknowledges the current craze for the Fast and Furious franchise. Writer/director Edgar Wright captures the millennial zeitgeist by giving us the troubled young Baby (Ansel Elgort) who has lingering behavioral and auditory problems caused by a car crash during his childhood that claimed both of his parents. Baby had turned to a life of crime, driving getaway cars for crime boss "Doc" (Kevin Spacey) to whom he owes thousands of dollars for stealing and ruining Doc's Mercedes Benz. Baby's deaf foster father Joseph (C.J. Jones) disapproves of the young man's life in crime so Baby promises to reform and find legal employment.
The opening scene bank robbery has Baby chauffeuring "Buddy" (John Hamm), his wife "Darling" (Eliza Gonzalez), and Griff (Jon Bernthal) away from Atlanta's finest and bring back a bundle of cash to Doc's headquarters. Baby's next but obviously not last job teams him up with the dangerous Bats (Jamie Foxx) and a couple of damaged druggies. The heist does not run as smoothly this time around as there are many damaged vehicles and some bodies on the ground. Baby visits Bo's diner where his mother used to work and meets the delectable Debora (Lily James) who steals his heart.
Life begins to look up for Baby as he wines and dines Debora at a high-end Atlanta restaurant, but Doc forces him into taking on one more caper. A well-planned robbery of a downtown post office goes terribly wrong and Baby and Debora suddenly find themselves the targets of a truly deranged criminal. The final act is a study in mayhem with graphic violence galore and the happy ending that the young couple had anticipated might just not happen.
Having seen this film during its theatrical run, the home viewing experience of Baby Driver was just as riveting if not more so. Cinematographer Bill Pope delivers an exciting watch and writer/director Edgar Wright has crafted an edgy script that he paces extremely well. Unlike the Fast and Furious films, there is real acting going on here with the grim villains portrayed by Hamm, Spacey, and Foxx offsetting the youthful innocence of Elgort and James.
The Video
Shot with a series of Arri Alexa cameras and Panavision and Arricam lenses, this 2K digital intermediate (mastered in Dolby Vision) was upscaled for the HVEC 2160 HDR10 Blu-ray disc. The colors are splendid, the contrasts great, and details mostly excellent with only occasional softeness in the darker scenes. The accompanying SDR Blu-ray disc is also extremely good so the differences between the two are not as great as might be expected.
The Audio
The Dolby Atmos (compatible with Dolby TrueHD 5.1/7.1) soundtrack is sensational, immersive, and conveys the excitement of the car chases while blending in Baby's awesome playlist of classic tunes, including Paul Simon's title song at the end credits.The epic gunfight sprays lead around the room that will definitely make listeners duck for cover. Occasional bursts of tinnitus also convey what Baby hears all the time.
The Supplements
An excellent 2K Blu-ray disc contains the following extras:
Director Commentary
Commentary with Edgar Wright and Bill Pope
Eleven Extended & Deleted Scenes (English Dolby Digital 2.0, 48kHz/16-bit): 20:28
Behind the Scenes (English Dolby Digital 2.0, 48kHz/16-bit) 45:15: Six short features on the making of the film
Selected Scene Animatics: (English Dolby Digital 2.0, 48kHz/16-bit): 35:42. Eight animated mockups of scenes from the film
Rehearsals and Preproduction: (English Dolby Digital 2.0, 48kHz/16-bit): 17:03 Three short segments on the work done before the actual filming
Mint Royale-"Blue Song" Music Video (English Dolby Digital 2.0 48kHz/16-bit): 4:15. A promo video that Edgar Wright shot in 2003 for this band using some of the same visual techniques seen in the film.
Complete Storyboard Gallery
Promos & Trailers
Previews
A Digital HD Ultraviolet is also included.
The Final Assessment
Baby Driver is a neo-noir thriller with nearly nonstop action, punctuated with just enough, often-campy, dialogue to make for an enjoyable watch and one that is emotionally satisfying to boot. Highly recommended.
Baby Driver is out on 4K Ultra HD from Sony October 10, 2017.
[amazon_auto_links id="105541"]
R (Violence, Language)
Rating Certificate
MRC | TriStar Pictures | Sony Pictures Home Entertainment
Studios & Distributors
HEVC (H.265) 2160p (4K) | AVC 1080p (Blu-ray)
Video
4000 Nits
Maximum Luminance
0.005 Nits
Minimum Luminance
Dolby Atmos (TrueHD 7.1 Compatible)
Primary Audio
English, French, Spanish, Dolby Digital | French, German, Portuguese DTS-MA
Secondary Audio
English | Czech | German | French | Portuguese | Arabic | Korean | Dutch | Mandarin | Hungarian | Romanian | Cantonese |Thai | Greek | Turkish | Spanish
Subtitles
HDR Effect (If Applicable)
Summary
A young hotshot driver named Baby (Ansel Elgort), who must live life to his own soundtrack to cope with his tinnitus works as the getaway driver for a shady crime boss (Kevin Spacey) in order to pay off a past debt finds himself mixed up a motley crew of criminals and embroiled in a doomed heist in this great neo-noir thriller with an outstanding cast, fabulous soundtrack and a well-paced, edgy script.
What people say... Login to rate
Be the first to leave a review.
Show more