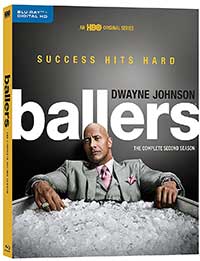 The second season of Ballers kicks off with Dwayne "The Rock" Johnson returning as retired superstar NFL player Spencer Strasmore taking settled into his role as a financial manager and adviser to some of the league's most élite players, now as an offshoot of his former company, with his partner Joe (Rob Corddry). But Spencer is still nursing his own financial troubles that he is desperately trying to keep under wraps and concealing a serious hip injury that has him leaning heavily on opioids. During all of this, Spencer decides to go after Miami's biggest sports manager, Andre Allen (Andy Garcia), a move that could bring down him and his parent company.
Ballers, from Entourage creator Stephen Levinson, continues to be no more than a half-hour fill-in for said missing Hollywood buddy comedy. This is a series where the major strength is that it is a serious piece of eye candy, from the sunny Miami setting to the gorgeous scantily clad (or unclad) women that besprinkle nearly every frame, only add in a dose of football and the occasional possible career-ending injury as opposed to a bad casting call. Is it great television? Not really, but it hits its prime market and that's teen and twenty-something guys who like football and like looking at hot women, misogyny notwithstanding.
The Video
This series is shot digitally on the Arri Amira and set in Miami and the creators take full advantage of that. We get lots of bright pastels, vivid colors, plaid suits, and glistening skin in bikinis; and it all looks gorgeous in this AVC 1080p encodement from HBO.
The Audio
The DTS-HD Master Audio 5.1 soundtrack for Ballers is a strong, balanced mix that kicks things off with the big low-end thump of the hip-hop themed opening sequence and settles in to an atmospheric mix that captures the sounds of Miami nicely. The multitudinous party sequences really open up the soundscape the most while offering ample reason for the LFE to get a workout. Meanwhile, dialogue is clear and full throughout.
The Supplements
Ballers Season 2 comes with 10 "inside the episode" featurettes with Dwayne Johnson, executive producer Evan Reilly, and others plus the Digital HD UltraViolet and iTunes Digital HD Digital Copy. This isn't much, but if you want to see more of this series' eye candy, then the featurettes are a nice inclusion and the Digital HD is always a welcome bonus.
The Final Assessment
Ballers purports to give an inside look at the lives of spoiled (and some not so spoiled) pro footballers based in sun-soaked Miami. While that is the premise, this is just another excuse for a glitzy frolic through the lives of the rich and famous with lots of T&A and drug-fueled parties. On the upside, Dwayne Johnson does show some good acting chops and the scenery, sentient and otherwise, is beautiful to look at, if you get my drift. The Blu-ray Disc set from HBO conveys the sights and sounds in top fashion.
Ballers: The Complete Second Season (TheaterByte Blu-ray Review)
7 Bucks Entertainment | Closest to the Hole Productions | Film 44 | Leverage Management | HBO Home Entertainment
Studios & Distributors
Julian Farino | Simon Cellan Jones | Seith Mann
Director
Stephen Levinson | Rashard Mendenhall | Evan T. Reilly | Steve Sharlet | Rob Weiss | Neena Beber | Zach Robbins
Writer
$34.98
MSRP
English DTS-HD MA 5.1
Audio
English SDH | French | Spanish | Danish | Finnish | Norwegian | Swedish
Subtitles
French DTS 5.1 | Spanish DTS Surround 2.0
Secondary Audio
Summary
Ballers continues to be a middling, mildly entertaining stand-in for Entourage that distinguishes itself in the HBO lineup only for its glitzy Miami setting, numerous shots of gorgeous women, and a strong performance from lead actor Dwayne "The Rock" Johnson.
What people say... Login to rate
Be the first to leave a review.
Show more