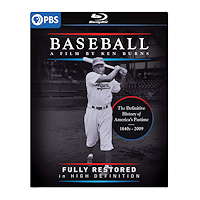 In this truly epic documentary mini-series film from Ken Burns, the documentarian studies the American pastime. Baseball stretches across 11 parts or "innings" as they are labeled, from the humble beginning of the game in the1840s as it grew out of various forms of British sports such as rounders and cricket, to 2009, featuring the addendum Inning 10. Burns, as is typical of his lengthier documentaries, spares nary a detail as he covers the rough and tumble world of the sport, the racism that led to the "Negro Leagues," the good and bad sides of legendary players like Ty Cobb and Babe Ruth, and the friction between players and owners. Various fans, experts, and historians including negro league legend Buck O'Neill, Doris Kearns Goodwin, and Bob Costas offer their thoughts in interview segments interspersed with the narration and archival footage and photographs that not only tell the story of the sport, but of American society and culture.

The Video
Baseball has been fully restored in high definition, having been originally shot on 35mm film. It is brought to Blu-ray framed at 1.78:1 in an AVC 1080p encodement from PBS. This has been reframed from the original 1.33:1 framing, this being a 1994 television production. Apart from the original framing being changed, this looks very good. I can't complain about anything in the imagery put forth in this set. The grain looks natural, the pans across the still phots Burns is fond of using in his documentaries all look quite crisp, and the interview segments look great. The only issues you'll find in this entire, 11-disc collection are the segments taken from archival video, where there is nothing that can be done about the limited resolution and aging of the video format.
The Audio
Lossless English DTS-HD Master Audio 5.1 and 2.0 stereo are provided as well as a lossless Spanish DTS-HD Master Audio 2.0 stereo dub. Whether you go 5.1 or 2.0, you're getting a solid mix for this dialogue-driven documentary that blends interviews, with old-timey music and foley effects for much of the older footage. The surround mix is mostly an ambient mix, but it works.
The Supplements
For a massive 11-disc documentary "film" that is 23-hours long, this newly restored-in-HD set doesn't add much of anything in bonus features, certainly nothing new. The interview with directors Ken Burns and Lynn Novick dates back to 2010 and all the additional scenes and interview outtakes are port-overs that have not been restored.
Back to the Ball Park – An interview with Ken Burns and Lynn Novick (2010) (1080i; 00:17:19)
Additional Scenes (1080i; 00:35:27):

Full of Knowledge
Dodgertown
A Tour of Fenway
A Night at Fenway
Central Park

Interview Outtakes: About the Era's Stars (1080i; 00:30:39):

Greg Maddux
Pedro Martinez
Derek Jeter
Cal Ripken
Ichiro
David Ortiz
Barry Bonds
Joe Torre
The Final Assessment
A fascinating exploration of this sport that should be of interest to many even non-sports fans just from a historical perspective. The restoration is wonderfully done despite being reframed. Highly recommended.
Baseball: A Film By Ken Burns Fully Restored in High Definition is out June 8, 2021 on Blu-ray from PBS.
---
Studios & Distributors: Florentine Films | The Baseball Film Project | WETA | PBS
Directors: Ken Burns | Lynn Novick
Written By: Ken Burns | David McMahon | Lynn Novick | Geoffrey C. Ward
Run Time: 1380 Mins.
Street Date: 8 June 2021
Aspect Ratio: 1.78:1
Video Format: AVC 1080p
Primary Audio: English DTS-HD MA 5.1
Secondary Audio: English DTS-HD MA 2.0 stereo | Spanish DTS-HD MA 2.0 stereo
Subtitles: English SDH | Spanish