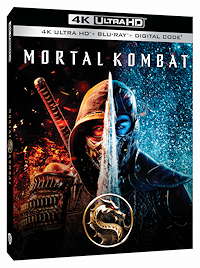 It is notoriously difficult to turn a beloved videogame franchise into good feature film, and Mortal Kombat has suffered its own bad live action iterations.  Unfortunately, this 2021 version from director Simon McQuoid in his feature film debut, doesn't fare much better.
The story of this film purportedly focuses on premise of the original game from the series that held that the planet's greatest fighting warriors who bare the dragon mark, must compete in a tournament of ancient martial arts. The original characters are brought back including Sonya Blade (Jessica McNamee), Scorpion (Hiroyuki Sanada), Jax (Mehcad Brooks), Kano (Josh Lawson), Liu Kang (Ludi Lin), Sub-Zero (Joe Taslim), Raiden (Tadanobu Asano), Shang Tsung (Chin Han), and Kung Lao (Max Huang).
The problem with the film is that it never makes much sense and the tournament we are waiting for and that the warriors with the mark are gathered and training incessantly for doesn't ever really take hold. It's detoured by a convoluted subplot involving washed up MMA fighter Cole Young (Lewis Tan) and a plot by Sub-Zero to kill him and his family to end his ancient bloodline. Fights and machinations ensue, various special effects that look like they may well have emerged from a 1990 video game are spread around, and the denouement brings a real head-scratcher that will have you asking "but, how are they not dead?" I suppose this one ought to be left for the hardcore fans of this franchise.

The Video
Mortal Kombat was shot on the Arri Alexa LF and Arri Alexa Mini LF in ARRIRAW 4.5K, uses a 2K DI and arrives on 4K Ultra HD Blu-ray with a 2.39:1 HEVC 2160p (4K UHD) encodement with HDR10. It has a MaxLL of 825 nits and MaxFALL of only 118 nits so overall brightness is not really that spectacular. The opening scene looks the worst out of the whole film thanks to the artistic choices, with very little contrast or specular highlights 'pop,' but things do improve once we get further into the film and we see some nice deep blacks and a balance of colors, a little more brightness on the other end of the spectrum and so on. That said, the WCG doesn't come much into play as far as I can tell, and the resolution looks barely any better than the Blu-ray. I noticed from the very start of the film it just looked like a BD and whether this is a consequence of downscaling to a 2K DI or something else, I couldn't say. The best 'pop' we really get in the specular highlights are in the various use of lightning and fire balls.
The Audio
The English Dolby Atmos mix is another ballgame. From go this mix has wonderful height awareness, moves lots of solid foley effects around, and also spreads the odd sounds of the score out through the room nicely with effects often coming from far off from some place distant like somewhere above you to the left. Low end is also deeply extended so when the booms and bams start, you can feel them, and you can even feel a good pulsation for the music running under the end credits.
The Supplements
There are a lot of EPK type special features included on the Blu-ray Disc, nothing on the 4K. They're fun if you want more of the world of Mortal Kombat.
Movies Anywhere Digital Code
Blu-ray w/Feature Film and Special Features
Deleted Scenes (1080p; 00:04:12)
From Game to Screen: The Making of Mortal Kombat (1080p; 00:21:30)
Mortal Kombat: Fan Favorite Characters (1080p; 00:16:50)
Fight Koreography (1080p; 00:09:04)
Into the Krypt: Easter Eggs of Mortal Kombat (1080p; 00:04:11)
Anatomy of a Scene 1908p; 00:11:55):

Hanzo v. Bi-Han
MMA Fight: Cole v. Ramirez
Sonya v. Kano
Scorpion v. Sub-Zero
Reiko v. Jax
Kabal v. Liu Kang
Mileena v. Cole
The Final Assessment
A poorly thought-out film that does the bare minimum to provide some fan service and a put a big budget sheen on a not-so-great film.
Mortal Kombat is out on 4K Ultra HD Combo Pack July 13, 2021 from Warner Bros.
---
Rating Certificate: R (for strong bloody violence and language throughout, and some crude references)
Studios & Distributors: New Line Cinema | Atomic Monster | Broken Road Productions | Warner Bros. Home Entertainment
Director: Simon McQuoid
Written By: Greg Russo (screenplay & story) | Dave Callaham (screenplay) | Oren Uziel (story by) | Ed Boon (based on the videogame created by) | John Tobias (based on the videogame created by)
Run Time: 110 Mins.
Street Date: 13 July 2021
Aspect Ratio: 2.39:1
Video Format: HEVC 2160p (4K UHD)
HDR Format: HDR10
Primary Audio: English Dolby Atmos
Secondary Audio: English DD 5.1 | English Descriptive Audio (US) | English Descriptive Audio (UK) | French (Quebecois) DD 5.1 French DD 5.1 | Italian DD 5.1 | Spanish DD 5.1
Subtitles: English SDH | French | Italian SDH | Dutch | Chinese (Simplified) | Chinese (Traditional) | Korean | Spanish