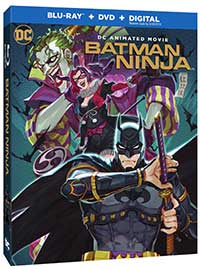 With Batman Ninja, DC takes one of their biggest characters and lends him to the very capable hands of anime director Mizusaki Junpei and character designer Okazaki Takashi (Afro Samurai), placing the Dark Knight in a fresh new world that breathes a whole new life into this well-worn character.
After a battle against Gorilla Grodd at Arkham Asylum, Batman is caught up in Grodd's time displacement machine and transported back to Japan's Edo period where – along with a number of Batman's allies – numerous villains from Gotham City led by the Joker have been transported there as well and have replaced the feudal lords meant to be controlling Japan. Their battles to control the different warring states threaten to change history, so in order to stop them Batman allies with Catwoman to stop them and help restore order to the land, even after he loses use of the remaining high-tech weapons he had with him.
The strengths of Batman Ninja are the gathering together of Batman's allies like Robin, Red Robin, and Nightwing; the supervillains such as a particularly unhinged Joker, his sidekick Grodd, and Poison Ivy, the duplicitous Catwoman, and Joker's sidekick/girlfriend Harley Quinn; and the unapologetically Japanese anime character designs of Okazaki Takashi, which arguably make the characters of the Dark Knight look better than they ever have in an animated feature or series.
Although the story is on solid ground, there is a lot going on is this arc and perhaps too much is squeezed into this brief excursion into a new world that things get a bit muddled. There is too much temptation to throw in far too many allusions to various anime archetypes and series. Everything from mecha and all the way to yuri and ecchi are here. We get a particularly enticing but of fan service between Cat Woman and Harley Quinn that some will either love or hate.
Despite its flaws of being overpacked and having a screenplay that is a little diffuse, there's no denying the visual appeal of Batman Ninja and also the ultra-pulse-pounding action sequences that culminate in an insane showdown between Batman and Joker. Ultimately this film offers a refreshing take on these classic characters that stands apart in a favorable way from most of DC's feature films.
Batman Ninja comes with both the original Japanese-language version and an American English dub completely rewritten from the Japanese version, essentially offering two different takes on the same film.
This slideshow requires JavaScript.
The Video
Batman Ninja arrives on Blu-ray in an AVC 1080p encodement that looks solid. There are some issues with some motion artifacts and stairstepping around objects that is likely due to the production more than a consequence of the transfer.
The Audio
The original Japanese-language track is provided in Dolby Digital 5.1 and the mix is good with decent dynamic, although the high frequencies sound a little harsh compared to the English dub in DTS-HD Master Audio 5.1, which sounds a little more finely tuned all around. Both voice casts are excellent, with Joker sounding equally maniacal and Batman equally stentorian in both versions.
The Supplements
This set is a little barebones in comparison to other DC Animated Movie releases from Warner Bros. While three new featurettes are great to watch and go into both the interesting aspects of the cultural crossover between Western animation and anime and bringing Batman to Japan, but also provide a fifty-minute Comic Con NY session, what's missing are the numerous sneak peeks, and other DC animated series episodes that usually accompany these releases.
Movies Anywhere – Digital code to stream digitally at provider of your choice including iTunes, Amazon, Google Play, VUDU, Fandango Now, and in the Movies Anywhere app.
DVD with feature film
Original Japanese Audio
East/West Batman (1.78:1; 1080p/24; 00:17:33)
Batman: Made in Japan. (1.78:1; 1080p/24; 00:14:03)
New York Comic Con Presents Batman Ninja (1.78:1; 1080i/60; 00:49:02)
The Final Assessment
Anime fans and Batman fans can come together over this fantastic new original journey that takes the Dark Knight into a new world. It is visually stunning, with cutting edge character designs and intense action sequences. The video transfer and audio mixes both do the source material justice.
Batman Ninja is out on Blu-ray Combo Pack from Warner Bros. on May 8, 2018
Warner Bros. Animation | DC Enertainment | Kamikaze Douga | Yamatoworks | Barnum Studio
Animation Studio
Warner Bros. Home Entertainment
Distributor
Nakashima Kazuki (Japanese Version) | Leo Chu & Leo Chu Eric S. Garcia (American version)
Writer
$19.98
MSRP
English DTS-HD MA 5.1 | French DD 5.1 | Spanish (Castilian & Latino) DD 5.1 | Portuguese DD 5.1 | German DD 5.1
Secondary Audio
English SDH | English (Translation of Original Japanese Audio) | French | German SDH | Spanish (Castilian & Latino) | Portuguese| Danish | Finnish | Norwegian | Swedish
Subtitles
PG-13 (for sequences of violence and action, and for some suggestive material)
Rating Certificate
Summary
After a battle with Gorilla Grodd in Arkham Asylum, Batman and several of his allies are sucked into Grodd's time warping machine where they are taken back in time to Japan's Edo period where the Joker and several supervillains from Gotham City including Bane, Poison Ivy, and Deadshot have replaced the historical feudal lords and are on the verge of changing history. Batman must align with Catwoman and his other allies such as Robin, Red Robin, and Nightwing to save Feudal Japan and history from the evil clutches of the Joker in this fantastic, action-filled anime take on the classic Dark Knight character. Both original Japanese and a re-written English screenplay version are included.
What people say... Login to rate
Be the first to leave a review.
Show more