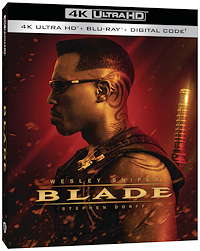 In 1998 Marvel Comics character Blade, half-vampire/half-mortal was brought to the big screen in this adaptation by director Stephen Norrington and writer David S. Goyer. Portrayed by Wesley Snipes, this was a different sort of vampire movie. The Gothic melodrama was out the window. The teen angst of Twilight and The Vampire Diaries weren't even twinkling's in a millennial's eye. This was action-heavy, gory, badass, sci-fi, horror.
Blade is the self-appointed savior of mankind. Birthed to a human mother who was a attacked while she was pregnant with him, his mother died, but not before she was able to pass on some vampire traits to him. Under the mentorship of a man named Whistler (Kris Kristofferson), Blade has learned to curb his bloodthirst with the help of a special serum. He's on the hunt for vampires who live amongst us, searching for the one who killed his mother, and defending humanity from the bloodsuckers. His vampire strength is also boosted by one advantage he has over the vampires – he can walk in the sunlight, which is why the vampires who fear him call him "the day walker." On one of his patrols, he witnesses a vampire attack the beautiful young doctor Karen Jenson (N'Bushe Wright). He rescues her and takes her back to Whistler who attempts to heal her. From then on, Blade must keep Dr. Jenson under his protection because the vampires will be after her and after her they are, but that is the least of his worries, as his relentless search for his mother's killer leads him to stumble across a plot from his vampire nemesis Deacon Frost (Stephen Dorff) who is plotting to bring an ancient evil into the world.
The plot for Blade is a little convoluted, but like Underworld, which followed in its footsteps, the small details of the plot are smoothed over by the perfect casting of the lead, the eye-catching cinematography of Theo van de Sande, and the kinetic direction of Stephen Norrington who rarely allows the film's pacing to lapse.
There are some moments where the vampire lore clichés almost tip over into the realm of camp, but they seem to fall into place and make sense in the world of this film. Take for example the scene where one woman (I'm being purposely vague to avoid spoilers) gets nearly orgasmic as a vampire feeds from her, or Donal Logue's Quinn losing growing his hands back, more than once, as comedic relief.
Blade surprisingly still holds up as a 1990's visual effects action film and while it doesn't get the sort of acclaim that a film like The Matrix, which hit a year later, gets, likely because it isn't as strong in the story department, it must be regarded as one of the groundbreaking films in use of CGI and for pushing the vampire genre forward. Pop the popcorn and put this one on, it's a fun ride.

The Video
Blade was an anamorphic production shot on 35mm Eastman EXR 100T 5248, Kodak Vision 320T 5277, Vision 500T 5279, and EXR 200T 5293film stock. This 2020 4K remaster utilized a 4K DI and comes to 4K Ultra HD framed at 2.39:1 in a HEVC 2160p (4K) encodement with HDR10 HDR. This was announced as having Dolby Vision, but in fact there is only Dolby Vision on the digital version. That said, this film has never looked better. Inky blacks with only the slightest hint of crush. This in no way takes away from the ultimate amount of detail and the astounding use of dynamic range. The highlights 'pop' brilliantly straight through this film, whether it's the glint on Blade's sword, the sheen on his black car, or vivid lights peering from the darkness of the vampire lair. The film grain is very thinly layered, and the image is clean without looking scrubbed of finer details.
The Audio
Blade gets a new Dolby Atmos audio mix. The Blu-ray release had a DTS-HD Master Audio 6.1 mix that was reference, and this mix doesn't disappoint. The added height dimension really kicks things up a notch. Check out the scene in the third act when Karen is thrown down into that weird, bone-filled dungeon with her desiccated vampire ex-boyfriend; you can hear the sounds coming from behind and overhead as he creeps out the shadows. This mix makes great use of the format, with lots of motion and panning, excellent pulsating rhythms in the score that fills the speakers and extended low frequencies.
The Supplements
There are no previously unreleased bonus features and the majority included are on the repackaged Blu-ray. A Movies Anywhere digital code, freely redeemable for a 4K copy at number of providers is also included.
Movies Anywhere Digital Code
Blu-ray with feature film and bonus materials
Commentary with Wesley Snipes, Stephen Dorff, David Goyer, Theo Van De Sande, Kirk M. Petruccelli, and Peter Frankfurt
(4K Ultra HD Only) Isolated Score with commentary by composer Mark Isham
Blu-ray Only:

La Magra (SD; 00:14:07)
Designing Blade (SD; 00:22:31)
Origins of Blade: A Look at Dark Comics (SD; 00:12:09)
The Blood Tide (SD; 00:20:02)
Theatrical Trailer (SD)
The Final Assessment
Classic 1990s vampire actioner that pre-dated Underworld showing Wesley Snipes in his prime gets stunning 4K Ultra HD release from Warner Bros. This one is highly recommended.
---
If you found this review useful please consider clicking the button below and donating to help keep TheaterByte funded and to allow us to continue posting great content.
---
Blade is out on 4K Ultra HD Combo December 1, 2020 from Warner Bros. Home Entertainment
---
Rating Certificate: R (for strong, pervasive vampire violence and gore, language, and brief sexuality)
Studios & Distributors: Amen Ra Films | Imaginary Forces | Marvel Enterprises | New Line Cinema | Warner Bros. Home Entertainment
Director: Stephen Norrington
Written By: David S. Goyer
Run Time: 120 Mins.
Street Date: 1 December 2020
Aspect Ratio: 2.39:1
Video Format: HEVC 2160p (4K)
HDR Format: HDR10
Primary Audio: English Dolby Atmos
Secondary Audio: English DTS-HD MA 6.1 (Blu-ray Only) | French, German, Italian & Polish Lektor DD 5.1 | Spanish & Czech DD 2.0
Subtitles: English SDH | French | German SDH | Italian SDH | Spanish | Czech | Polish