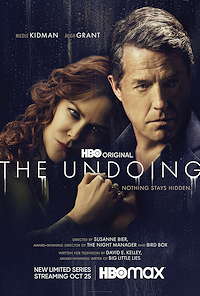 In The Undoing, psychotherapist Grace Fraser (Nicole Kidman) seems to have it all: a tony apartment in Manhattan; a successful counseling practice; a new book about to be published; a smart young son Henry (Noah Jupe) enrolled in Reardon, an exclusive private school; and Jonathan (Hugh Grant), a loving husband and well-respected pediatric oncologist. Everything changes when young Elena Alves (Matilda De Angelis) enters the Fraser family's lives. Her son Miguel (Edan Alexander) is a scholarship student at Henry's school and Jonathan cured his cancer. Elena and her husband Fernando (Ismael Cruz Cordoba) have just had a new baby and are working hard to make ends meet.
Jonathan has supposedly left for a medical meeting in Cleveland but when Grace cannot reach him at his hotel and finds his cell phone at home, she starts to suspect something is afoot.  After Miguel has found his mother bludgeoned to death in her studio, Detective Joe Mendoza (Edgar Ramirez) takes Grace down to the police station for questioning. He shocks her with the news that Jonathan was terminated from his hospital position three months ago for inappropriate contact with the late Elena Alves and is the father of her baby girl. Jonathan suddenly shows up at the beach house and confesses to having had an affair with Elena and had sex with her the night that she was murdered. Jonathan gets arrested and Grace and Henry move in with her wealthy father Franklin Reinhardt (Donald Sutherland) after she finds the police searching her apartment.
Although it is looking bad for Jonathan, Mendoza springs some CCTV footage on Grace that shows her in the vicinity of the art studio on the evening of the murder, casting some doubt about her absolute innocence. Things look up for Jonathan when Franklin bails him out of prison and hires noted attorney Haley Fitzgerald (Noma Dumezweni) to defend him.
Once in the courtroom, Haley suggests that the police investigation was too narrow and that this crime of rage, would not likely have been done by someone who had just made love to the victim. In Jonathan's defense, Haley puts Miguel on the stand and when he admits to being asleep all night, the armor of Fernando's "ironclad" alibi develops some chinks. What began ostensibly an open and shut case against Jonathan has now gathered some doubt, particularly since the murder weapon has not been found.
The Undoing (TV) (Mini-Series) (2020)
Show creator David E. Kelley, no stranger to the small screen, has compiled a pretty strong track record of successful multi-season dramatic series. Using the well-worn device of attempting to cast significant doubt about the guilt of the only credible murder suspect in The Undoing's case, Kelley makes a concentrated effort to convince us otherwise as the show progresses. How well he succeeds with this ploy will depend on how many different versions of The Wrong Man that you have seen. I thought that Kelley's dramatic strategy was the major Achilles' Heel of this show as Hugh Grant looks and acts as guilty as sin from the very beginning and little or nothing will change most viewers' opinions over the subsequent five episodes. Nicole Kidman is also dealt a relatively thankless role as the wronged wife who, for no credible reason, tries to convince herself that her husband is innocent. Perhaps, the brightest light of The Undoing is the sterling performance turned in by young Noah Jupe who had previously impressed me as Ken Miles's son in Ford v Ferrari. If you want to see Kelley at his best, skip this one in favor of HBO's Big Little Lies also starring Nicole Kidman.
---
If you found this review useful please consider clicking the button below and donating to help keep TheaterByte funded and to allow us to continue posting great content.
---
The Undoing is available for viewing in its entirety on HBO and HBO Max
---
Show Creator: David E. Kelley
Original Release Date: 25 October 2020
Network & Streaming Service: HBO | HBO Max
Ep. Run Time: 51-71 Mins.
No. Eps.: 6
Studios & Distributors: David E. Kelley Productions | Blossom Films | Made Up Stories | HBO
Rating Certificate: TV-MA