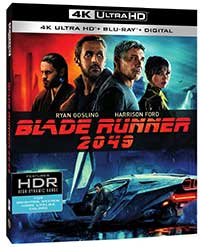 Blade Runner 2049 is director Denis Villeneuve's (Arrival) sequel to Ridley Scott's 1982 film Blade Runner, the stunning and now classic adaptation of Philip K. Dick's cyberpunk novel Do Androids Dream of Electric Sheep? Picking up 30-years after the original film, Villeneuve's film is simultaneously reverential toward the original and forward-looking.
It's been 30-years since the Blade Runner Deckard (Harrison Ford) made off into stormy night with the replicant (bioengineered humans originally created to do slave labor off world) Rachael (Sean Young). In the intervening years many events have occurred, including the banning of replicants entirely, the invention of new replicants with open-ended lifespans, a catastrophic global blackout, and the bankruptcy of Tyrell Corporation, only to be superseded by genius inventor Niander Wallace and his Wallace Corp. With new replicants designed solely to hunt down and "retire" the old Nexus 6 generation replicants from 30-years prior now in the mix, we meet once such replicant, the Blade Runner officer K (Ryan Gosling), who, during his job uncovers a secret that, if revealed to the world could tip the delicate balance between replicants, humans, replicants rights activists, and humans first-ers. K must seek out the old human Blade Runner Deckard (Harrison Ford) and try to cover up this secret, but his own burgeoning ethics and feelings, which he isn't supposed to have – begin to endanger him and his job.
From its visual style to its electronic, new age-ish score, that harkens back to the music that Vangelis scored for the original film, Blade Runner 2049 is reminiscent of the original, but it never directly recreates that film or even picks up that storyline directly. Harrison Ford doesn't even make an appearance until the film's second act, and we're thankful for that, because Gosling, whose Officer K instantly a repressed and anguished individual who gets his only personal contact from a hologram named Joi (Ana de Armas), an advanced AI program who acts as his love interest. This characters struggle in an almost brutally lonely silence is compelling on its own. As we learn more and learn the twist in the plot that drives him forward toward finding Deckard, it becomes even more interesting to see how he will react.
Just as Ridley Scott's film delved into the psychological aspects of the lines between human and machine, so to does Villeneuve's film explore the same themes some 30-years later in the same universe that Philip K. Dick first created. Do replicants have souls? Is it possible to bioengineer a human and maintain total control over them? Should we? Are we human without memories? Are memories what make us human?
If there is a weakness in the film it is in the vagueness of the ending, which is perhaps even more open to interpretation that Scott's original and jarring in its suddenness. That said, this is about as close to a perfect sequel as one can get, perhaps aided by its distance from the original, even if the timeline it portrays calls for an extreme suspension of disbelief.
The Video
Blade Runner 2049 was shot digitally on the Arri Alexa Mini and Arri Alexa XT Studio cameras with Zeiss Master Prime lenses at 3.4K resolution. A 4K DI (Digital Intermediate) was used in post-processing and the film was mastered with Dolby Vision high dynamic range. It arrives on 4K Ultra HD in a HEVC 2160p (4K) encodement with HDR10 high dynamic range framed at 2.40:1. This is a beautiful looking transfer of what is already a visually stunning film. I would have to say that my preference as far as the HDR goes, is for the Dolby Vision version, which I have seen via the Vudu UHD stream, which seemed to have ver so slightly better 'pop' in the colors and slightly better gamma levels offering inkier blacks, this HDR10 encodement is gorgeous. The image is pristine — which the Vudu stream is not, as great as it is — offering no sign of noise or banding. This is instantly one of the go-to 4K Ultra HD releases to hit the market.
The Audio
Blade Runner 2049 comes to 4K Ultra HD with a superb Dolby Atmos mix. This one is staggering in its dynamic range going from a whisper to thunderously loud with deep low end and lush atmospherics that bathe you in the Benjamin Wallfisch  and Hans Zimmer score. The overhead channel are effective a conveying not only those atmospherics, but also the whoosh of flying cars and things like rainfall.
The Supplements
Blade Runner 2049 is fully packed with making of and behind-the-scenes featurettes exploring the world of the film. The best inclusions, however, are the short film prologues that take place in the years between the original Blade Runner and BR2049. My personal favorite is Shinichirô Watanabe's dark anime vision 2022: Black Out.
Blu-ray
Movies Anywhere – A Movies Anywhere digital code is included that will allow you to watch a digital copy of the film on virtually any device through practically every service, including Vudu, iTunes, Amazon Video, Fandango, Google Play, and the Movies Anywhere service.
Designing the World of Blade Runner 2049 (1.78:1; 1080p/24; 00:21:55) – Join the design team as it confronts the monumental challenge of creating a film that both honors the original and envisions a bold new world.
To Be Human: Casting (1.78:1; 1080p/24; 00:17:15) – Meet the compelling cast surrounding Ryan Gosling's role as the Blade Runner Officer K, and see how each character strives to understand what it means to be human.
Prologues:

2022: Black Out (1.78:1; 1080p/24; 00:15:45) – Renowned anime director Shinichirô Watanabe's prologue to BR2049 explores an electromagnetic pulse detonation that has massive implications for the planet.
2036: Nexus Dawn (2.40:1; 1080p/24; 00:06:31) – Niander Wallace presents his new replicant technology in this powerful, short BR2049 prequel from director Luke Scott.
2048: Nowhere to Run (2.40:1; 1080p/24; 00:05:49) – When a gentle replicant's loved ones ae in danger, his true power is unleashed in director Luke Scott's short BR2049 prequel.

Blade Runner 101 (1.78:1; 1080p/24; 00:11:22):

Blade Runners
The Replicant Evolution
The Rise of Wallace Corp
Welcome to 2049
Jois
Within the Skies: Spinners, Pilotfish, Barracudas
The Final Assessment
A beautiful and haunting update to the 1980s sci-fi classic, Blade Runner 2049 is a powerful film in its own right and one of the best sequels ever created. It is visually stunning and populated by a cast that all put in superb performances.
Blade Runner 2049 is available January 16, 2018 on 4K Ultra HD Combo Pack and Blu-ray Combo Pack from Warner Bros.
[amazon_auto_links id="108167"]
R (for violence, some sexuality, nudity and language)
Rating Certificate
Alcon Entertainment | Columbia Pictures | Scott Free Productions | 16:14 Entertainment | Thunderbird Entertainment | Torridon Films | Warner Bros. Home Entertainment
Studios & Distributors
Hampton Fancher (screenplay & story by) | Michael Green (screenplay by) | Philip K. Dick (based on characters from the novel
Writer
$44.95
MSRP
HEVC (H.265) 2160p (4K) | AVC 1080p (Blu-ray)
Video
1000 Nits
Maximum Luminance
0.005 Nits
Minimum Luminance
English Dolby Atmos
Primary Audio
English DTS-HD MA 5.1 | English Descriptive Audio 5.1 | French (Quebec) DD 5.1 | Spanish (Latino) DD 5.1
Secondary Audio
English SDH | French | Spanish (Latino)
Subtitles
HDR Effect (If Applicable)
Summary
30-years after the events of Blade Runner, a replicant designed solely to "retire" older model replicants, Officer K (Ryan Gosling), uncovers a stunning secret that could shake the balance between the humans and replicants that is barely holding. He must seek out the old Blade Runner Deckard (Harrison Ford) to either cover up the secret or find out the truth. This is a stunning sequel from director Denis Villeneuve that is both reverential to the original and innovative and stands as a strong film in its own right. The 4K Ultra HD disc is beautiful as is the Dolby Atmos mix.
What people say... Login to rate
Be the first to leave a review.
Show more