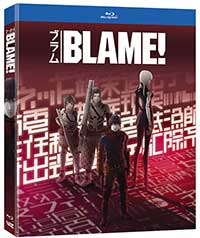 Blame! is the sci-fi/cyberpunk 3DCG anime film produced Polygon Pictures for Netflix and written by Nihei Tsutomu and based on his manga series of the same name.
The film is set in a distant, technological dystopian future, where "The City" was once a grand paradise that took care of all of its citizens needs, but after a virus infected the system, The City began to replicate in every direction out of control and perceive humans as a threat. The system's defense robots, known as Safeguards, would attack anything it recognized as human, which forced humans to retreat way underground away from the technology.
Now, as the last remaining group of humans – Electrofishers — struggle to survive, running out of food supplies, they are forced to venture into The City to look for sustenance led by a young woman, Zuru. When they are spotted by the Safeguards and almost killed, she and her small expedition are saved by one human drifter – a man named Killy who has searched for the key to repair the system and save humanity. Killy and her friends resolve to help Killy find the key, but it will be a dangerous and eventful task.
Blame! is an often beautiful and exciting anime film that is best indulged in on multiple viewings. I first watched it last year when it first went up on Netflix and I was admittedly more impressed with it visually than I was with its story, but two viewings later and I see that it is a rather engaging cyberpunk story that, while it could still be fleshed out a bit more, hits on some key topics of the genre.
Nihei's screenplay does opt for more action than exposition or philosophizing. For instance, he doesn't really stop much to examine the right or wrong about building a civilization where technology grants one's every wish, but in the grander scheme it makes sense – we are already seeing the nightmarish results of it, so take from that what you will.
Polygon Pictures' approach to animating is always very detailed and stands out although I still find the motion of their characters to be a little jarring and eyes to be somewhat lifeless. The counter to this is the artwork, colors, and action sequences are so breathtaking it is easy to overlook these flaws. This sort of approach has come a long way since the days of the first Appleseed, but can still be improved.
This slideshow requires JavaScript.
The Video
Blame! hits Blu-ray in an AVC 1080p encodement of it 3DCG source. This is a big drop-off from the gorgeous 4K Ultra HD with HDR (HDR10 or Dolby Vision) the film is available in on Netflix, but still a step up over the standard Netflix HD feed for those out there who don't have 4K capability or a 4K Netflix account.  That said, there is a lot of color banding in this image and it may be a consequence of the technology Polygon Pictures uses because many of their releases show this same banding. It seems to standout even more on the BD releases however, as opposed to the Ultra HD streams.
The Audio
Blame! has its original Japanese 5.1 done in DTS-HD Master Audio 5.1 and 2.0. Furthermore, the English and Spanish dubs are also included in DTS-HD Master Audio 5.1 and 2.0. The mix has staggering dynamic range, punchy midrange and big low-end extension when needed. The vocal performance is top notch for both English and Japanese casts, but I can't judge the Spanish since I'm afraid I don't speak that language.
The Supplements
The art gallery and "making of" are strong inclusions for anime fans, but there is little else, not even a Blu-ray – and while we're at it – when are other anime distributors outside of Funimation going to get with the program and start adding digital copy to their releases?
Art Gallery:

Rough Sketch/Concept Art
Color Script Art
Character Art
Prop Art

Behind the Scenes: The Making of Blame! (1080p/24; 00:30:46) (Japanese)
Japanese Trailers (1080p/24; 00:03:44)
Viz Media Trailers
The Final Assessment
Netflix has been flooding us with some quality "Netflix Original" anime recently and this anime film is just one of the productions that is worth a look. I'd love to see this released on a 4K Ultra HD disc given how stunning the Ultra HD stream looks.
Blame! is out on Blu-ray from Viz Media March 27, 2018
[amazon_link asins='B07895V7DY' template='ProductAd' store='theaterbyte-20′ marketplace='US' link_id='b7575ac6-498a-11e8-870d-fda3fd326ca2′]
Polygon Pictures
Animation Studio
Netflix | Sentai Filmworks
Distributor
Nihei Tsutomu (based on the manga by) | Murai Sadayuki (screenplay)
Writer
$24.98
MSRP
Japanese DTS-HD MA 5.1
Audio
English DTS-HD MA 5.1 | English Stereo | Spanish 5.1 | Spanish Stereo
Secondary Audio
English | Spanish
Subtitles
Summary
In the distant future where a technological city paradise that once provided for all its inhabitants' needs has now become infected with a virus and sees all humans as a threat that it must eradicate, the last remaining humans, known as Electrofishers,led by a young woman named Zuru, must leave their underground hideout to search for food and help a drifter named Killy search for a key to fix the city and save humanity. The 3DCG anime film produced by production house Polygon Pictures is beautifully animated, full of gorgeous detail, and has a story with many classic cyberpunk elements.
What people say... Login to rate
Be the first to leave a review.
Show more