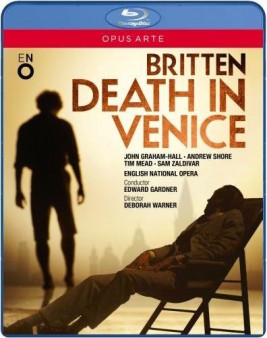 – –

The Performance
[Rating:4.5/5]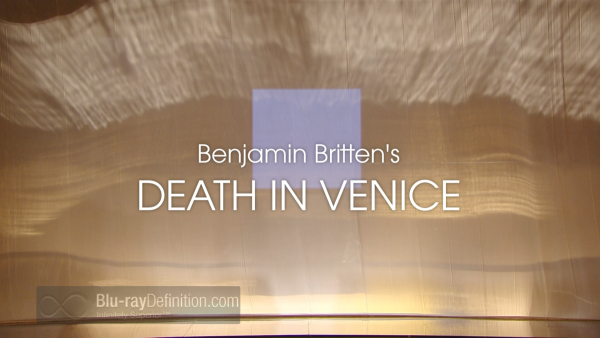 There was a sense of inevitability when Benjamin Britten began work on Death in Venice, an opera based on the Thomas Mann novella. The composer was already suffering from complications of heart disease and knew that he would soon become too ill to write any large-scale works. To ensure this opera's success, he turned to his reliable collaborator Myfwany Piper who had written the librettos for Turn of the Screw and Owen Wingrave. The score incorporates some exotic Balinese elements (also used in Britten's ballet Prince of the Pagodas) and has relatively spare orchestration throughout.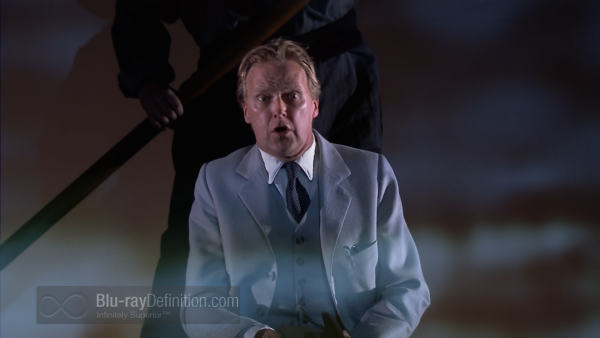 Famous German novelist Gustav von Aschenbach  (John Graham-Hall), suffering from writer's block, meets a Traveler (Andrew Shore) who inspires him to go to Venice, in hopes that the author will regain his muse. Aschenbach arrives at the Lido hotel and spots a beautiful Polish boy Tadzio (Sam Valdzivar) who becomes the object of his homoerotic desires. Gustav's conflicted feelings about Tadzio are further fueled by a chance encounter on the beach. When Aschenbach attempts to return home, his luggage is lost and he is forced to return to the Lido.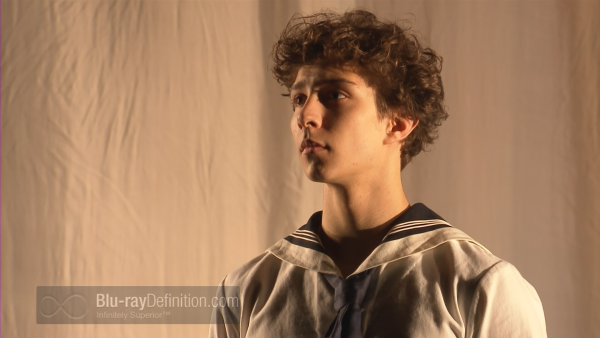 Aschenbach is getting a haircut when the Barber (Shore) intimates that Venice is being visited by a "mysterious" illness. An English clerk tells Aschenbach that the illness is cholera and advises him to leave for his own safety. Aschenbach plans to warn Tadzio's mother (Laura Caldow) but loses his nerve, lest she take Tadzio away. His inner sexual conflict continues, pitting Apollo (the voice of reason) against Dionysus (the voice of pleasure). The Dionysian forces triumph and Aschenbach resumes his pursuit of the young boy. As the hotel guests are fleeing the disease-ridden city, Aschenbach makes a last visit to the beach that will become his final resting place, while Tadzio walks into the ocean.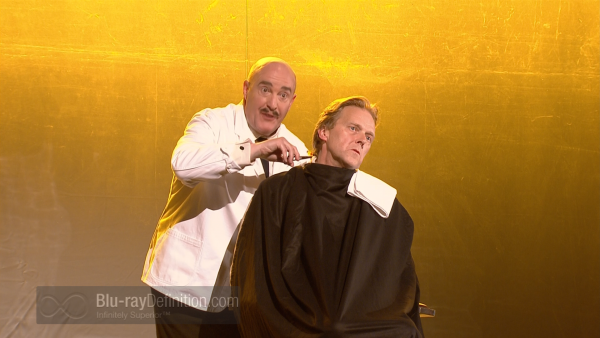 Those familiar with Benjamin Britten's biography will understand that Death in Venice is the apotheosis of a lifelong crisis surrounding his homosexuality, illegal in Great Britain during his lifetime. Like most of Britten's operas, this one was written for his lover, tenor Peter Pears. Watching the artist come to grips with the passions that ruled his life provides a rare window into the soul of a true creative genius.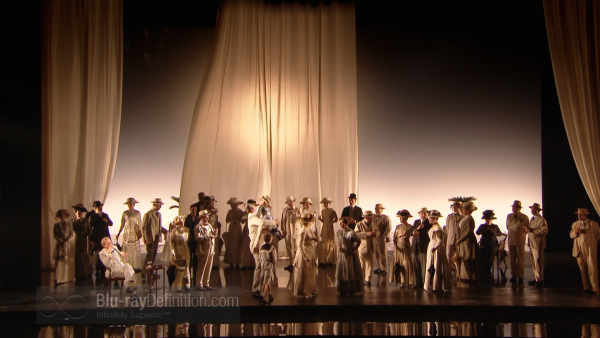 This 2013 English National Opera production by Deborah Warner and masterfully led by young star conductor Edward Gardner was not only well-received but particularly praised for the outstanding performance of its lead, John Graham-Hall.  The supporting cast with several roles taken by the same singers is also first-rate.
Video Quality
[Rating:4/5]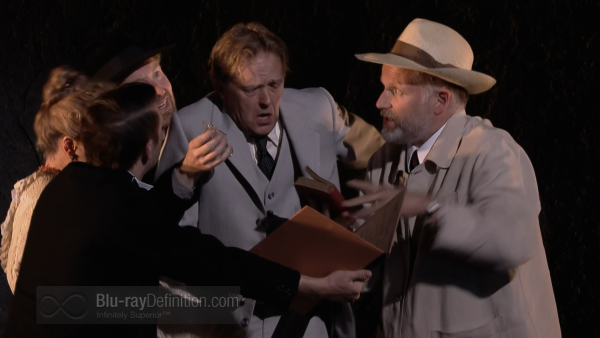 A dark work, director Warner's sets and Ross MacGibbons's camerawork gives us a fabulous portrayal of the intimate struggle between the lead character and his personal demons. The dimly lit sets with sparse props convey an increasingly claustrophobic world that Aschenbach inhabits. Discrete projections add to the atmosphere of the production and help to segue some of the scenes contained within the two acts.
Audio Quality
[Rating:4/5]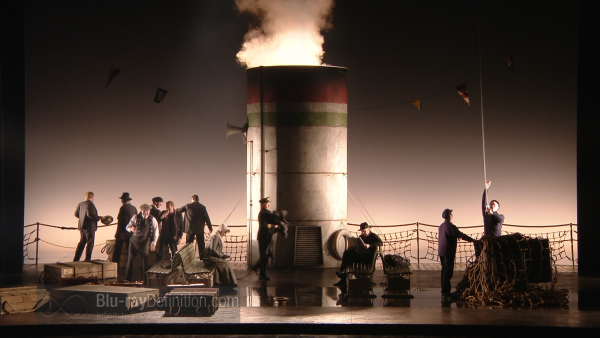 The DTS-HD Master Audio 5.1 soundtrack is crystal clear with terrific balance between stage and pit.
Supplemental Materials
[Rating:0.5/5]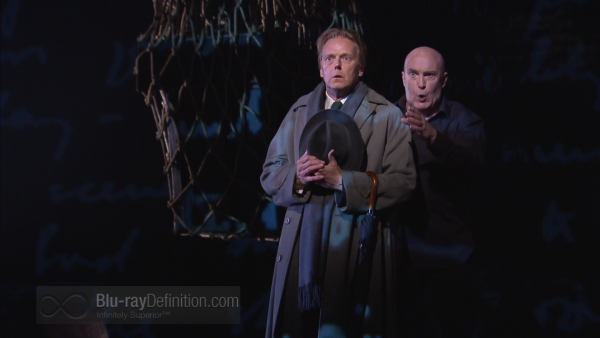 No extras are provided except for a slim program booklet.
The Definitive Word
Overall:
[Rating:4/5]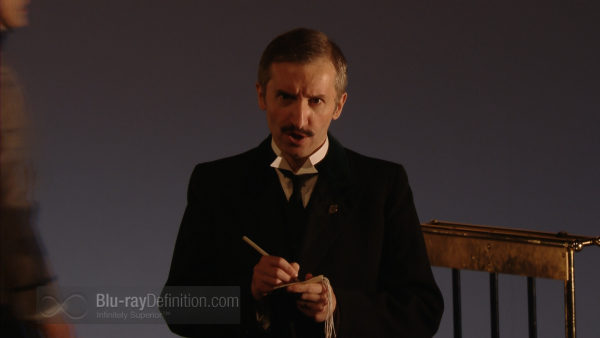 Death in Venice speaks directly from its composer's inner being to his intended audience. The libretto and score, unlike some of Britten's previous operas, carry the story without the benefit of mellifluous tunes. This ENO's 2013 production is as good a rendition of this work as I have ever seen. While tenor Graham-Hall might not have the vocal power of his predecessors Peter Pears or Robert Tear, he inhabits the lead role with searing intensity. No one will walk away from this opera without being deeply moved. The best Blu-ray version of this work to date and one that sets the bar very high for any successors.
Additional Screen Captures
[amazon-product region="uk" tracking_id="bluraydefinit-21″]B00HXD7DCU[/amazon-product]
[amazon-product region="ca" tracking_id="bluraydefinit-20″]B00HXD7DCU[/amazon-product]
[amazon-product]B00HXD7DCU[/amazon-product]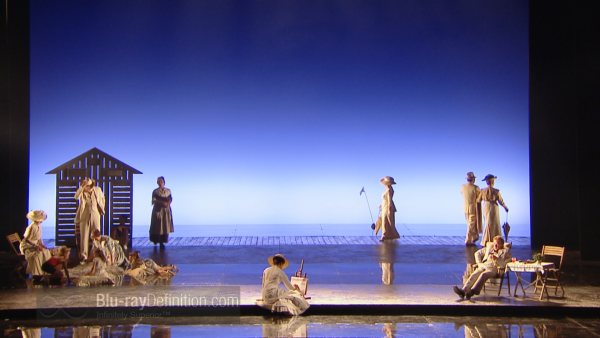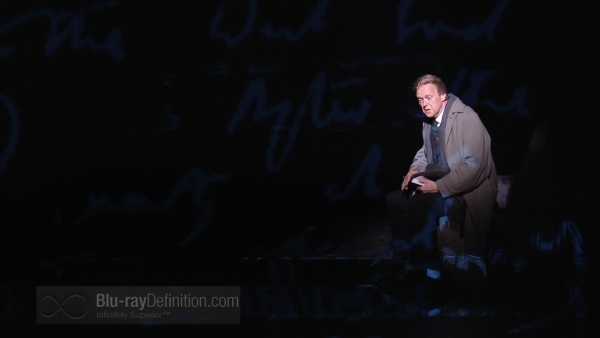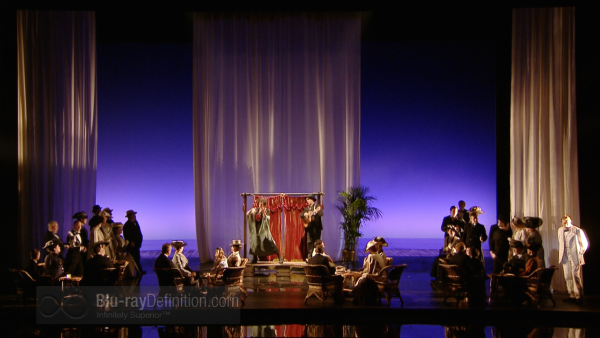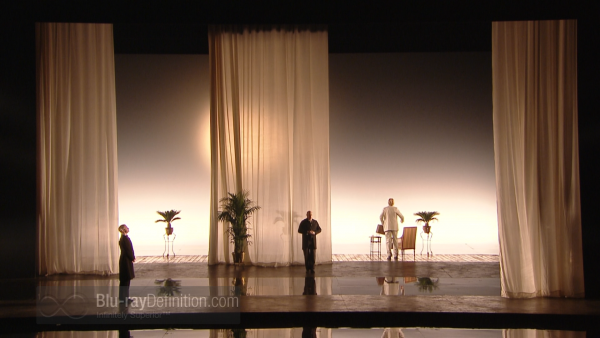 [amazon-product region="uk" tracking_id="bluraydefinit-21″]B00HXD7DCU[/amazon-product]
[amazon-product region="ca" tracking_id="bluraydefinit-20″]B00HXD7DCU[/amazon-product]
[amazon-product]B00HXD7DCU[/amazon-product]