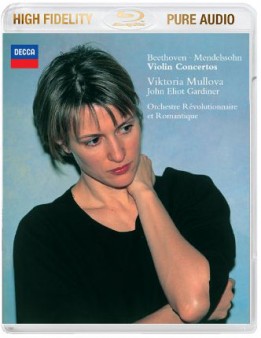 – –

The Album
[Rating:4.5/5]
It seems that Viktoria Mullova just came over to the West when this was actually thirty years ago. A protégé of famed Russian violinist Leonid Kogan, Mullova has always favored a more delicate and less muscular touch on her performances. This trait happens to work perfectly with John Eliot Gardiner's period ensemble, Orchestre Révolutionnaire et Romantique. Mullova's gut-stringed violin is right at home with JEG's band and we, in turn, get renditions of these two warhorses that sound more like the original versions than many others  that have followed.
The Beethoven Violin Concerto has been a touchstone for so many performers that it is hard to imagine how it could be reinvented, yet the Mullova/Gardiner team pulls off a performance that would have delighted Ludwig van B. Mullova goes for the nuances and details rather than the grand gestures and we get to hear a lot of this concerto that is typically swamped in a larger-scale performances .
Mendelssohn's Violin Concerto is a much shorter piece, yet no less demanding. This composer, unlike Beethoven, was more attuned to killing his listeners softly, and it is this very point that is so often missed in live performance. Mullova applies a delicate touch that gets all of the notes across without the need to hammer them home, a refreshing change from many renditions that I have endured.
Audio Quality
[Rating:4/5]
This is a very well balanced recording that gives proper perspective for the soloist pitted against the smallish orchestra. Listening to the 2-channel versions, I found myself favoring the uncompressed PCM tracks over the DTS-HD Master Audio and Dolby TrueHD alternatives. However, you cannot go wrong with any of the high-resolution versions.
Supplemental Materials
[Rating:1/5]
The fold-out booklet gives readers Richard Wigmore's background essays on both pieces.
The Definitive Word
Overall:
[Rating:4/5]
Having heard more performances of each of these iconic violin concertos than I care to remember, my initial and subsequent takes on both was that there was a drill-down to each piece's core that more bravura approaches miss entirely. Viktoria Mullova has met her perfect colleagues in John Eliot Gardiner and his players. I have found that, over time, slam-bang in-your-face virtuosity wears thin and results in recordings that will not be played again. This one with a sensitive soloist and equally complicit conductor is an exception to that rule. There are more virtuosic performances out there with bigger orchestras and more flamboyant conductors. But, connection with the music, the composer's goal, does not require the big band/big soloist delivery. Having heard this High Fidelity Pure Audio Blu-ray, I can assure potential buyers that they will get more out of both concertos than they might ever imagine. A Pure Audio treasure, for sure, that delivers the goods and then some.
[amazon-product region="uk" tracking_id="bluraydefinit-21″]B00AFOS8PU[/amazon-product]
[amazon-product region="ca" tracking_id="bluraydefinit-20″]B00AFOS8PU[/amazon-product]
[amazon-product]B00AFOS8PU[/amazon-product]