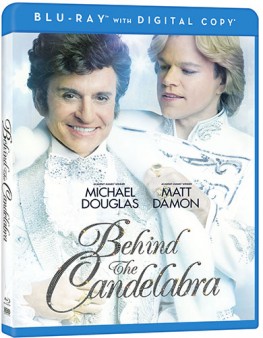 –
(The below TheaterByte screen captures were taken directly from the Blu-ray Disc and losslessly compressed in the PNG format. There should be no loss of picture quality with this format. All screen captures should be regarded only as an approximation of the full capabilities of the Blu-ray format.)
The Film
[Rating:4/5]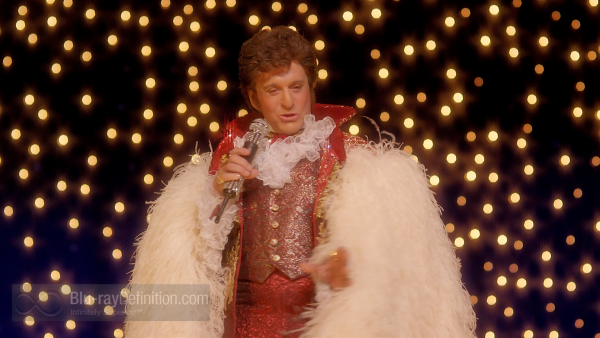 HBO Home Entertainment rarely shies away from controversial or sensational real-life stories and Behind the Candelabra proves to be no exception. In his heyday, Liberace was one of the most recognizable personalities in the entertainment world, becoming more flamboyant with time. Trained as a classical pianist (and quite an accomplished one!), Liberace saw the potential in taking his piano act to a broad audience through the relatively new medium of television. To distinguish his act even further, Liberace added what would become his trademark, the candelabrum, to his stage piano. While he was beloved by millions of fans, there was a very dark side to the Liberace persona, and it is this side of Liberace that forms the basis for this made-for-television movie.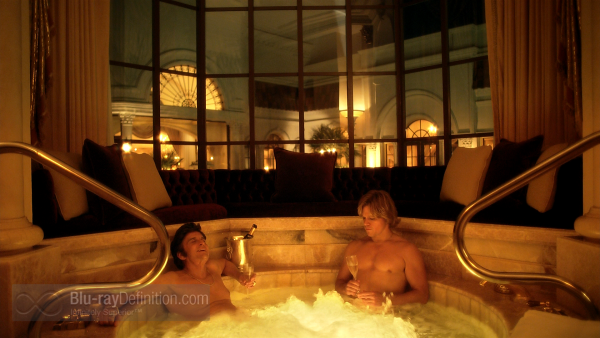 Behind the Candelabra opens in 1977, the finale decade of Liberace's life. Scott Thorson (Matt Damon), an animal trainer, hooks up with Bob Black (Scott Bakula) in a gay bar. Minutes into the film, we get a full dose of Liberace himself (Michael Douglas) giving a trademark Las Vegas concert, complete with dueling pianist Billy Leatherwood (Cheyenne Jackson) and Mama Liberace (Debby Reynolds). Thorson and boyfriend Black get a personal visit to the Liberace mansion.  Scott is offered a job at the house, and sparks begin to fly between him and Liberace.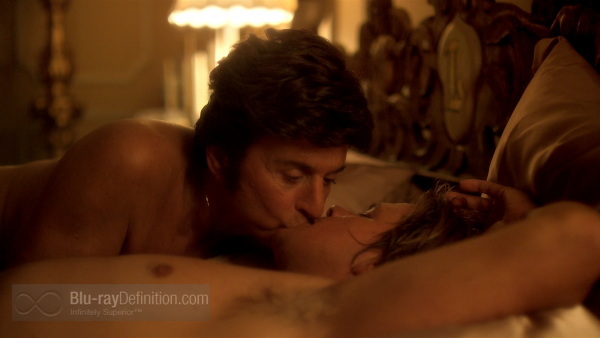 A bit later, Scott gets a full confession from Liberace, including his early introduction to the homosexual lifestyle. The problem, as we discover, is that the star must keep this aspect of his life completely in the closet since its revelation would destroy his large female fan base.  For the remainder of the film, we get uncomfortably close to the "real" story, punctuated with periodic visits from manager Seymour Heller (Dan Aykroyd), and creepy plastic surgeon Jack Startz (Rob Lowe), among others.
Based Scott Thorson's best-selling book Behind the Candelabra: My Life with Liberace, Richard LaGravenese's screenplay is fully realized by director Steven Soderbergh. In the HBO tradition, there are no holds barred in the video and audio engineering that is expected for a larger-than-life personality.
Video Quality
[Rating:4/5]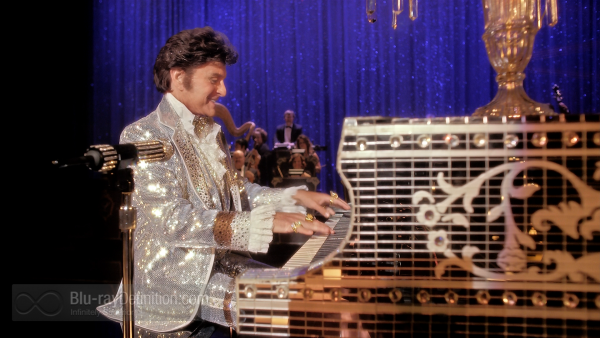 As a 2013 production, you would expect outstanding visuals and, for the most part, this is what we get. There is occasionally a surprising softening around some of the edges, largely in the scenes that look like they were shot with documentary cameras. Fortunately, most of the images are quite clear and sharp. The make-up job done on both Douglas and Damon, particularly post plastic surgery is outstanding. Colors are terrific, doing full justice to the Liberace wardrobe.
Audio Quality
[Rating:4/5]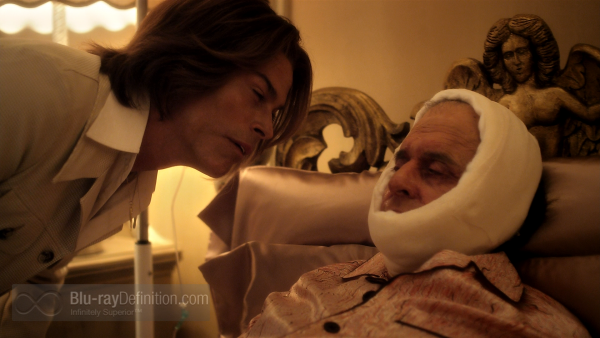 The DTS-HD Master Audio 5.1 surround track is very detailed and atmospheric. Dialogue, the essence of this film, is quite clear.
Supplemental Materials
[Rating:1.5/5]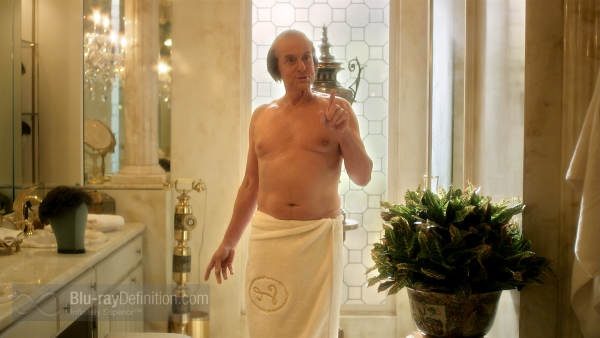 There is a featurette
Behind the Making of Behind the Candelabra: (14:03) (English DTS Stereo 48 kHz/24-bit). This is a brief background on the making of this film that covers most of the bases.
The Definitive Word
Overall:
[Rating:4/5]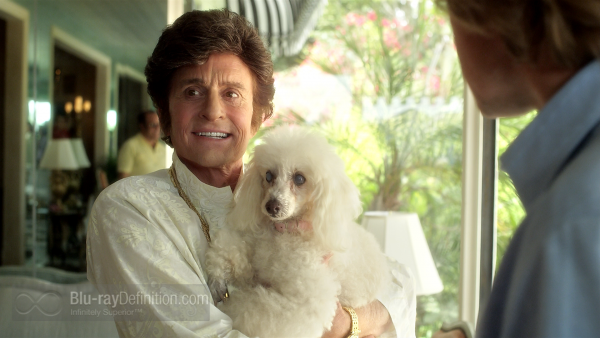 HBO Home Entertainment took a calculated risk in tackling Liberace's final years. The behind-the-scenes perspective on the personal life of one of America's most iconic entertainers might not be big news for today's younger and more accepting audience. However, this exposé would have been anathema to the traditional Liberace groupies. As we have discovered from no-holds-barred biographies of Elvis, Judy Garland, and other music legends, some of this country's most popular performers were possessed by personal demons that would have made many of their fans cringe. By the way of full disclosure, there are some pretty intense homoerotic moments with few figurative punches pulled, making this one suitable for mature and tolerant viewers only. That caveat aside, Behind the Candelabra is one of HBO's best efforts at a credible biopic and, given the high quality of performance and production, receives a high recommendation.  
Additional Screen Captures
[amazon-product]B00D2CYV9E[/amazon-product]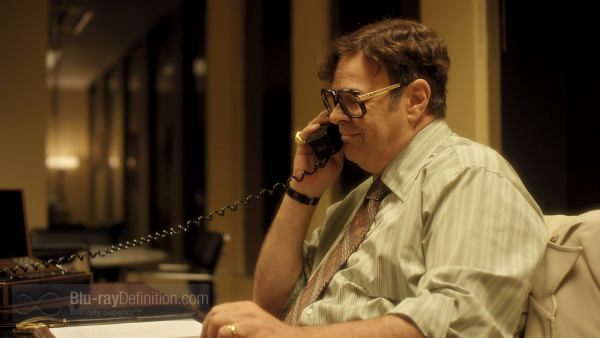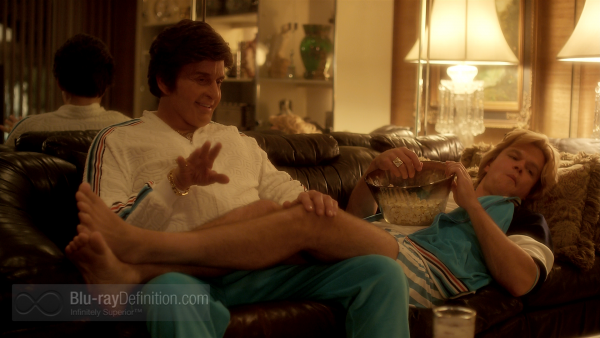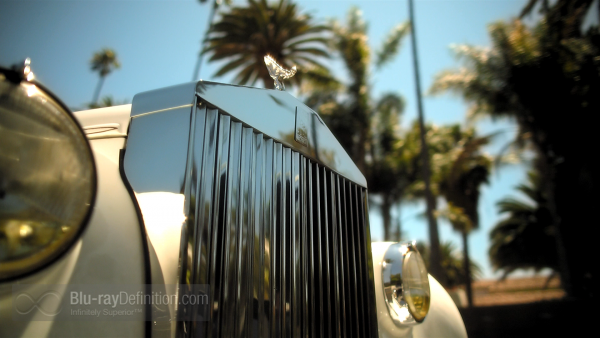 [amazon-product]B00D2CYV9E[/amazon-product]