Fans of the 2012 Academy Award Winner for Best Picture, Argo, will be pleased to know that Warner Bros has just announced an extended edition of the film that our own Brandon DuHamel calls "an intensely interesting, riveting drama." Set to include a host of new features, as well as a few collectibles, this will be released on December 3rd for a $49.99 SRP. See further details below.
"Spellbinding"
– Roger Ebert, Chicago Sun-Times
ARGO EXTENDED EDITION
2012 ACADEMY AWARDÒ WINNER FOR BEST PICTURE
NOW AVAILABLE AS AN EXTENDED EDITION WITH BLU-RAY™ AND ULTRAVIOLET™
DECEMBER 3 FROM WARNER BROS. HOME ENTERTAINMENT
Includes Extended Cut of Film, New Special Features & Collectible Premiums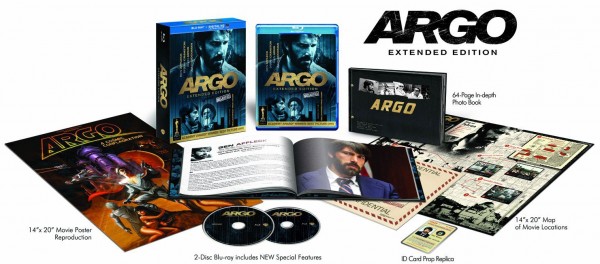 BURBANK, Calif, August 27, 2013 – On December 3, Warner Bros. Home Entertainment (WBHE) will release Argo Extended Edition on Blu-ray™, featuring an additional nine minutes of footage that delves deeper into CIA specialist Tony Mendez's personal relationships with his wife and son. Based on the true story of the life-or-death covert operation to rescue six Americans during the Iran hostage crisis, the film also focuses on the little-known role that the CIA and Hollywood played. Ben Affleck (The Town) directed.
Available in Blu-ray (at $49.99 SRP) with UltraViolet* digital copy, Argo Extended Edition will be offered in time for holiday gift giving. This new edition includes three brand new special features: Ben Affleck's Balancing Act and Argo Declassified featurettes; plus a mash-up entitled Argo F*ck! Yourself. In addition, there are collectible premiums of a one-sheet poster, map of Tehran, reproduction of Tony Mendez's CIA ID card, and a 40-page book with behind-the-scenes photos, production notes, cast bios and more.
Jeff Baker, WBHE's Executive Vice President and General Manager, Theatrical Catalog, commented, "We are very pleased to be collaborating with Ben and his team for a second time. This new edition of Argo is even more enriched by the never-before-seen bonus footage and fascinating collectible memorabilia."
Argo was one of the most honored and best reviewed movies of 2012. In addition to the Oscar® presented to producers Grant Heslov, Affleck and George Clooney for Best Picture, Argo won the Golden Globe®, BAFTA and Critics' Choice Awards for Best Picture. The film earned two additional Oscars® – for Best Achievement in Film Editing and for Best Writing, Adapted Screenplay – and was nominated for an additional four (Best Supporting Actor for Alan Arkin; Best Original Score, Best Achievement in Sound Editing; Best Achievement in Sound Mixing)
Affleck also stars in the film, leading an ensemble cast, which won the Screen Actors Guild (SAG) Award® for Outstanding Motion Picture Cast Performance. Arkin was recognized with Oscar®, Golden Globe®, BAFTA Award, Critics' Choice and SAG Award® nominations for his performance. Argo also stars Bryan Cranston, John Goodman, Victor Garber, Tate Donovan, Clea DuVall, Scoot McNairy, Rory Cochrane, Christopher Denham, Kerry Bishé, Kyle Chandler and Chris Messina.
Screenwriter Chris Terrio won Oscar® and Writers Guild of America awards for his screenplay, based on a selection from The Master of Disguise by Antonio J. Mendez and the Wired Magazine article "The Great Escape" by Joshuah Bearman.
SYNOPSIS:
On November 4, 1979, as the Iranian revolution reaches its boiling point, militants storm the U.S. Embassy in Tehran, taking 52 Americans hostage. In the midst of the chaos, six Americans manage to slip away and find refuge in the home of Canadian Ambassador Ken Taylor. Knowing it is only a matter of time before the six are found out and likely killed, the Canadian and American governments ask the CIA to intervene. The CIA turns to their top "exfiltration" specialist, Tony Mendez, to come up with a plan to get the six Americans safely out of the country. A plan so incredible, it could only happen in the movies.
BRAND-NEW SPECIAL FEATURES
 Argo Declassified – Tony Mendez's daring operation gets honored as part of the CIA's 50th anniversary
Ben Affleck's Balancing Act – Balancing humor, politics, Hollywood and international intrigue as only Affleck and his team could do
Argo F*ck Yourself – Ben Affleck leads an all-star review of Argo's classic line
ADDITIONAL SPECIAL FEATURES:
Picture in Picture: Eyewitness Account: Relive the takeover of the US Embassy in November of 1979 and the daring rescue mission in January of 1980 through the eyes of those that lived it.
Feature length audio commentary with director Ben Affleck and writer Chris Terrio
Rescued from Tehran: We Were There – President Jimmy Carter, Tony Mendez and the actual houseguests recount the real-life harrowing experience they endured.
Argo: Absolute Authenticity – From characters to heart-stopping action, Ben Affleck's eye and ear for hard-hitting realism and attention to exacting detail has become his signature as an A-list filmmaker.
Argo: The CIA & Hollywood Connection – Director Ben Affleck and former CIA agent Tony Mendez give a firsthand view of the actual documents and cover story used to create the phony movie Argo that had all of Hollywood believing in.
Escape from Iran: The Hollywood Option – Escape from Iran commemorates the 25th anniversary of the "Canadian Caper," taking us back to this startling affair through the direct testimony of the Americans who found sanctuary at the Canadian embassy in Tehran, and the Canadians who risked their own safety to shelter their closest neighbors.
Argo Files:

A Discussion with the Cast of Argo – Ben Affleck joins Bryan Cranston, John Goodman, Alan Arkin, Clea Duvall and Rory Cochran for a live conversation about their experiences while making Argo
Tony Mendez on Tony Mendez – Former CIA agent Tony Mendez shares additional details and stories from the mission
The Istanbul Journey – Ben Affleck shows us why Istanbul was the ideal place to shoot Argo
All-new Collectible Memorabilia:
Argo one-sheet Poster
Map of Tehran
Reproduction of Tony Mendez's CIA ID card
40-page book premium featuring behind the scenes photos, production notes, bios and more
ARGO EXTENDED EDITION (BR/UV)
Street Date: December 3, 2013
Pricing: $49.99 SRP
Rating: R
Theatrical Version Run Time: 120 mins
Extended Edition Run Time: 130 mins
[amazon-product]B00ENJZ2HA[/amazon-product]