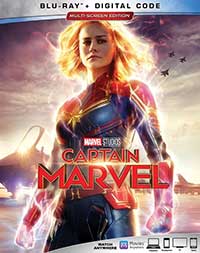 Captain Marvel was the last film in the Marvel Cinematic Universe (MCU) leading up to the franchise's big finale, Avengers: Endgame. As such it had a lot riding on it to introduce the final member of the team and to not be a flop right before the big payoff. It pays off. In the story of one of Marvel's most powerful characters, Carol Danvers (Brie Larson), a warrior from the distant, advanced alien race of the Kree who has lost the memory of her past, crash lands on Earth in the early-1990s after she escapes capture from the rival, shape-shifting Skrulls, the race the Kree are at perpetual war with. Her crash landing into a Blockbuster Video store in the middle of the night gets the attention of the then small agency S.H.I.E.L.D., headed by one Nick Fury (Samuel L. Jackson), who begins to investigate Carol, who issues a warning to Fury and his partner, Agent Coulson (Clark Gregg) that their planet is now infiltrated by the shapeshifting Kree. Their interactions reveal that there is more going on that even Carol knows, and her past, which the Kree's AI, which runs their civilization, is more complex than has been let on. Earth now ends up inveigled in this intergalactic civil war, with Carol Danvers having to make a big decision about whose side she will be on. This film is action-filled, has a great balance of drama and comedy, and offers a lot of great stuff for Marvel fans, like the origin story not only for Captain Marvel, but for Nick Fury. As always with the MCU, the special effects are on point.
The Video
The film was originally shot on the Arri Alexa 65, Panavision Millennium DXL, and RED Weapon 8K VV Monstro cameras with the Panavision Sphero 65 lenses in ARRIRAW (6.5K), DXL RAW (8K), and Redcode RAW (8K) and mastered with Dolby Vision. The Blu-ray comes in an AVC 1080p encodement framed at 2.39:1 and although it is only HD and absent the Dolby Vision encodement of the available 4K Ultra HD versions on disc and digital, it still looks fantastic. The picture has the usual clean and crisp quality of the Marvel releases with superb shadow detail and good saturation. The cityscape of the Kree home world may not 'pop' as much without the HDR, but it still sparkles nicely.
The Audio
On Blu-ray Disc, Captain Marvel arrives with an English DTS-HD Master Audio 7.1 mix on Blu-ray. The Atmos mix that accompanies the film on 4K Ultra HD is not included on Blu-ray. I don't think it makes much of a difference, because neither mix is that great. The Atmos mix may add a little overhead sound, but both are mastered low, seem to have squeezed dynamic range and overemphasis on the low frequencies, making it sound muddy. Dialogue doesn't suffer too much, but it could be a little fuller.
The Supplements
Disney and Marvel include a solid collection of special features, including several behind-the-scenes featuerettes that offer up plenty of interviews with cast and crew, deleted scenes, and an excellent audio commentary.
Movies Anywhere Digital Copy — Code included to download or stream at provider of choice (iTunes, Amazon Prime Video, Vudu, Google Play, YouTube, Windows store, Movies Anywhere app)
Featurettes (1.78:1; 1080p):

Becoming a Super Hero
Big Hero Moment
The Origin of Nick Fury
The Dream Team
The Skrulls and the Kree
Hiss-Sterical Cat-Titude

Deleted Scenes (2.39:1; 1080p):

"Who Do You Admire Above All Others?"
Starforce Recruits
Heading to Torfa
"What, No Smile?"
Black Box
Rookie Mistake

Gag Reel (1.78:1; 1080p)
Audio commentary by co-writers/directors Anna Boden & Ryan Fleck
Intro by co-writers/directors Anna Boden & Ryan Fleck
The Final Assessment
This is a really fun, action-filled, penultimate entry in the MCU. Brie Larson does an excellent job as one of Marvel's most powerful heroes and the video quality on the BD is excellent even if the audio is still in the same disappointing vein that many of Disney's recent releases have been in.
Captain Marvel is out on 4K Ultra HD Combo, Blu-ray & DVD, June 11, 2019 from Buena Vista Home Entertainment
---
PG-13 (for sequences of sci-fi violence and action, and brief suggestive language)
Rating Certificate
Walt Disney Pictures | Marvel Studios | Animal Logic (Australia) | Walt Disney Studios Home Entertainment
Studios & Distributors
Anna Boden | Ryan Fleck
Director
Anna Boden (screenplay by) | Ryan Fleck (screenplay by) | Geneva Robertson-Dworet (screenplay by)
Writer
English DTS-HD MA 7.1
Audio
English SDH | French | Spanish | Portuguese
Subtitles
English Descriptive Audio 2.0 | French DD 5.1 | Spanish DD 5.1 | Portuguese DD 5.1
Secondary Audio
Summary
An alien from an advanced race (Brie Larson) crash lands on 1990s Earth and brings the planet into the middle of an intergalactic war between two species, even as she rises to become one of the most powerful heroes in this penultimate entry in the MCU. It's a fun and action-filled movie anchored by a great performance by Brie Larson.
What people say... Login to rate
Be the first to leave a review.
Show more