With deepest apologies Alfred Lord Tennyson and the whole gang down at Locksley Hall:
In the spring, a fuller crimson comes upon the 4K image (thanks to HDR);
In the spring, the wanton collector gets himself another disc (or three or four or…);
In the spring, a livelier iris changes on our favorite burnish'd classics;
In the spring, a middle-aged man's fancy lightly turns to thoughts of home theater.
Comrades, if you agree, then draw the blinds and join me, won't you? For the mighty subwoofer is powering up, and roaring to the sofa I go.
Princess Mononoke ("Mononoke-hime") Collector's Edition Blu-ray/CD (Shout! Factory)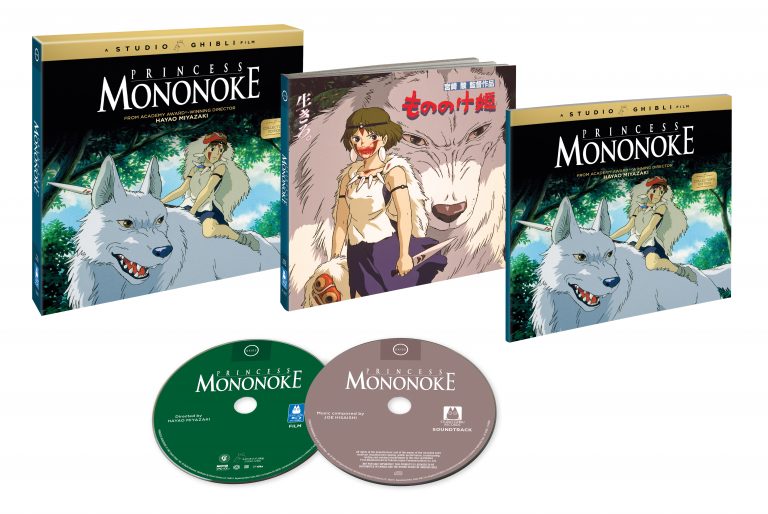 Continuing the great Hayao Miyazaki's evolution as an artist and also pushing the animated artform into more mature territory, Mononoke received a big boost stateside from Miramax 22 years ago, despite its  PG-13 rating and a runtime over two hours. Adapted for English-speakers with an eclectic cast (Jada Pinkett Smith, Billy Bob Thornton, Minnie Driver) and a script reworked by Neil Gaiman, it's a sophisticated tale with complex themes. There are deadly curses, bitter conflicts and the ruthless devotion of a certain young princess who just so happened to be raised by wolves. The animation is unlike anything that mainstream audiences had seen, all the more intoxicating for Joe (Jô) Hisaishi's musical soundtrack, included in this set on CD for the first time.
The original Japanese-language track is here of course, alongside the English, both in DTS-HD Master Audio 5.1. The beautiful companion booklet contains lavish illustrations and insightful writings from Miyazaki himself and others.
---
The New York Ripper 3-Disc Limited Edition (Blue Underground)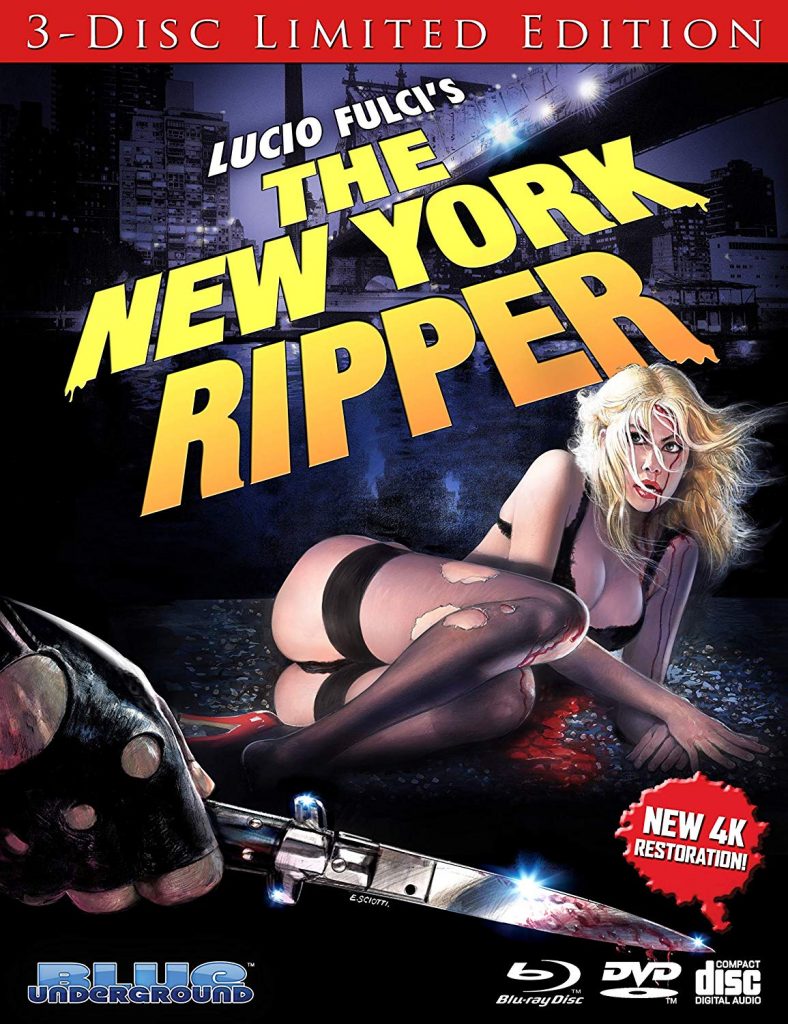 Every once in a while I just need to take a step back and acknowledge the quality of work that some of the smaller, arthouse/genre labels are doing. Blue Underground, which I've been covering since their DVD days, has done it again with their rescue of The New York Ripper. From Lucio Fulci (he of Zombie fame), this is pure exploitation, a bloody tale of a serial killer stalking the streets of New York City with a taste for young lovelies. The unrated Ripper is the sort of thing we might have seen playing in a grindhouse on 42nd Street in the early '80s, a bygone neighborhood actually captured here in all its seediness with location photography now restored from the original camera negative at 4K. It ain't pretty, but it's absolutely gorgeous, evocative of another time and place. The audio has also been remixed for 7.1 channels.
For this limited edition, the movie is supplied on both Blu-ray and DVD, along with a CD of Francesco De Masi's delightfully dated musical score. The set also arrives loaded with mostly-new features, including expert commentary, on-camera interviews with actors and others, plus then/now comparisons of the filming locations.
---
Big-Screen Batman: Born 1989 – Died 1997
Batman 4K
Batman Returns 4K
Batman Forever 4K
Batman & Robin 4K (Warner)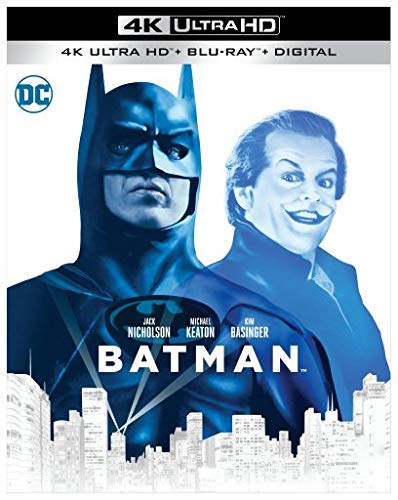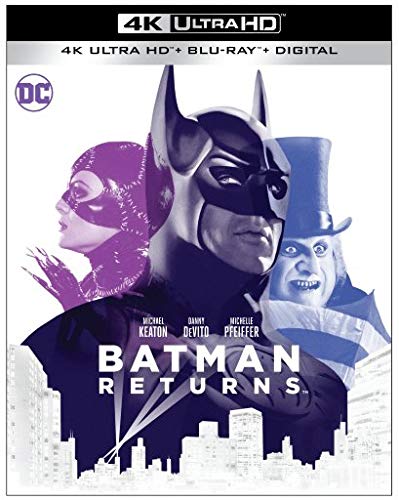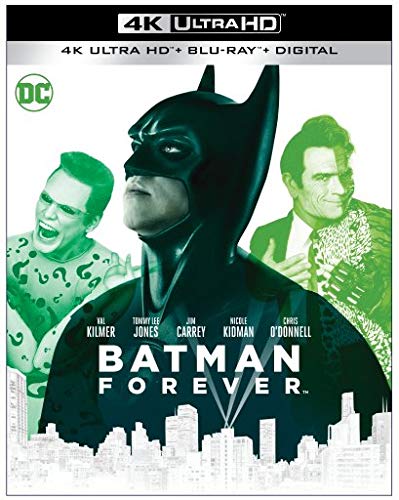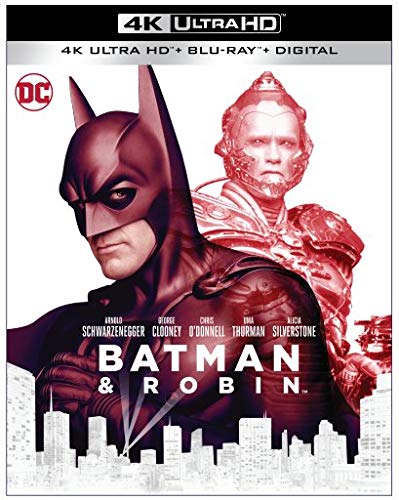 The key to appreciating the four Batman movies released in the late '80s through the '90s is to put them in their proper place in cinema history. I remember well the spring/summer 1989 frenzy (and even before, with the trailers): This was the post-Dark Knight Returns/Year One era, and thanks to Frank Miller, fans knew how magnificent a serious Caped Crusader could be. Indeed, director Tim Burton's original blockbuster effectively changed Bats' trajectory, finally erasing the campy standard set by Adam West et. al. I mean no disrespect to the late, great Mr. West, but his embodiment of the character was a detour from Bruce Wayne's truer self, one that stubbornly endured for decades as a pop culture icon. This in turn led to concerns about the casting of star Michael Keaton, who would successfully transition from playing a batman to a birdman to a vulture.
There were simply very few epic superhero movies at the time, so for filmmakers to treat the character with deadly earnestness was a triumph, one that rippled across the entire comic book industry, as well as Hollywood.  Looking back now, however, it feels somewhat dated, from Anton Furst's over-the-top-albeit-Oscar-winning art direction to the unfortunate reliance upon Prince songs (again, meaning no slight to the late Messrs. Furst and Nelson) to the not-so-special effects to the relative dearth of action. Sadly, the new esthetic didn't last, and the arrival of Penguin and Catwoman in Batman Returns brought far more jokes than… well, more than the Joker himself delivered three years prior. Burton's passing of the Bat-on to Joel Schumacher (for Batman Forever and Batman & Robin) was a death-knell, returning the saga to full-on camp. Budgets grew steadily while the same could not be said of the ticket sales, and Christopher Nolan's subsequent trips to Gotham City have largely swept these four under the rug.
The new Ultra HD discs positively blow away the previous Blu-rays, however. For real, use those old things as coasters at your next Bat-viewing party. Exquisite care has been taken to remaster each from from its original 35mm film source. Despite varying levels of dramatic darkness, shadows certainly are essential to every movie, with extensive nighttime scenes, albeit with an increasing transition to cartoon colors across the four, all of which are celebrated with superb attention to brightness, saturation and astutely enforced high dynamic range. As with the updated Forrest Gump noted elsewhere in this story, the HD Blu-ray bundled inside the case appears to have been created from this same new master.
Returns is famously the very first movie released with a Dolby Digital soundtrack, back in 1992, and the entire quartet has now grown well past that format with newly remixed Atmos home theater tracks. All are certainly thrilling, with restraint used in the incorporation of the available overhead channels. The assault of Schumacher's particular filmmaking style is sonic as well as visual, well-served by these new mixes. The legacy bonuses ported here are many, dating back to the watershed 2005 Two-Disc DVD Special Editions, including director commentaries for all plus the remarkably frank, in-depth six-part "Shadows of the Bat: The Cinematic Saga of the Dark Knight" documentary.
---
South Park The Complete Twenty-Second Season Blu-ray (Paramount/Comedy Central)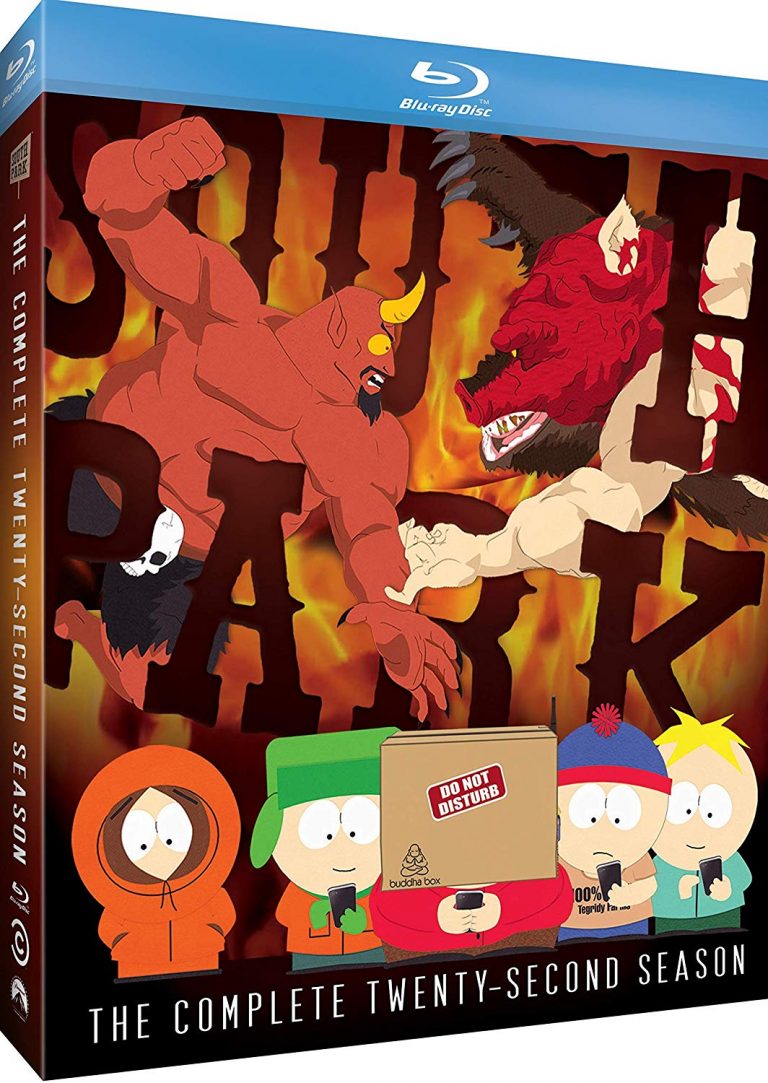 From school shootings ("Dead Kids") to the risks and rewards of political correctness ("The Problem with a Poo") to a redux on church sex abuse ("A Boy and a Priest") and so, so far beyond, no topic current or timeless is off-limits to Trey Parker, Matt Stone and the denizens of South Park, Colorado. They manage to pack a lot into their weekly 22 minutes, with foul mouths that belie a deep understanding of–and strong opinions about–their subject matter in this uninterrupted ten-episode run from late 2018. Despite some digital upgrades over the years, this remains a visually simple, even ugly show, and Blu-ray presents it in all that glory. Dolby TrueHD gives the music a good home, with some esoteric song choices and occasional surround involvement. Matt & Trey return for another round of their all-meat/no-filler mini audio commentaries, in addition to onscreen "#SocialCommentary" which (along with their own fake #cancelsouthpark campaign) served as a sort of bonus lampoon of the legion of live-tweeters out there.
---
Lost in Space The Complete First Season Blu-ray (Fox)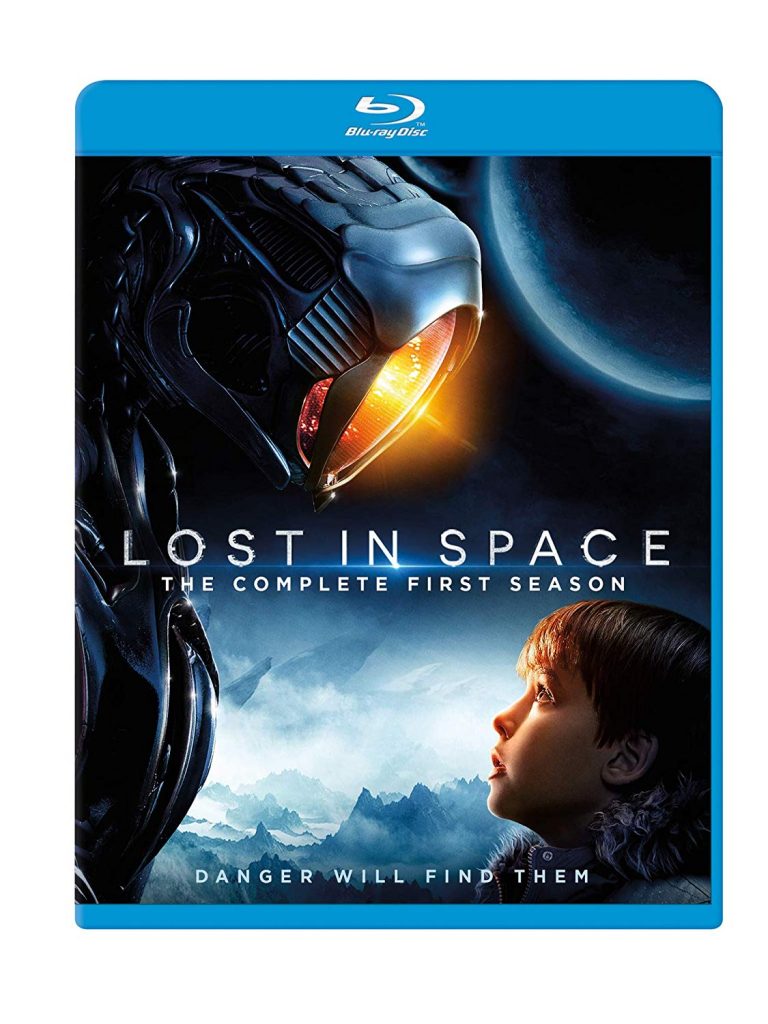 A happy discovery on Netflix last spring, this latest Lost in Space reboot managed to purge the funk of the god-awful 1998 movie… while still ticking off the purists, of course. A terrific season-long odyssey introduced a new generation of The Robinsons while also setting up next season and hinting at a much bigger story. This version's gyno-centric take might make some bristle–the men tend to be cads, oafs, or outright A-holes–but all of the women are at least a little fierce in their own way, just what we need when the future of mankind is at stake. For me, the breakout star was Mina Sundwall who, as middle child Penny, brought much-needed comedic chops amid all of the danger, danger!
Blu-ray is a great way to enjoy this show, with DTS-HD Master Audio 5.1 and a 2:1 aspect ratio, the better to appreciate the award-winning music and special effects. Extras include the unaired pilot form the original '60s series, now colorized (…okay!), a visit with OG Will Robinson Bill Mumy, and a handful of deleted scenes.
---
Forrest Gump 25th Anniversary 4K (Paramount)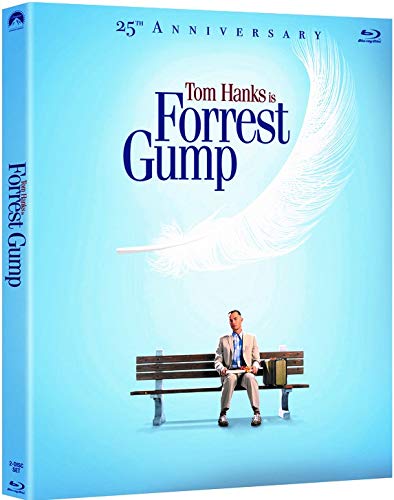 Can you believe Forrest Gump is 25? I mean, he fought in Vietnam so he must be older than that, but for the audiences that skipped Winston Groom's 1986 novel and turned out to theaters in droves back in 1994, Robert Zemeckis' film was our introduction to the beloved everyman hero. Unwittingly influencing a string of world events throughout his life, Forrest (Tom Hanks) infuses historical drama with irresistible comedy, brought to life with groundbreaking visual effects, for a movie like no other. For the occasion, Paramount has reissued last year's Ultra HD 4K disc, complete with Dolby Vision HDR and Dolby Atmos audio, now with a remastered Blu-ray as a welcome upgrade for the high-definition crowd. This is actually a three-platter affair, with the third porting over some remarkably good bonus content. I love that the packaging even reassures us collector's with the line, "Featuring the Complete Originally Released Special Features"!
---
The Andromeda Strain Blu-ray (Arrow)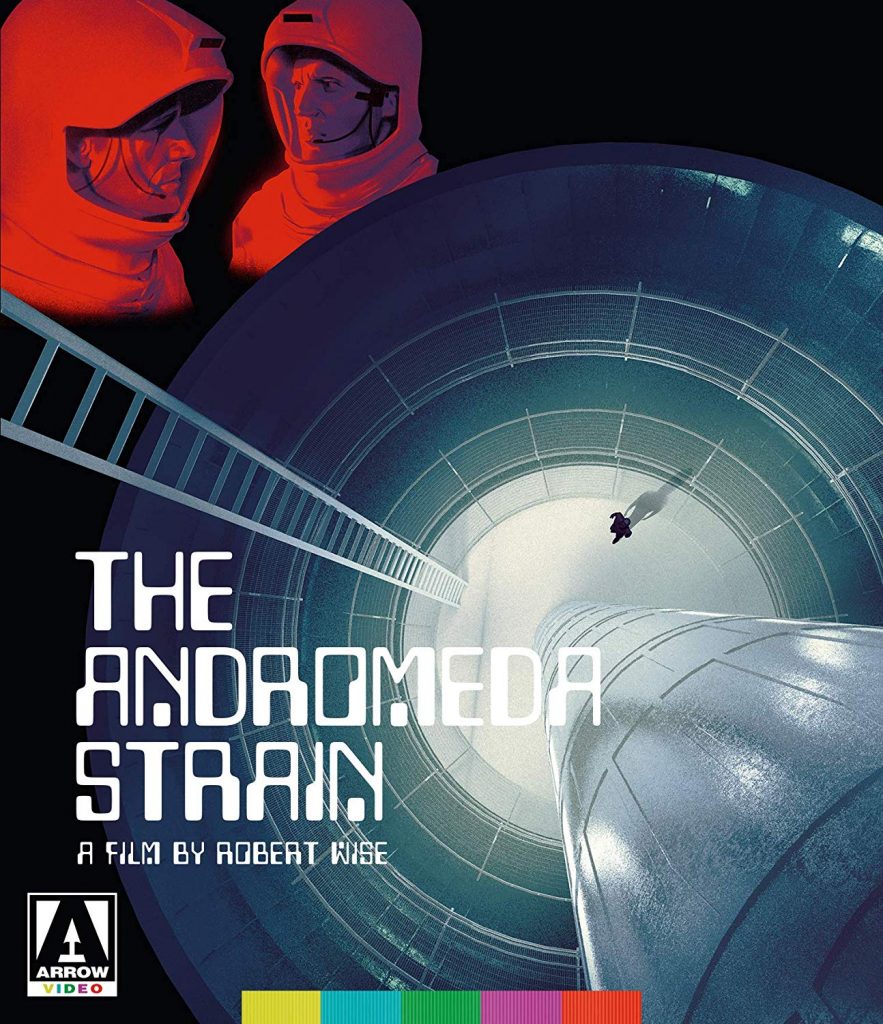 My dad of all people pointed out that Robert Wise's The Andromeda Strain was a rare thing: A science-fiction movie with real science at its core. That's thanks in large part to author Michael Crichton, whose brilliant mind brought intellectual gravitas to his entertaining books and movies. This time, it's a deadly infection from outer space, and our top scientists are locked in a top-secret lab, racing to crack the mystery and find a cure in this biological thriller. Just in time for the 48th anniversary, Arrow has undertaken a restoration from a  new 4K scan, showcasing the 2.35:1 creations of Oscar-nominated director of photography Richard H. Kline (later Wise's D.P. on Star Trek: The Motion Picture), as well as Douglas Trumbull's innovative special effects. The mono audio has been remastered as well. Extras are plentiful, including a new audio commentary by film critic/pop culture maven Bryan Reesman, some ported legacy content and an elaborate presentation of the complete 192-page illustrated screenplay by Nelson Gidding.
---
Jim Halpert Saves the World:
Tom Clancy's Jack Ryan Season One Blu-ray
13 Hours: The Secret Soldiers of Benghazi 4K (both Paramount)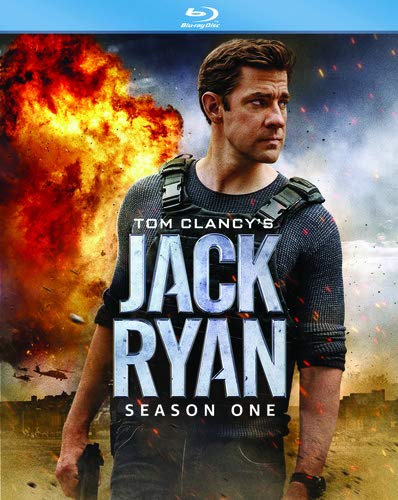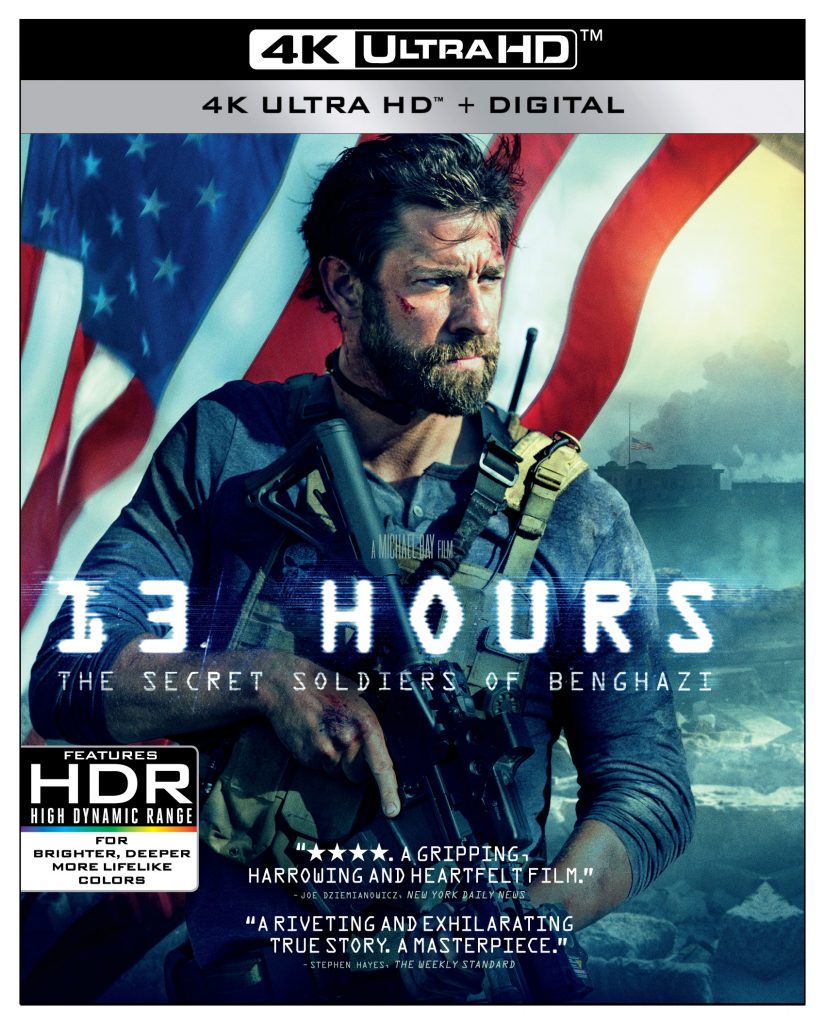 He was almost Captain America, after all: John Krasinski flaunts his action hero skillz in stories true (13 Hours, albeit through the hyperbolic lens of Michael Bay) and fictional (but ripped from the headlines, for Tom Clancy's off-book go-to-guy, Jack Ryan). Mitchell Zuckoff's book and Michael Bay's film immortalize the efforts of half-a-dozen heroes–among them Krasinski's former US Navy SEAL–during a terrorist attack one fateful night in Libya, 2012, even after a political firestorm threatened to obscure them. Upscaled here from a non-native 4K source, it nonetheless benefits from the Dolby Vision HDR that makes the most of the high-contrast 2.4:1 image, while accentuating the frequent shadowy scenes and revealing greater depth in Bay's highly stylized palette. As on Blu-ray before it, the Dolby Atmos track has it all: reference-quality directionality, detail, immersion and explosive power. Bonus content resides entirely on a ride-along platter, simply Disc Two from the aforementioned Blu-ray, with a blend of historical fact and Hollywood flash.
Krasinski's Ryan, meanwhile, displays just the right mix of smart, tough and charming. His wits are his greatest weapon as he leaves his desk to travel the globe and stop a newly uncovered, rapidly growing terrorist threat. Like Tom Cruise's Ethan Hunt, he's the kind of guy we hope is out there somewhere, secretly looking out for us. The eight-episode first-season story arc is spread across two discs. Produced and streamed at 4K with HDR, this Amazon Prime Original Series still looks and sounds great at the more ubiquitous 1080p, with Dolby Atmos. Four brief deleted scenes are the only extras.
---
The Venture Bros. Season 7 Blu-ray (Warner/Turner)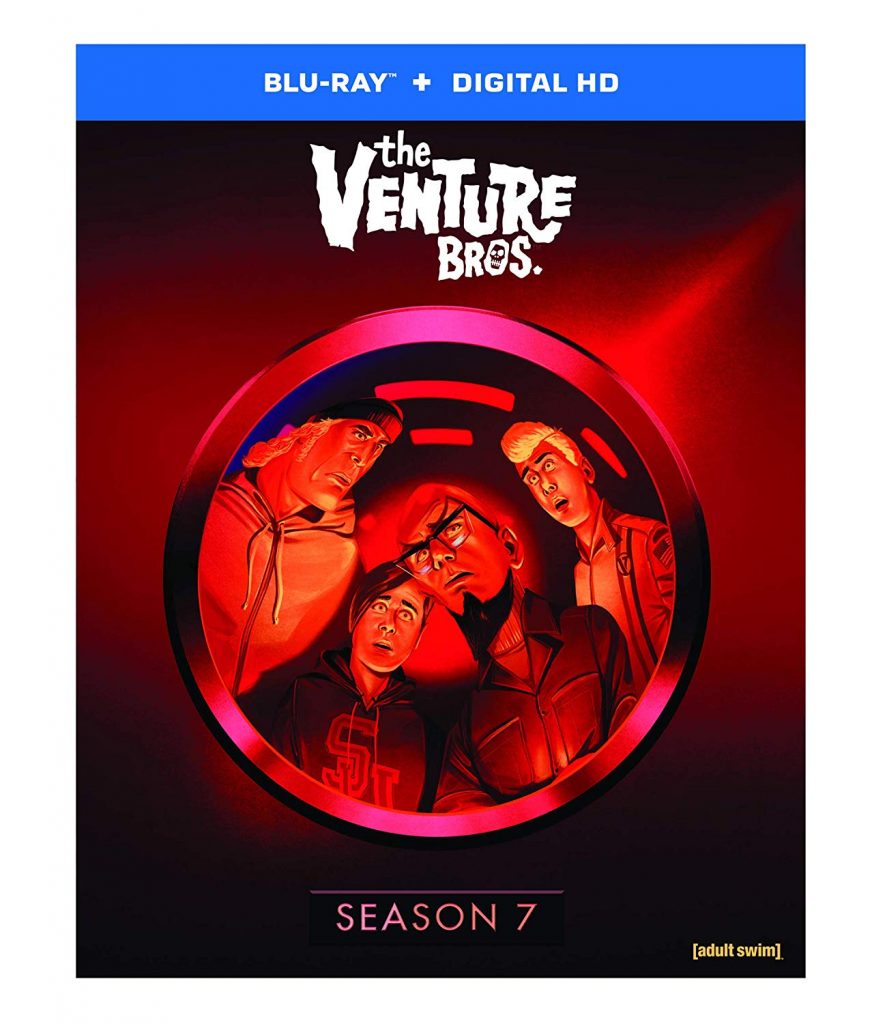 This show asks a lot of its viewers–keeping track of the growing roster of bizarre characters and their intertwined backstories–but the resulting action/comedy/soap opera is its own reward. I won't attempt to summarize the gleefully complicated Season 7, but I will point out that it expands greatly upon events that have come before (planned all along?) and it does finally reveal the cause of Dr. Jonas Venture's demise.  Full-length commentaries are provided on all episodes yet again by the creative duo of Jackson Publick and Doc Hammer, together with deleted/extended/alternate scenes. It arrives in some suitably swell packaging complete with a code for an included digital copy of all ten 2018 episodes.
---
The Toys that Made Us Seasons 1 & 2 DVD (Screen Media)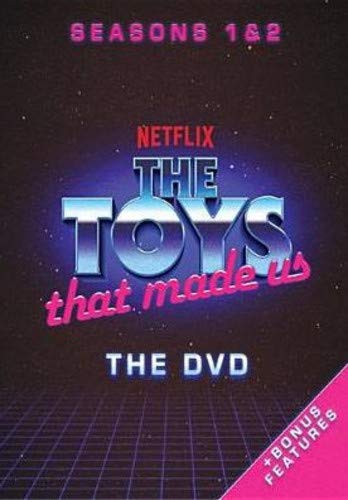 Of all the smart choices that creator Brian Volk-Weiss made for his documentary series about beloved childhood playthings, the smartest is this: leading off with Star Wars. By casting such a big net, he brings in a curious throng, then charms us with the depth and variety of insights on this endearing topic, and (thanks to Netflix, where this show premiered) leads us seamlessly into the next installment. And I never knew how much I didn't know about Barbie, which never really interested me, but the behind-the-scenes drama there was better than anything in primetime. To be fair, it is mostly boy toys in these two short seasons, eight hour-long episodes total, also covering He-Man and G.I. Joe; Star Trek, Transformers, LEGO and Hello Kitty. Each is a treasure trove of previously untold truths, including plenty of spilled tea on Mego and their iconic eight-inch action figures. There's also some deleted footage from the Trek episode plus a featurette with Volk-Weiss.
---