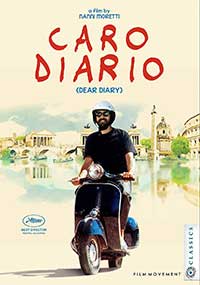 Caro Diario, Italian filmmaker Nanni Moretti's 1993 Cannes Film Festival-winning (Best Director) film, defies definition or even narrative. Ostensibly it is about a filmmaker who takes a sarcastic look at Italian life, setup as three open chapters in his diary. In reality, like the best films that celebrate life and filmmaking, Diario serves as an excuse for Moretti to simply bask in the warm glow of filmmaking.
Playing a version of himself wandering around Italy on his Vespa and visiting its various islands and his many friends as he tries to finish his next film and get rid of a pesky rash, Moretti engages in some lighthearted philosophical discussion, but never loses sight of the comedic elements at the heart of this film, such as when he visits one of his friends who claims he has never watched television. Later we see that same friend getting addicted to a television show.
But the main attraction in Caro Diario is Moretti's command of the camera – his various wide shots, deep focus, beautiful ghost camera shots from the ferries. This is a love letter not just to the art of filmmaking, but, despite the jokes and sarcasm, to Italy itself and the various people that inhabit it.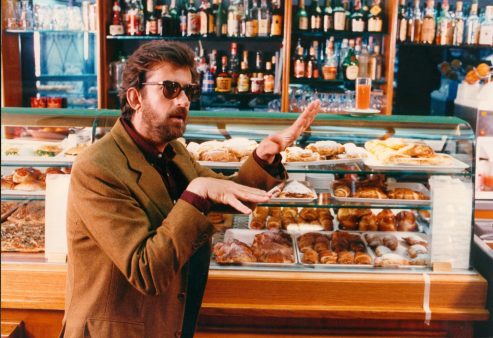 The Video
Caro Diario comes to Blu-ray from a new 2K digital restoration that is provided here in its original 1.66:1 framing encoded in AVC 1080p. It looks quite natural, although this is a film that can sometimes looks a bit overwhelmingly grainy. Most of the time in the bright and sunny Italian landscapes, however, there's a very fine layer of grain and we get excellent color, flesh tones, and an organic presentation free from source damage or digital noise.
The Audio
The original Italian-language mono mix is provided on this Blu-ray release in LPCM 2.0. There is a little bit of clipping that can be heard on some of the dialogue on the loudest passages, like if someone is yelling or singing very loudly, but other than that it is clean and free from excessive his or other noises.
The Supplements
There's an interesting if not robust collection of supplements included.
Dear Nanni – Notes on a Moretti Film (480i; 00:31:06) –This archival making of featurette is still worth a look.
Deleted Scene (480i; 00:02:44)
Caro Diario Trailer (1080p)
Booklet with production stills and an essay on the film by Millicent Marcus, professor of Italian, Yale University
The Final Assessment
Caro Diario or "Dear Diary" on Blu-ray from Film Movement is a definite must watch for any film enthusiast. It's absolutely delightful.
Caro Diario is out on Blu-ray September 8, 2020 from Film Movement
---
The Creative Content: 4.0/5
The Video: 4.0/5
The Audio: 3.5/5
The Supplements: 3.0/5
Studios & Distributors: Sacher Film | Banfilm | La Sept Cinéma | Rai 1 | Canal+ | Film Movement
Director: Nanni Moretti
Written By: Nanni Moretti
Run Time: 100 Mins.
Street Date: 8 September 2020
Aspect Ratio: 1.66:1
Video Format: AVC 1080p
Primary Audio: LPCM 2.0 Mono
Subtitles: English