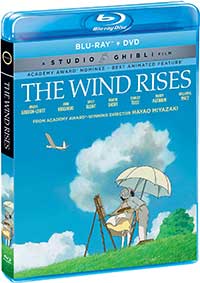 Purportedly Miyazaki Hayao's last film (the famed anime director has made the same claim in the past concerning his 1997 film Princess Mononoke and sure enough, the director is currently working on a new film, How Do You Live?), The Wind Rises (風立ちぬ)  is a fictionalized biopic on the life of Horikoshi Jiro, the aeronautical engineer who designed the Mitsubishi A5M and A6M Zero fighter planes that would be used by Imperial Japan during World War II. Beyond being a simple biography or docudrama, however, The Wind Rises is an examination of creative inspiration and also the loss of innocence. It may be one of, if not the most mature work of Miyazaki-san's career, and if it is truly to be his last, it is a fitting final work, and a wonderful flip side to the more fanciful lightheartedness of his last work, Ponyo.
Beginning when Jiro is a young boy fascinated with aeronautics and the genius of Italian aeronautics engineer Giovanni Battista Caproni, whom, in a fantasy sequence, encourages the young boy to pursue his dreams of designing airplanes, The Wind Rises follows Jiro as he heads to university in Tokyo. On his train ride there, however, he is interrupted by the Great Kanto Earthquake of 1923, which is how he first meets who is to become the love of his life, Naoko, who is traveling with a woman that breaks her leg. Jiro helps the woman and runs off in haste to find his university in flames where he helps save the school library.
Years later, Jiro is hired on at Mitsubishi to help them design their fighter planes, but they are dismal failures. The company sends him and his crew on fact-finding mission to Nazi Germany to study their advanced, all-metal airplane designs, and on leaving, Jiro is sent on westward to see the world, presumably for inspiration. Eventually, on return to Japan, while still on assignment from the Mitsubishi company, he will cross paths with Naoko and her father at their family run hotel. Jiro and Naoko fall in love quickly, and decide to marry, despite her ill-health, having suffered the same affliction that claimed her mother's life only a few years earlier. The two marry hastily and Naoko, meant to convalesce in a sanatorium while Jiro returns to work at Mitsubishi is soon fleeing the confines of the facility to return to her husband as he struggles to complete the groundbreaking A5M.
Hardly the stuff of lighthearted entertainment that most children would sit through, this is a slow-paced and thoughtful drama that meticulously ponders life, how inspiration comes to an artist, and what becomes of an honest invention in the wrong hands. One theme that Miyazaki-san returns to quite often in The Wind Rises is how often inventions, such as the airplane, which have such potential for good, are often used for harm. And in this realization also lies another underlying theme that runs throughout the film – the loss of innocence.
Creativity is often associated with innocence, and in The Wind Rises Miyazaki-san contrasts Jiro's childhood and his creative inspiration, often in fantastical dreamlike sequences where he communes with his childhood hero Cabroni, with the horror of what has become or what is to become of his inventions in the real world during his adulthood. This also speaks to Japan's loss of innocence after going to war, "Japan will burn" is one premonition given to Jiro, and he sees his prized creations raining down around him in flames.
The Wind Rises is beautiful, often elegiac, sometimes inspirational and a little romantic, about love and art, and despite not being a fantasy, it is one hundred percent Miyazaki in its visual aesthetic and maturity of storytelling. It would have made a fitting end to a career, if in fact it had been his final film.
The film is accompanied on this particular release with a star-studded English dub featuring Stanley Tucci, Joseph Gordon Levitt, William H. Macy, and Emily Blunt. They do an excellent job, better than average for most anime dubs.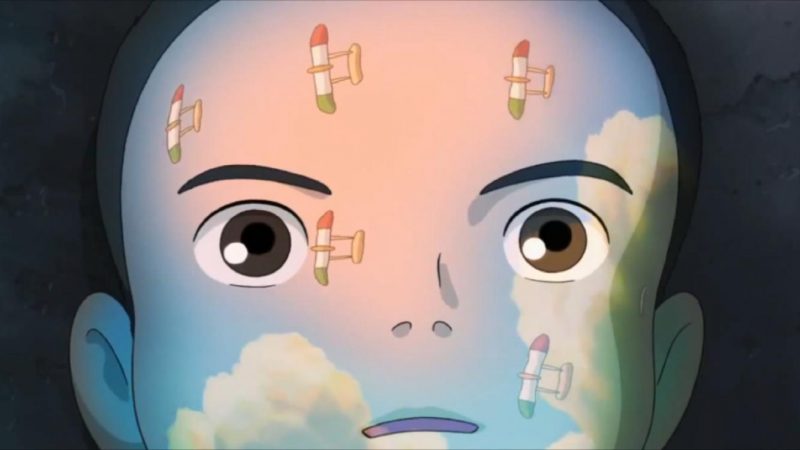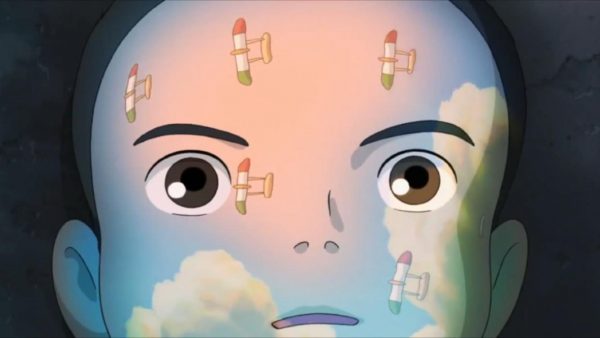 The Video
The Wind Rises is provided on Blu-ray in an AVC 1080p encodement framed at 1.85:1 from the original 2K master. This looks just as good as the UK release from StudioCanal I reviewed a few years ago that was a part of their Hayao Miyazaki. It is clean, free from noise, posterization and aliasing, and has excellent colors that aren't oversaturated.
The Audio
This Shout! Factory/GKIDS Blu-ray release of The Wind Rises comes with both the original Japanese-language monaural audio mix and the star-studded English dub in DTS-HD Master Audio 2.0. You really can't go wrong with either one. Although they are mono-only, there's excellent dynamic range and separation of sound effects from dialogue and score, good balance and tonality so the midrange is punchy and high frequencies natural. Dialogue comes through clearly as well. I would say purists should go with the Japanese mix, but Miyazaki has gone on record saying he prefers non-Japanese speakers watch the dubs of his work so to be able to better appreciate the animation. Take your pick.
The Supplements
This is a small but superb collection of extras that offer up lots of interviews and behind-the-scenes footage. There's also an exclusive booklet that contains a director's statement and an essay on the film and the Japanese and war.
DVD with main feature and bonus features
Behind the Microphone (1080p; 00:10:47) – This featurette goes behind-the-scenes for interviews with the English cast & crew, including English version director Gary Rydstrom and English voice actors Joseph Gordon-Levitt, Stanley Tucci, William H. Macy, and Emily Blunt.
Original Trailers & TV Spots (1080p; 00:09:30)
Film Completion Press Conference (1080i; 01:22:46)
Storyboards – Watch the film in its entirety in it original storyboard form.
10 Years with Hayao Miyazaki Documentary Episode (1080i; 00:49:32) – Go behind the scenes as Miyazaki, his crew and colleagues struggle to bring his vision for The Wind Rises to fruition.
Exclusive booklet with director's statement and essay
The Final Assessment
A dramatic and visual masterpiece from an animation legend, The Wind Rises may be somewhat too meticulous for younger audiences, but for those older lovers of animation who have been devotees of Miyazaki for years, they are sure to enjoy this latest phase in his career. This Shout! Factory release is pure reference quality and has a strong collection of bonus materials. Highly recommended.
The Wind Rises is out on Blu-ray Combo Pack September 22, 2020 from Shout! Factory & GKIDS
---
The Creative Content: 4.5/5
The Video: 5/5
The Audio: 4.0/5
The Supplements: 4/5
Rating Certificate: PG-13 (for some disturbing images and smoking)
Studio Ghibli | Touchstone Pictures | Shout! Factory | GKIDS
Director: Miyazaki Hayao
Writer: Miyazaki Hayao
Run Time: 127 Mins.
Street Date: 22 September 2020
Aspect Ratio: 1.85:1
Video Format: AVC 1080p
Primary Audio: Japanese DTS-HD MA 2.0 Mono
Secondary Audio: English DTS-HD MA 2.0 Mono
Subtitles: English SDH | English for Original Japanese Language