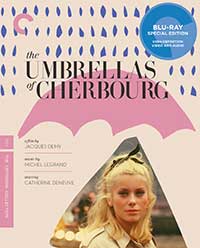 French New Wave auteur Jacques Demy described his 1964 film Les Parapluies de Cherbourg (The Umbrellas of Cherbourg) as a "film in music". That is perhaps the best, most succinct way of putting it. Less a musical than a filmic opera, the dazzling pop-art in motion sings every piece of dialogue while telling its story of young love, dashed hopes, and the bitterness of thwarted dreams brought on by the class divisions of the bourgeoisie. While it may at first seem like a saccharine dreamscape in line with the sugarcoated musicals of Hollywood, one quickly realizes that The Umbrellas of Cherbourg shares much less in common with its American cousins, choosing to highlight the everyday lives of mostly ordinary people and steering clear of any elaborate dance routines.
The story is straightforward; 20-year old mechanic Guy (Nino Castelnuovo) falls in love with 17-year-old Geneviève (Catherine Deneuve) who works in her mother's fashionable but financially struggling umbrella shop. The two star-crossed lovers make big plans for the future, hoping to be together forever, but when Guy is called up to the army to fight abroad in Algeria for two years, it puts a strain on the young couple. They make love for the first time before Guy leaves town and Geneviève becomes pregnant. Distraught, she finally tells her mother, who begins to match-make and finds a suitor for her daughter in the wealthy young diamond merchant Roland Cassard (Marc Michel). Roland Cassard is smitten with the young beauty and willing to marry her even if she's pregnant with another man's child. Now Geneviève must make a decision, wait for Guy to come back to her — or not — or marry the wealthy Roland and gain respectability.
Composer Michel Legrand composed the score that is modeled on normal conversation, no fancy rhymes or funny rhythms here. With this musical dialogue, the film glides by, in three parts, against a colorful backdrop of shimmering primary colors, soft pastels, and floral wallpapers with costumes that coordinate with the beautiful set designs of Bernard Evein.
When this tragedy of young love has ended, one realizes that it is a film of such romantic beauty and truth, of old styles and new coming together for something so different, that it really could only have been born out of the experimentation of the nouvelle vague.
Les Parapluies de Cherbourg won the Palme d'Or and garnered a Best Actress prize for Catherine Deneuve. It also received Oscar nominations for its screenplay and score.
The Video
As far as I can tell, this is the same 2K restoration that was undertaken by Demy's Wife Agnès Varda's company Ciné-Tamaris and released as a 50th Anniversary Edition (reviewed here in its UK StudioCanal release). The restoration at the time was listed as being done by Digimage. Criterion lists it as being undertaken by Ciné-Tamaris with the support of the Cannes Film Festival, LVHM.Luis Vuitton Moët Hennesty, the city of Cherbourg-Octeville, the region of Basse-Normandie, KissKissBankBank, and the Banque Postale. Mathieu Demy oversaw and approved the digital transfer created on the Scanity film scanner from the three-strip separation masters and original camera negative at Digimage. It comes to Blu-ray in an AVC 1080p encodement in its original 1.85:1 framing. The process Demy used to film on would have faded out of existence had he not had the foresight to also create the interpositive black-and-white trichrome masters (three black and white strips representing Red, Green, and Blue, respectively). This also allows for much more targeted color coding/tweaking than restoring from the original negative. The end result, while ever so slightly leaning towards a bit of heightened graininess, is breathtaking nonetheless. The colors leap from the screen and there are plenty of details and textures remaining in the image with lots of brightness and contrast as well. There isn't any source damage to speak of and the film looks beautifully organic.
The Audio
The sound restoration for The Umbrellas of Cherbourg was carried out using the original 1963 mono mix, the 1992 Dolby SR optical negative, and the 1992 restoration's digital multitrack tapes. A 5.1 mix is provided in DTS-HD Master Audio 5.1. While the sound is clear, the stereo separation is subtle and the surround channels hardly come into play. This is one 5.1 mix that may not have even been worth the effort. A stereo mix would have sufficed for this one.
The Supplements
This Criterion Collection release is packed with high quality features from the past several years, and some archival interviews from over the decades. A new essay in the included booklet rounds it all out.
Once Upon a Time… "The Umbrellas of Cherbourg" (1.78:1; 1080p/24; 00:54:24) – This 2008 documentary about The Umbrellas of Cherbourg, directed by Marie Genin and Serge July, features interviews with director Jacques Demy, actors Catherine Deneuve and March Michel, composer Michel Legrand, and filmmaker Agnès Varda.
Rodney Hill (1.78:1; 1080p/24; 00:22:43) – In this interview, conducted by the Criterion Collection in 2014, film scholar Rodney Hill talks about The Umbrellas of Cherbourg and how it embodies characteristics of both the French New Wave and the "tradition of quality" style of French filmmaking.
Cinépanorama (1.33:1; 1080p/24; 00:11:15) – Director Jacques Demy and composer Michel Legrand are interviewd about The Umbrellas of Cherbourg in this 1964 episode of the French television program Cinépanorama.
Michel Legrand at the National Film Theatre (00:26:46) – In this audio excerpt from 1991, Michel Legrand talks to an audience at the National Film Theatre in London about composing music for the films of Jacque Demy.
Catherine Deneuve at the National Film Theatre (00:11:03) – In this audio excerpt from 1983, actor Catherine Deneuve talks to an audience at the National Film Theatre in London about working with director Jacques Demy.
Restoration Demonstration (1.78:1; 1080p/24; 00:06:11)
Trailer (1.85:1; 1080p/24; 00:01:56)
An essay by critic Jim Ridley
The Final Assessment
This beautiful and heartrending French New Wave/"tradition of quality" film from Jacques Demy remains an unmistakable musical classic. Forget about La La Land and watch this colorful gem, which has never looked better than it does in this 2013 restoration.
[amazon_auto_links id="99584"]
Parc Film | Madeleine Films | Beta Film | Ciné Tamaris |The Criterion Collection
Studios & Distributors
$39.95
MSRP
French DTS-HD MA 5.1
Audio
Summary
A delightful, heartrending classic of the Nouvelle vague in explosive color that features a young and gorgeous Catherine Deneuve, this 2013 restoration reissue from the Criterion Collection comes feature-packed with high-quality and informative extras. A must for cineastes.
What people say... Login to rate
Be the first to leave a review.
Show more