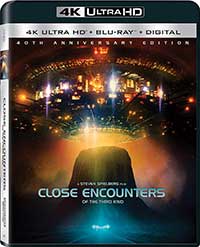 It is hard to believe that Close Encounters of the Third Kind is celebrating its 40th birthday this year. Writer/director Steven Spielberg went out on a limb with just his third feature-length movie, following the major success of Jaws, when he dipped his toe into the sci-fi film pool. Given the American fascination with UFOs, perhaps CE3K was not as big a risk as the Columbia Pictures studios feared that it might be.
Although this film has a large cast, there are two central storylines that will eventually intersect in the final act. Opening in the Sonoran desert, three missing and unmanned WW II fighter planes have mysteriously appeared, dusty but in perfect working condition. French scientist Claude Lacombe (François Truffaut) and his American translator and cartographer David Laughlin (Bob Balaban) are intrigued when an old man who witnessed the event tells them that "the sun came up last night and sang to him." Equally strange is the discovery of the steamship SS Cotopaxi in the Gobi Desert, 50 years after it too vanished. Lacombe is now convinced that there are extraterrestrial agencies at work and seeks research assistance from the United States government. The Frenchman is convinced that the five tones that the aliens are broadcasting is some form of communication essential to "the close encounter of the third kind," i.e., contact. The big breakthrough occurs when Laughlin interprets the numbers sent from space as coordinates for the Devil's Tower in Wyoming.
Roy Neary (Richard Dreyfus) works for an Indiana utility company and is dispatched to investigate a massive power outage. He and a small group of people also out for the evening see several brightly colored flying objects traveling at high speed. Roy also meets single mother Jillian Guiler (Melinda Dillon) who is searching for her runaway young son Barry (Cary Guffey) (who later is abducted by aliens).  Roy's obsession with UFOs costs him his job, his wife Ronnie (Teri Garr) and his three children. Quite unwittingly, he constructs a scale model of the Devil's Tower and when sees this site on a television newscast, he immediately sets out to find it. After coincidentally running into Jillian who is still looking for her son. the pair overcomes numerous obstacles en route to the spot where they think the extraterrestrial contact will be made.
The then-30-year-old Spielberg had written one previous sci-fi script (Firelight). With the tremendous success CE3K achieved, grossing $130 million on a $20 million budget during its initial theatrical run, and receiving eight Oscar nominations (winning for Vilmos Szigmond's cinematography), he went on to make a number of other very successful sci-fi flicks. John Williams' sweeping score blends in "When You Wish Upon A Star" with the 5-tone sequence that really does come from the stars. With the exception of Truffaut and Dreyfuss, most of the cast was not terribly well known at the time although a number like Dillon and Balaban later went on to enjoy significant Hollywood careers.
The Video
Given the age of the less than pristine negative, shot in both 70mm and 35mm with Panavision Panaflex and C-Series lenses there are numerous patches of serious grain, black crush and blur, particularly during some of the night scenes. These are offset by daylight shots (like the ship in the desert) and brightly lit indoor (and outdoor) sequences that this Ultra HD HDR10 restoration renders quite well. Higher resolution does have its downside as it brutally exposes the artificiality of the dated special effects. Compared to the Blu-ray, the 4K UHD version still provides a major improvement in almost every respect.
The Audio
The DTS-HD MA 5.1 soundtrack is reasonably reticent except during the scenes of desert winds, helicopter overflights and the arrival of spacecraft. The extra channels bolster the brilliant Williams soundtrack quite effectively. Dialogue, not the strong suit of this film, is clearly presented.
The Supplement
The 4K Ultra HD has three versions of this film:
Original theatrical release (135 Minutes).
Special Edition (132 Minutes) was released in 1980 and added the SS Cotopaxi desert scene, Roy's nervous breakdown, and an extended ending inside the mother ship. Deleted scenes include Roy at the power station and throwing dirt and garden objects through the kitchen window. Special effects were also improved.
Director's Cut (137 Minutes) was Spielberg's favored version and released for home video in 1998. It included the SS Cotopaxi desert scene, as well as the dirt throwing and bathroom breakdown scenes. The press conference scene (not in the Special Edition) is restored while the extended ending in the mother ship is deleted.
"View From Above" provides in-movie pop-up graphics highlighting the differences in the Special Edition and Director's Cut from the original Theatrical Version.
"Moments": Four selections: Roy (13:41), Strange Occurrences (13:00), Close Encounters (12:06), and Jillian (12:05)
The first Blu-ray disc has all the above versions plus "A View From Above."
The second Blu-ray disc adds the following extras:
Three Kinds of Close Encounters (22:02)
Steven's Home Videos and Outtakes (5:25)
Steven Spielberg: 30 Years of Close Encounters (21:21)
Close Encounters of the Third Kind — Making of Documentary (1:41:41)
Close Encounters of the Third Kind — Watch The Skies (5:54)
Nine Deleted Scenes (18:23)
Storyboard Comparisons (22:10)
Original Theatrical Trailer (6:01)
Special Edition Trailer (1:57)
Extensive Photo Gallery
Digital HD UltraViolet is available.
The Final Assessment
Close Encounters has become a time-honored sci-fi thriller that, unlike many of its film counterparts, ultimately charms rather than terrifies its audience. While the 4K Ultra HD makeover adds some visual benefits, it remains a qualified success for a 40-year old film that often shows its age. That aside, this film belongs in everyone's library and is highly recommended.
Close Encounters of the Third Kind: 40th Anniversary Edition Available on 4K Ultra HD, Blu-ray, and Limited Edition 4K Ultra HD Collection September 19, 2017.
[amazon_auto_links id="104630"]
Columbia Pictures | EMI Films | Julia Phillips & Michael Phillips production
Studios & Distributors
135 Mins. (Theatrical) | 132 Mins. (Special Edition) | 137 Mins. (Director's Cut)
Run Time
$29.95
MSRP
19 Sept. 2017
Release Date
HEVC (H.265) 2160p | AVC 1080p (Blu-ray)
Video
4000 Nits
Maximum Luminance
0.005 Nits
Minimum Luminance
English DTS-HD MA 5.1
Primary Audio
German DD 5.1 | French DD 5.1 | Italian DD 5.1 | Japanese DD 5.1 | Portuguese DD 5.1 | Spanish DD 5.1
Secondary Audio
English | Chinese | Dutch | Finnish | French | German | Italian | Japanese | Korean | Norwegian | Portuguese | Spanish | Swedish | Thai
Subtitles
HDR Effect (If Applicable)
Summary
A timeless sci-fi masterpiece that obtains some visual benefits from its 4K UHD restoration of a less pristine negative print.
What people say... Login to rate
Be the first to leave a review.
Show more