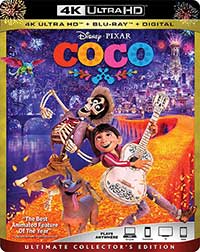 The latest effort from Disney's Pixar is the Golden Globe winner for Best Motion Picture in the Animated category, Coco. This marvelous heartfelt adventure from directors Lee Unkrich and Adrian Molina takes us to Mexico where the young aspiring musician Miguel (voiced by Anthony Gonzalez who was cast after some time voicing the role as a mere stand-in while they searched for a permanent voice actor) is confronted by a longstanding family ban against music due to a musical ancestor who abandoned his family to pursue his own musical dreams. But when the annual Dia de los Muertos  (Day of the Dead), festival comes around, determined to perform mariachi in the local town square, Miguel goes to borrow the guitar from his idol  mausoleum, which, after he strums it, sends him straight to the land of the dead; you're not supposed to take from the dead on this dead, but give to them.
In the land of the dead, Miguel must get the blessing of his dead ancestors to return to the living and he encounters members of his family, including his great-great grandmother Mama Imelda (Alanna Ubach) who wants to send him back to the living, but under one condition – that he not play music ever again. That's when he embarks on a quest to find the one ancestor he's sure will give him his blessing without conditions — de la Cruz . On his quest he meets a scraggly musician named Hector (Gael Garcia Bernal) who says he knows de la Cruz. Both Miguel and Hector have major problems, however, and those are Miguel must secure a blessing before sunrise or get stuck in the Land of the Dead forever and Hector must get someone on the lad of the living to remember him or disappear forever.
Coco is a beautiful, colorful film, not the sort of film visually one might expect from the outset for something set in the land of the dead. For any parent concerned about that, this is vivid and full of life, even if for much of the film the majority of the characters are skeletons. Pixar's amazing animation work brings even the skeletons to life with their facial expressions and motions. And the world of the Land of the Dead is a multi-tiered, brightly lit dreamscape decorated with lanterns and papel picado.
Coco may be the strongest film from Pixar in a long time. While the story does tend to slip a little toward family drama cliché, it makes up for it with major heart and the can-do spirit it instills in young people. Young Miguel's journey takes him from being at odds with his family to learning about how important family is, which is a simple story and a common journey, but it is handled well and the final act ties together very well. Adults watching will be hard-pressed to hold off the the tears unless they are completely soulless.
The Video
The digital animation for Coco was processed with Dolby Vision HDR but arrives on 4K Ultra HD with HDR10 HDR in an HEVC 2160p encodement framed at 2.39:1. The colors look stunning thanks to the wide color gamut of this format and switching to the equally clean Blu-ray looks flat and washed out.
The Audio
Disney lists Coco as having an Atmos "7.1.4" mix, which is not really a thing since Atmos (and DTS:X) are object based and not channel based. One's audio equipment may limit one to a 7.1.4 setup, but not necessarily. It can scale to far more overhead channels than that. That said, the mix is good and in keeping with the Disney-Pixar style. It's not overly aggressive, but it has a good balance and enough mixture of solid effects into the surround channels and plenty of ambience in the overheads. Dynamics are superb, offering plenty of overhead without ever getting too loud.
The Supplements
Blu-ray – Feature film and special features on standad Blu-ray
Movies Anywhere Digital Copy
Welcome to the Fiesta w/ optional commentary (2.39:1; 1080p/24; 00:02:16) – Short
Mi Familia (1.78:1; 1080p/24; 00:10:00) – The crew discuss weird rules their fmily had.
Dante (1.78:1; 1080p/24; 00:06:14)
How to Draw a Skeleton (1.78:1; 1080p/24; 00:03:18)
Feature commentary
Bonus Blu-ray Disc:
Bonus Features:

A Thousand Pictures A Day (1.78:1; 1080p/24; 00:20:03) – A look at the pre-production research in Mexico for the film

The Music of Coco (1.78:1; 1080p/24; 00:13:12) – This featurette goes behind-the-scenes on the musical score for the film.
Land of Our Ancestors (1.78:1; 1080p/24; 00:06:19)
Fashion Through the Ages (1.78:1; 1080p/24; 00:08:39) – A discussion on designing the various fashions for the film.
The Real Guitar (1.78:1; 1080p/24; 00:03:08)
Paths to Pixar: Coco (1.78:1; 1080p/24; 00:11:44) — The crew discuss how they made their way to Pixar and eventually working on this film.
How to Make Papel Picado (1.78:1; 1080p/24; 00:02:19)
You Got the Part! (1.78:1; 1080p/24; 00:02:12) – The young voice of Miguel is awarded the role of a lifetime.

Deleted Scenes (1080p/24; 00:33:07):

Introduction
Día de los Muertos
The Way of the Riveras
Celebrity Tour
The Bus Escape
Alebrije Attack
The Family Fix
To the Bridge

Trailers & Promos

Trailers:

Feeling – United States Trailer #1
Dante's Lunch – Web Exclusive
Destiny – Mexico Trailer
Journey – Brazil Trailer
Belong – Australia Trailer

Promo:
The Final Assessment
A vibrant, heartfelt adventure that teaches about the importance of family and dreams, this Golden Globe winner is a likely shoe-in to win the Oscar for Best Animated Feature and looks and sounds fantastic on 4K Ultra HD.
Coco is out February 27, 2017 on 4K Ultra HD Combo and Blu-ray Combo from Disney
[amazon_auto_links id="108917"]
PG (for thematic elements)
Rating Certificate
Walt Disney Pictures | Pixar Animation Studios
Studios & Distributors
Lee Unkrich | Adrian Molina (co-director)
Director
Lee Unkrich (original story by) | Jason Katz (original story by) | Matthew Aldrich (original story by) | Adrian Molina (original story by)
Writer
HEVC 2160p (4K) | AVC 1080p (Blu-ray)
Video
1000 Nits
Maximum Luminance
English Dolby Atmos
Primary Audio
English DD Plus 7.1 | English DD 5.1 | English DD 2.0 | English Descriptive Audio DD 2.0 | French DD Plus 7.1 | Spanish DD Plus 7.1
Secondary Audio
English SDH | French | Spanish
Subtitles
HDR Effect (If Applicable)
Summary
A Mexican boy (voiced by Anthony Gonzalez) who aspires to be like his musical idol, but is facing an a family ban on music, finds himself swept into the Land of the Dead during the annual Dia de los Muertos festivities where he goes on an adventure to find his idol who, as it turns out, is his ancestor, in order to gain his blessing to return to the land of the living in this heartfelt, visually vivid story from Pixar Animation that emphasizes family and chasing one's dreams. The voice cast put in solid performances and the 4K Ultra HD release with HDR10 emphasizes the brilliant color pallet that leaps from the screen.
What people say... Login to rate
Be the first to leave a review.
Show more