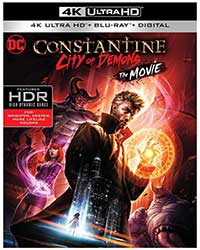 Constantine: City of Demons – The Movie is a 90-minute edit of an animated web series which was eventually released on The CW's streaming platform CW Seed. It follows the DC Comics character John Constantine (voiced by Matt Ryan, who also played the character in The CW's short-lived live-action series Constantine). The story is set in the same universe as the DC Comics and begins with Constantine awaking in his London flat with voices from around the world in his head and him being attacked by tiny physical manifestations of his own inner demons.
Eventually John Constantine will find himself together with his old friend Chas whose daughter has fallen ill. Chas needs the occult investigator and magician Constantine's help to cure his daughter. Constantine finds himself, 10-years after an unspeakable tragedy in Newcastle, confronting a demon named Baroul who has stolen Chas' daughter's soul. The confrontation will lead him and Chas toward the Queen of Angels who rules over Los Angeles and other demonic forces to save the girl.
Bloody, gory, and just as frightening as a Constantine "movie" should be – and quite fitting for an October release heading toward Halloween – Constantine: City of Demons earns its "R" rating and is actually one of the better direct-to-video movies out of DC. The quality of the animation and the voice acting are both top quality for this one.
The Video
The film arrives on Blu-ray in an HEVC 2160p encodement with HDR10 HDR and framed at 1.78:1. This is one of the better DC 4K Ultra HD releases from Warner Bros. The original animation has an artificial layer of grain applied to it that supplies a gritty, textured look, but this doesn't take away or distract from the quality at all, but makes the image look even better. The colors really 'pop' thanks the wide color gamut in the HDR. The glowing eyes of Baroul, the magical effects – all of these things leap from the screen with an array of colors, and flames look natural with various shades of orange and red. There is very little color banding or stairstepping that can be seen.
The Audio
Constantine: City of Demons comes with an aggressive DTS-HD Master Audio 5.1 mix that will satisfy even those of us who have moved on to immersive formats such as Atmos. The sound effects are spread around well, the dialogue is clean, and the low end is quite deep.
The Supplements
The WonderCon panel is a fun special feature as is the Understanding John Constantine special feature, but there isn't anything else on this barebones release.
Blu-ray
Digital Copy
The Sorcerer's Occultist: Understanding John Constantine (1.78:1; 1080p/24; 00:13:38)
Constantine: City of Demons WonderCon Panel – 2018 (1.78:1; 1080p/24; 00:20:50)
The Final Assessment
A bloody fantastic original movie for this arguably minor DC character. The 4K Ultra HD disc also looks excellent. It would be interesting to see Constantine and another DC character, Lucifer come together in a crossover – DC, are you listening?
Constantine: City of Demons — The Movie is out on 4K Ultra HD & Blu-ray October 9, 2018 from Warner Bros.
Warner Bros. Animation | DC Comics | DC Entertainment | Warner Home Video
Studios & Distributors
$39.99
MSRP
HEVC (H.265) 2160p (4K) | AVC 1080p (Blu-ray)
Video
4000 Nits
Maximum Luminance
0.005 Nits
Minimum Luminance
English DTS-HD MA 5.1
Primary Audio
French DD 5.1 | German DD 5.1 | Spanish (Castilian & Latino) DD 5.1
Secondary Audio
English SDH | French | German SDH |Spanish (Castilian & Latino)
Subtitles
HDR Effect (If Applicable)
Summary
Ten years after an unspeakable demonic tragedy, occult detective John Constantine (voiced by Matt Ryan), must confront that same demon in order to save the soul of the young daughter of his best friend Chas in this bloody, gory, and wholly fantastic movie culled from the web series. The 4K Ultra HD Blu-ray release with HDR looks and sounds awesome.
What people say... Login to rate
Be the first to leave a review.
Show more